By Ivan Maisel
ESPN.com
Baseball's foray into movie marketing as an attempt to reach young people died suddenly at the intersection of New Coke and Joe the Camel. There will be no "Spider-Man 2" logos on bases. But the fault lies in the execution of the idea, not the idea itself. The marriage of professional sports and children can be arranged through the third party of pop culture. I have witnessed it in my own home; and for that, I have David Stern to thank.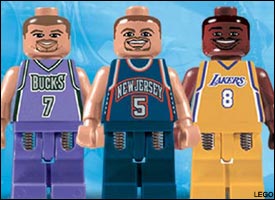 The only bling-bling these NBA players come with is a pair of springs.
Tell me all you want about the NBA's successes in China. I will stifle a yawn and check the supports on my chronically arched eyebrow. Regale me with statistics that show the NBA controls the hearts and minds of kids the way that baseball did a generation ago. Manners will forbid me from gnawing myself out of the conversation trap.
But in my role as a parent, I can testify to the success of one particular NBA marketing venture. As part of its outreach to children around the world, the NBA made a deal with Lego, the snap-together blocks that can be found in more countries than the United Nations.
Memo to Commissioner Stern: Whoever brought this deal to your desk deserves a raise. And the Congressional Medal of Freedom.
I won't bore you with my love for my kids, but I have learned to laugh at the cosmic practical joke played on me by giving me a son who draws no sustenance whatsoever from sports. I grew up reciting batting averages and collecting cards -- baseball, basketball and football. Max couldn't match Nebraska with Husker anymore than he could match Rodgers with Hammerstein. I used to have to walk him in from center field of coach-pitch games as he shrieked, "I hate baseball!"
He loves cats. He loves to read. He loves SpongeBob and Bart Simpson. And he loves Legos.
Every child goes through obsessions that wear on the patience of their parents. Max is lost in the Lego world of Bionicles, a fantasy that involves tribes of warriors. I have tried to understand the Bionicles. I even sat through a movie about them, a movie that seemed to last slightly longer than the Orlando Magic's season.
Max showed no inclination to be a sports fan; and I, who rode my bike to 7-Eleven every single day in the throbbing heat of Alabama summers to buy baseball cards, made my peace with that.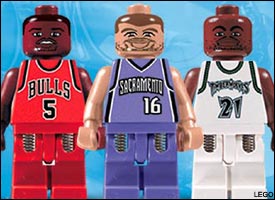 Jahlin Rose, Peeja Stodgeavick, Kevin Garn-it.
And then!
One day last year, shortly after Max turned 9, he started asking me questions about Kevin Garn-it and Koab Bryant, Peeja Stodgeavick and Jahlin Rose. Those are phonetic spellings of his inquiries. He didn't know who they were, but he read about them in a Lego catalog. I stopped whatever I was doing and began asking him questions.
Approximately 3.6 seconds later, I left the house and drove to the local Toys 'R' Us.
What began as two sets of three players and a halfcourt Lego set has expanded over the course of a Hanukkah and a birthday to eight-man rosters and a Lego arena, replete with seating, signage and clear backboards. The players include Shaq, Tim Duncan, Tony Parker, Paul Pierce and several others.
Lego basketball is fun. There are inherent limitations. For instance, the players must remain fixed in place -- which begs the question: Why is there no Mehmet Okur? -- but they can pass and they can shoot. Max latched onto the Lego versions of Steve Nash and Jason Kidd -- Nash because Max was born in Dallas, and Kidd because he is local -- and then onto both players in real life. One day last summer, after giving the infatuation enough time to disappear and seeing that it hadn't, I asked Max if he wanted to go see Kidd play.
Again, though I'm sure that Our Father Who Art in Heaven has more pressing matters, He was kind enough to put Kidd on a team that couldn't sell out if it had Zero-Percent Mortgage Night for all fans 21 and over. I bought a partial season-ticket plan.
We have been to enough games now that Max has developed a routine -- chicken tenders before the game, milkshake at halftime -- and we have developed a bond. As a man trained by profession not to cheer, boo or otherwise emote at sporting events, it took me the entire season to remember how to clap for a team. Max taught me how.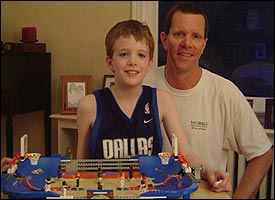 Proud pop Ivan Maisel with the loves of his life: his son Max, and the NBA Lego set.
Max owns a Nash jersey and a Nets cap. His knowledge of the game is not bad for a 10-year-old novice. Max might not know a pick-and-roll from an egg roll. But he's fascinated by the pressures of the 24-second clock, and he understands the difficulty and magnificence of a triple-double (we do, after all, watch Jason Kidd) well enough to keep an eye peeled toward the stats.
More important, Max loves the action. He unabashedly asks me to explain any play that produces a reaction from the crowd. Sunday night, he spent plenty of time waving the giveaway towel. And he didn't snap it on the scalp of the guy in front of him more than a couple of times.
Over the winter, Max's bedtime listening moved from Radio Disney to wherever he could find a game: Nets, Knicks, UConn. In the spring, that interest has fanned out to the Yankees and Mets. Any negotiation of bedtime quickly turns to, "Is there a game on tonight, Dad?" He has watched me read the sports page at breakfast every morning that we have ever eaten breakfast. On the morning after Game 3, when I asked if he wanted to read the game story of the Nets' victory, he said yes.
Max read the copy on the front of the sports section, D1; then he asked, "Where is page D3?"
So it is a work in progress. But Max is becoming a sports fan. I would have paid anyone to show him how much fun it can be. I just never thought it would be Lego. Commissioner Stern, the next one's on me.
Ivan Maisel is a senior writer at ESPN.com