Commentary
Who runs this town? (Part 3)
Originally Published:
October 14, 2009
By
Cameron Martin
| Special to Page 2
Monday and Tuesday we covered the East and the West and asked, "Who runs this town?" This reminded some fans in Philadelphia and Portland that they actually hate Mike Schmidt and Bill Walton and the shadows they still cast over their respective fair cities.
Now we move into the Midwest, where figures such as Jim Brown, Gordie Howe, Mike Ditka and Adrian Peterson have each cut a big swath -- but fall short of running their towns.
Who runs the Midwest? This is what we got:
Chicago
WHO RUNS THIS TOWN?
Page 2 goes region by region to decide which sports figures have the most juice.
Monday: Who runs the East?
Tuesday: Who runs the West?
Wednesday: Who runs the Midwest?
Thursday: Who runs the Central?
Friday: Who runs the South?
Runs it: Michael Jordan
Runners-up: Mike Ditka, Jay Cutler
If Milton Bradley had led the Cubs to their first World Series win in 101 years, he would have owned Chicago. Maybe next year. 'Til then, Chicagoland still belongs to Michael Jordan, who led the Bulls to six titles.
It's easy to forget Mike Ditka is so popular in Chicago that Republican bigwigs wanted him to run for U.S. Senate in 2004. If he'd taken them up on it, he might very well have been elected instead of the Democratic nominee, Barack Obama.
So, yeah, if you're unhappy with the direction of the country, blame Ditka.
Detroit
Runs it: Steve Yzerman
Runners-up: Gordie Howe, Joe Dumars
Detroit is Hockeytown, and the two most popular players in Red Wings history are Yzerman and Howe. In 22 seasons with Detroit, Yzerman won three Stanley Cups and reached the top 10 in career goals, assists and points. The man proudly wore the "C" for two decades and ended a 42-year Stanley Cup drought for the Motor City in 1997.
Although no one is likely to let Joe Dumars forget the mistake of drafting Darko Milicic, the Hall of Famer has steered the Pistons to six straight Eastern Conference finals and one NBA championship this decade, making them the Atlanta Braves of the NBA.
Minneapolis
[+] Enlarge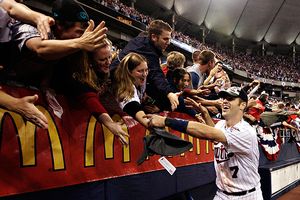 Jamie Squire/Getty ImagesIs Joe Mauer a man of the people and a Minnesotan through and through? You betcha.
Runs it: Joe Mauer
Runners-up: Brett Favre, Adrian Peterson, Jesse "The Body" Ventura
Many Vikings fans are understandably torn about rooting for Favre, a longtime Packer. For some, it really got their goat.
Joe Mauer, on the other hand, is a Minnesota native who leaves the entire state in a collective slobber. A three-time batting champion, the Twins catcher is so popular that no one cares about the sideburns he smuggled from the 1990s.
Green Bay
Runs it: Brett Favre
Runner-up: Aaron Rodgers
The roles here might be reversed when the Vikings visit Green Bay on Nov. 1, but Favre holds serve for now, having beaten his former understudy in the first battle for the hearts and minds of Wisconsinites.
If Favre leads the Vikings to a victory in the sequel, will he just retire on the spot? Pull a Randy Moss and faux moon the crowd?
Hopefully, the Packers and Vikings will meet a third time in the playoffs. Who wouldn't want to see that? Ya know, other than Rodgers.
Cincinnati
Runs it: Pete Rose
Runners-up: Ken Griffey Jr., Chad Ochocinco
Say what you want, but people in Cincinnati still love Rose, the hometown product who's banned from the Hall of Fame despite being baseball's all-time hits king. Nevertheless, he was once nice enough to sign a baseball for us outside a restaurant in Cooperstown (after we forked over $20 and waited in line).
Cincinnati still has a street named Pete Rose Way, which speaks to the continued influence of Charlie Hustle (or perhaps merely to the laziness of the people in that city).
Griffey, another beloved Cincinnati native, might one day stand as the unblemished home run king of the steroids era. In the meantime, Chad Ochocinco continues to amuse us with his social networking and occasional football.
Indianapolis
[+] Enlarge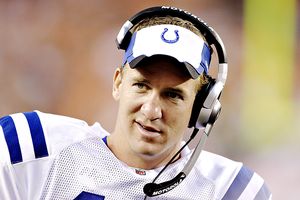 Andy Lyons/Getty ImagesWe've long suspected Peyton Manning of recording commercial voice-overs between possessions.
Runs it: Peyton Manning
Runners-up: Larry Bird, Bobby Knight
Few great athletes are successful as commercial endorsers, but Peyton Manning ("Cut that meat") has ridden his goofy, likable personality to mainstream superstardom. From his many commercials to his sublime turn as host of "Saturday Night Live," Manning kills it on and off the field -- and he does it quarterbacking a team in a medium-sized market.
If Manning played in New York or Los Angeles, he'd be in every commercial Sunday afternoons as opposed to every other one, which is currently the case.
Meanwhile, if Bobby Knight isn't going to return to coach Indiana University, why doesn't Larry Bird? He went there, too, ya know; for a semester, 'til some meanie ran him off.
Cleveland
Runs it: LeBron James
Runner-up: Jim Brown
Ask Braylon Edwards who runs Cleveland. Then again, why did LeBron allow the former Michigan standout to be traded to the media capital of the world? Edwards actually has a good chance to redeem himself playing in New York. And what happens if the Jets (with Edwards) win a Super Bowl just before LeBron hits the free-agent market in the summer of 2010? Could King James be deterred from joining the Knicks? Hey, Cleveland fans can hope, right? Browns coach Eric Mangini seems to be doing everything in his power to help his former team win, so Cavaliers fans might as well root for the Jets, too.
If LeBron weren't the king of Cleveland, that mantle never would have fallen to Edwards; it would rest with the greatest running back in NFL history, Jim Brown, a man revered for his on- and off-the-field accomplishments -- perhaps, most notably, his admonition "Don't sweet talk me, whitey," in "The Dirty Dozen."
St. Louis
Runs it: Albert Pujols
Runners-up: Ozzie Smith, Stan Musial
With a terrible football team, no professional hoops and a hockey team that has never won a Stanley Cup, St. Louis is obviously a baseball town, home to the greatest contemporary player not linked to performance-enhancing drugs.
If Pujols continues on his current path, he'll help salve the wounds of the steroids era, perhaps eclipsing some of the greatest records in the sport's history. If he's found to be inauthentic, however, fans in St. Louis undoubtedly would be disappointed, but they still won't boo, because booing is déclassé.
Tony La Russa's contract is up, and at least one former Cardinal is hoping his days in St. Louis are done. In 1996, when La Russa was in his first year with the club and Smith his last, the two gentlemen had a falling-out because La Russa handed the starting shortstop gig to Royce Clayton; the Wizard of Oz felt disrespected. Ten years later, he was still miffed, but didn't close the door on returning to the club with which he'd won a World Series title in 1982.
Smith told the St. Louis Post-Dispatch that "at some future point, when things change, when management changes, I'm more than willing to come back because it's where I belong. I know it's where I belong. That time will come. When it does, I'll welcome it with open arms."
In the event Smith does rejoin the Cards in some capacity, the 13-time Gold Glover might be able to teach Matt Holliday how to catch a baseball with his groin.
Editor's note: Phoenix was originally omitted from Tuesday's story because of an editing error. It's now included in the West region.
Cam Martin is a contributor to Page 2. He previously worked for the Greenwich Time and Stamford Advocate, and has written online for CBS Sports and Comcast SportsNet New England. You can contact him at cdavidmartin@yahoo.com.
MOST SENT STORIES ON ESPN.COM