Commentary
NFL comeback candidates in 2010
Originally Published:
November 11, 2009
By
Cameron Martin
| Special to Page 2
With nine weeks gone in the NFL season, it's become evident this won't be a good year for certain players -- either due to injuries, uninspired play, or being Larry Johnson. These players should start looking ahead to next season, when they'll all be candidates for the 2010 NFL Comeback Player of the Year award.
According to its lax eligibility requirements, the Comeback Player award is given to the player who "shows perseverance in overcoming adversity, in the form of not being in the NFL the previous year, a severe injury or simply poor performance."
In short, everyone is a candidate -- even Trung Canidate, who just finished raking my leaves.
(Kidding, Trung. Please don't kill me … wherever you are.)
Now, we're not going to discuss every player's odds of winning next season's award -- because, well, that would take the kind of time, energy and perseverance known only to mutants like this. Instead, we're going to take a cross-section of candidates and look at their odds of winning.
[+] Enlarge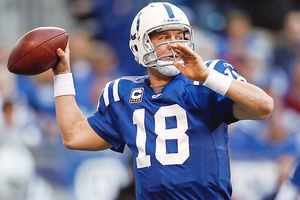 Andy Lyons/Getty ImagesThis is one award Peyton Manning will probably never win.
PEYTON MANNING
He's never missed a game due to injury in his NFL career, plus his stellar play this season says this won't be the year he turns over the club to future star Jim Sorgi.
Odds of winning: Not even Art Schlichter (circa 1982) would bet on Manning to win this award next season.
LARRY JOHNSON
If you do a Google search for "Larry Johnson diaper" you still get more than 30,000 results, so apparently many people feel that Johnson still hasn't followed ex-coach Dick Vermeil's directive (issued in 2004) to "take the diapers off."
If this were the Congeniality Award, Johnson's prospects would be considerably worse. But no one's asking him to be nice -- which seems like an impossibility, anyway. His next team (and he's bound to have one) will simply ask him to run hard and keep his mouth shut. Oh, and they'll probably ask him not to assault any more women.
Odds of winning: Can a 30-year-old run well in diapers? Doubtful. 100-1.
PLAXICO BURRESS
The only way he can play in the NFL in 2010 is if the governor of New York grants him a pardon -- after which Burress would need to find a team, show up for practice, show up for games, not shoot himself and play well.
Odds of winning: Roughly the same as Burress carrying a loaded unregistered handgun in the waistband of his pants, shooting himself in the leg, telling medics his name is Harris Smith and later getting sentenced to two years in jail.
JASON CAMPBELL
The Redskins' quarterback is in the last year of his contract, and if he has any good sense, he'll flee Washington this offseason like Clarence Thomas on his way to a NASCAR race.
The former first-round pick out of Auburn still has a lot of boosters, so he'll undoubtedly be given another shot at starting next season. Perhaps by Jim Fassel?
Odds of winning: The same as him completing a 40-yard pass.
[+] Enlarge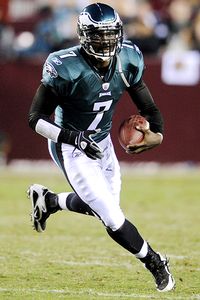 AP Photo/Nick WassMichael Vick needs a new team, and a much bigger role, to be a real candidate.
MICHAEL VICK
The former Falcon signed with the Eagles for only one year guaranteed, which means another lucky fanbase might have the opportunity to root for Vick in 2010. If he signs with a team that really needs a quarterback and he leads that team back to respectability, then he'll win half the battle in nabbing this award. The other half? Getting sportswriters to vote for him.
Odds of winning: Exceptional. Sportswriters are notorious dog-haters.
JAKE DELHOMME
Delhomme is not injured. He's actually playing this year. Consequently, his candidacy for Comeback Player of the Year in 2010 hinges solely on his 2009 résumé. And what a résumé it is.
Delhomme, who once guided the Carolina Panthers to the Super Bowl, leads the NFL with 13 interceptions. And this comes after throwing six interceptions in the Panthers' playoff loss to the Cardinals last season. Still, his teammates love him -- and that kind of support is immeasurable in a player's quest for the Comeback Player of the Year award.
After a 38-10 Week 1 loss to Atlanta, wide receiver Steve Smith told Delhomme, "I never really liked you as a quarterback. But as a person … I love you as a person." Who wants to bet against a guy like that? He stinks, and his teammates still love him. He's sort of like Bizarro Kobe.
Odds of winning: The same as him throwing six touchdown passes in a playoff game this season.
TERRELL OWENS
It's a dirty little secret, but sportswriters also hate wide receivers. When Jerry Rice scored a then-record 22 touchdowns in 1987 (in just 12 games), who won the league's MVP? John Elway. When Randy Moss beat Rice's TD mark in 2007, who garnered every single first-place MVP vote? Tom Brady. In the history of the Associated Press NFL POY Award (since 1957), no wide receiver has ever won the award. Ridiculous, especially when you consider that even a placekicker, Mark Moseley, won it once (1982).
The disdain for wideouts is even seen in voting for the Comeback Player of the Year award. Only four wideouts have won the honor -- and one of them, Steve Smith, had to share it with Tedy Bruschi. So, just four winners since 1972. If Owens, 36, can find a team that will have him next year, perhaps he can become the fifth.
Odds of winning: Minuscule. We may be able to elect a black president in this country, but the prejudice against wide receivers is toxic and impenetrable. Jeff Reed, a kicker who likes to drink (but hates to tackle), has a better chance of winning this award than Owens.
CHAD PENNINGTON
Like you, the first thought that came to mind when I heard Pennington was out for the season was, "That clever dog -- he wants to win Comeback Player of the Year a third time! He wants to break his tie with Garrison Hearst!"
Yup, only two NFL players have won this vaunted award twice. Joe Montana? Just once. Dan Marino? Same thing. But Chad Pennington? Oh, this man has seen the peaks and he has seen the valleys -- and he has seen them twice. I have no idea what he plans to do post-career, but lottery winnings and Chapter 11 filings will definitely be involved.
Odds of winning: 1:2.
(Note: You might be wondering why we're writing about the 2010 award, instead of this year's. Simple: Tom Brady, Cedric Benson, Kyle Orton, Tony Romo -- one of those four is going to win the 2009 award. We all know it, so who wants to spend time discussing it? Not this guy.)
[+] Enlarge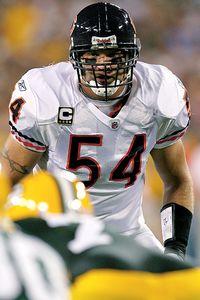 Jonathan Daniel/Getty ImagesAlmost forgot about Brian Urlacher, didn't you?
BRIAN URLACHER
Since 1972, only five defensive players have won the award: Lyle Alzado, 1982 (and his recovery now looks a wee bit suspicious); Bryant Young, 1999; Joe Johnson, 2000; Tedy Bruschi, 2005; Greg Ellis, 2007. In short, sportswriters hate defensive players just slightly less than they hate wide receivers. Not me, though. I love defenders. Without them, football would be a track meet with no collisions. It'd still be more popular than hockey, but the gap would certainly be narrowed.
The Chicago Bears have been an inconsistent bunch since losing Urlacher for the season with a wrist injury in Week 1. They shut down the Steelers at home in Week 2, battled blinding conditions to win in Seattle in Week 3, then allowed the Lions to score three first-half touchdowns in Week 4 (before realizing they were losing to Detroit). Then they lost to the Atlanta Falcons, got hate-rolled by Cedric Benson and the Cincinnati Bengals, kicked some angry sand in the face of the Cleveland Browns, and were throttled by the Arizona Cardinals last week.
Yeah, the Bears aren't going to the Super Bowl. The thing is, everyone's going to blame Jay Cutler. And when Urlacher returns next season -- and these Bears and Cutler are a year older and a year wiser -- Urlacher will be emblematic of their comeback. Until then, they're just an average team with too many Vanderbilt graduates.
Odds of winning: If Pennington goes down next season (current odds 1:3), then Urlacher will emerge as the favorite -- unless, of course, the following happens …
BRETT FAVRE
Jan. 3, 2010:
Dear Diary,
I can't believe it happened … but it did. After today's beatdown from the Giants, we've lost the last eight games of the season. Fans in Minnesota now hate me as much as fans in Green Bay. And New York. And Chicago. Statistically, this was the worst season of my career -- though I did set a career high for tackles. I still have the love for the game, though, so I think I'm coming back. The Vikings are talking about trading up in the draft to get Sam Bradford, but if I play my hand correctly and delay my announcement, they won't be able to do that. Go me!
Odds of winning: Believe it or not, the official name of the award is not the Brett Favre Comeback Player of the Year award. Not yet, anyway. If he wins the award next year, however, that could happen. But come on, can Favre make it through an entire season without reminding people he was born in the 1960s (eeeew)? Probably not. So we'll set the odds at pi: 1.
OTHER CANDIDATES
Steve Smith (Panthers), Willie Parker, Marshawn Lynch
Cam Martin is a contributor to Page 2. He previously worked for the Greenwich (Conn.) Time and The (Stamford, Conn.) Advocate, and has written online for CBS Sports and Comcast SportsNet New England. You can contact him at cdavidmartin@yahoo.com.
MOST SENT STORIES ON ESPN.COM