Commentary
The Weekly Best for 12/1
Originally Published:
December 1, 2009
By
Cam Martin
| Special to Page 2
Welcome to the Weekly Best, a look at the best in sports, pop culture and the best time to block your ears this holiday season.
Best revenge: To live well.
Best voice of the Yankees: Bob Sheppard.
Best song by The Who: "Eminence Front."
Best song you have no chance of hearing during the Super Bowl: "Eminence Front."
Best dad-gum coach in Florida State history: The one who retired Tuesday.
Best Monday night game on paper: Saints versus Patriots.
Best test of the new Vince Young: Next week's game against the undefeated Colts.
Best take on Josh McDaniels' trash-talking: "If a player talks that way, you get to hit him. When a coach talks that way, you don't really get to strike back. Who wants to have verbal jabs with a coach? That's no fun. Let's fight." -- Ryan Clark of the Steelers.
Best interim NFL coach: Perry Fewell.
Best euphemism for "No one wants me": "I'm retiring."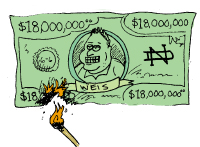 Best consolation for a coach fired after five years at Notre Dame: An $18 million severance package.
Best F-bomb televised to a live national audience: Josh McDaniels'.
Best tactic after a bank robbery: Eat the stick-up note.
Best athlete tweet: "My teammate came up 2 me trying 2 whisper & tell me something I almost died his breath smells he Got a DEAD tongue! Stank like S---! Peeew!" -- Darnell Dockett.
Best fastball among government interns: Ross Ohlendorf of the Pirates.
Best video game that incorporates a young Leonardo da Vinci: "Assassin's Creed II."
Best video game news: They're already working on the next "Call of Duty."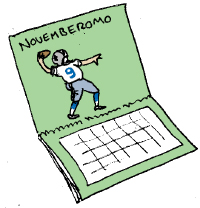 Best November quarterback: Tony Romo.
Best December quarterback: Anyone else.
Best UFL team: The Las Vegas Locomotives.
Best college football brothers: Kellen and Kirby Moore, Boise State.
Best fix for that offseason baseball itch: "All-Time Games" on the MLB Network.
Best grand marshal for a Grey Cup parade: Elisha Cuthbert.
Best receiver who's not a finalist for the Biletnikoff Award: Missouri's Danario Alexander.
Best nickname for Rihanna: RiRi?
Best fight slated for New Jersey: UFC 111 in March 2010.
Best onetime future Hall of Famer now signing one-year contracts to come off the bench: Andruw Jones
Best Notre Dame quarterback next season: High school senior Andrew Hendrix.
Best donation from a former Heisman Trophy winner: Charles Woodson, who pledged $2 million to the new University of Michigan Mott Children's Hospital and Women's Hospital.
Best college football game this week: That one in Atlanta.
Best place to hold the SEC Championship Game: Inside a dome -- where no one in the SEC plays.
Best way to get your stories straight: Tell the cops you're currently unavailable.
Best male coach in women's basketball: UConn's Geno Auriemma.
Best movie that's playing in only one theater in Fairfield County, Connecticut: "The Road."
Best long-term decision: Sitting Ben Roethlisberger because of his concussion.
Best quarterback to go from the frying pan into the fire: Dennis Dixon.
Best time to fire your coach: Right before the team ties an NBA record for consecutive losses to start the season.
Best winless NBA team: Still the New Jersey Nets
Best time to call a play-action pass: After your crosstown rival calls a timeout when you took a knee to kill the clock.
Best use of earmuffs: To block out Paul McCartney's "Wonderful Christmas Time."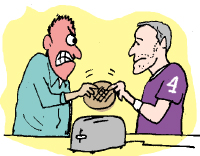 Best breakfast food currently in short supply: Eggo waffles.
Best reality show audition: The socialites who crashed President Obama's first state dinner as an audition for "Real Housewives of DC."
Best state for kids with ADHD to score medical marijuana: California.
Best state for anyone to score medical marijuana: Apparently California.
Best $500 million 3-D movie coming out in December: "Avatar."
Best-selling golf novel of all time: "Golf in the Kingdom," now becoming a feature film.
Best owner in Washington sports history: Abe Pollin.
Best Hall of Fame semifinalist reviled in the state of Ohio: Art Modell.
Best mascot participation after a half-court buzzer-beater: Paws, after Northeastern beat Wright State.
Best holiday movie that's a chick flick digestible for males: "Love Actually."
Best accumulation of minutes by an NHL goalie: Martin Brodeur.
Best bang for her buck: Serena Williams, who was fined a record $82,500 for her U.S. Open tirade.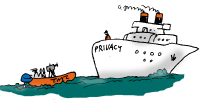 Best way to ensure a fight with your significant other: Change your Facebook relationship status to "It's complicated."
Best way to describe Tiger Woods' current status: "It's complicated."
Best case of irony: Woods' $20 million yacht is named "Privacy."
Cam Martin is a contributor to Page 2. He previously worked for the Greenwich (Conn.) Time and The (Stamford, Conn.) Advocate, and has written online for CBS Sports and Comcast SportsNet New England. You can contact him at cdavidmartin@yahoo.com.
MOST SENT STORIES ON ESPN.COM