Commentary
Get your hoops highlights here
Originally Published:
January 4, 2010
By
Cam Martin
| Special to Page 2
Welcome back to the College Hoops DVR, where -- depending on whim -- we look backward or forward or just let things play, always in quick succession.
PLAY: Siena's Ronald Moore, who leads the nation in assists (8.5 per game), is shooting 35.3 percent from the field and 57.1 percent from the foul line, leading some to conclude that Moore is not so much a great point guard as a savant at hot potato.
[+] Enlarge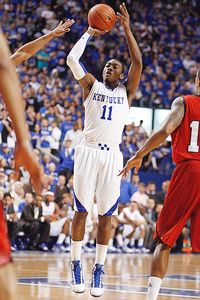 Andy Lyons/Getty ImagesJohn Wall has taken college basketball by storm this season.
PLAY: Alex Legion, who committed to Michigan before transferring to Kentucky and then transferred from Kentucky to Illinois, is now transferring to Florida International. Legion, who was considered a pro prospect when his college career began, hopes FIU coach Isiah Thomas will teach him how to win friends and influence people.
PLAY: Rumors are circulating that Kentucky's John Wall -- seen here performing the long jump -- may quit basketball for a career in track and field.
PAUSE: Michigan State coach Tom Izzo briefly benched reigning Big Ten Player of the Year Kalin Lucas last week, saying he was not happy with his leadership. "He told me I had to lead better and be a better team player," Lucas said. "I did need to hear that. I learned that he does care about me." Other Michigan State starters were left to wonder whether Izzo cares about them, too, and would recognize them with a benching.
PLAY: Morgan State is the only team in the country with a top-5 scorer (Reggie Holmes, 24.8 ppg) and a top-5 rebounder (Kevin Thompson, 13.3 rpg). Somehow, though, the Bears (8-5) are not a top-5 team.
FF: South Florida (10-3) has already exceeded last year's win total (9), but has a way to go to match last year's loss total (21).
FF: Manny Harris leads Michigan in points, rebounds, assists and steals. He does not lead the team in blocks, however, and coach John Beilein has threatened to bench him for his lack of leadership in this department.
REW: After West Virginia lost to Purdue on New Year's Day, WVU coach Bob Huggins said, "We have a lot of guys who think they're better than what they are." Huggins has to bear some responsibility for this, since he allowed the Mountaineers to go undefeated entering the game.
PAUSE: According to Scout.com, first-year Memphis coach Josh Pastner has recruited the nation's top 2010 class, leading some to speculate that Kentucky hired the wrong guy from Memphis.
FF: Prairie View A&M (5-6) has the most wins in the SWAC, but Alcorn State (0-13) might go on a six-game winning streak at any time.
PLAY: On the season, Zadrian Gibson of Kennesaw State is averaging 5.0 fouls per game.
[+] Enlarge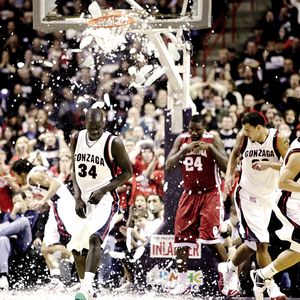 AP Photo/Rajah BoseBreaking a backboard does not correlate to winning, it seems.
PAUSE: Marist (1-11) beat Manhattan on Saturday and is now undefeated in 2010.
FF: Oklahoma hosts Maryland-Eastern Shore on Monday night. The Sooners, who lost to Gonzaga on New Year's Eve, hope to improve their record when Tiny Gallon shatters a backboard (currently 0-1).
FF: William & Mary, founded in 1693, might be headed to its first NCAA tournament this year -- helped by impressive victories over Maryland, Wake Forest and Richmond. They almost made the NCAA tournament in 1704 but were denied an at-large bid when the committee mysteriously selected CCNY instead.
PLAY: The Pac-10 is the only one of the power-six conferences that plays a true round-robin schedule, which will allow fans throughout the league to see how much UCLA has fallen off this year.
FF: Penn (0-11) might have its last good shot at a victory when it plays 1-12 Maryland-Baltimore County on Wednesday night. After that, the Quakers play Temple, LaSalle and St. Joseph's -- and then head straight into the teeth of an Ivy League schedule.
REW: Pittsburgh handed Syracuse its first Division I loss of the season, two months after Le Moyne handed the Orange their first Division II loss.
PLAY: Seton Hall's Jeremy Hazell, a 41 percent shooter, is second in the nation in field goal attempts per game (18.5), a pace he needs to maintain to buoy his 23.3-points-per-game scoring average.
LEGEND:
REW: A look back at a recent sporting development
PAUSE: Where things are on hold
PLAY: Where things are ongoing
STOP: Where things have come to an end
FF: A look ahead at a possible sporting development
Cam Martin is a contributor to Page 2. He previously worked for the Greenwich (Conn.) Time and The (Stamford, Conn.) Advocate, and has written online for CBS Sports and Comcast SportsNet New England. You can contact him at cdavidmartin@yahoo.com.