Commentary
The Weekly Best for 1/12
Originally Published:
January 12, 2010
By
Cam Martin
| Special to Page 2
Welcome to The Weekly Best, a look at the best in sports, pop culture and ancient Egyptian slavery.
Best-grossing movie I've yet to see: "Avatar."
Best novel made into an awful movie: "The Mysteries of Pittsburgh."
Best possible quarterback rating: 158.3.
Best Joe Flacco could muster versus the Pats: 10.0.
Best place for that score: A gym mat or diving platform.
[+] Enlarge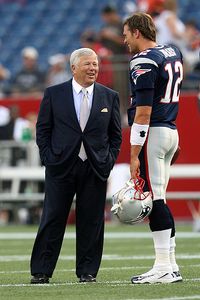 Jim Rogash/Getty Images "All those titles are the good old days now, aren't they?"
Best days are behind him: Tom Brady.
Best day of my life: As good as Tom Brady's worst day?
Best time to start talking about the past: When your new job with the Cardinals more or less demands it.
Best place to be when the fit hits the shan: No longer at USC.
Best end around on the Rooney Rule: The Seahawks.
Best band getting back together: Soundgarden.
Best short-handed showing: The Tennessee men's basketball team.
Best Pussycat Doll now on the market: Nicole Scherzinger, who just split with Formula One racer Lewis Hamilton.
Best NFL player who received no MVP votes: Chris Johnson.
Best calculation of pi: To 2.7 trillion decimal places, a record.
Best news on Nine Inch Nails: Trent Reznor says they're recording new material.
Best midmarket splurge: The Reds spent $30 million to sign Cuban defector Aroldis Chapman.
Best accumulation of penalty yards in playoff history: Eagles and Cowboys, 228 between them.
Best career decision: The Rock is starring as the "Tooth Fairy."
Best trophy case among NFL quarterbacks: Peyton Manning, four MVPs.
Best opportunity to hear tone-deaf people: Tuesday's premiere of "American Idol."
Best left-handed pitcher in MLB history: Randy Johnson.
Best news for "Green Lantern": Blake Lively will be your co-star, Ryan Reynolds.
Best job after leaping from the frying pan into the fire: Texas quarterback Garrett Gilbert.
Best attitude in the face of rejection: Bert Blyleven says he's confident about a 2011 election to the Baseball Hall of Fame.
Best NFL comeback: Tom Brady apparently.
Best Alicia Keys impersonation: Charles Barkley on "Saturday Night Live."
[+] Enlarge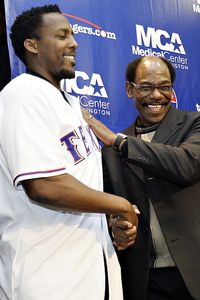 AP Photo/Tony GutierrezWelcome to Texas, Vlad ... as far as a place to stay, I'd rent if I were you.
Best deal Vladimir Guerrero could get: One year from Texas.
Best news for ancient Egyptian slaves: According to new discoveries, you were not forced to build the pyramids.
Best threat to Wilt Chamberlain's throne: Warren Beatty.
Best exporter in the world: China, which just passed Germany.
Best former Hanes pitchman: Charlie Sheen.
Best weekend of the NFL season: Next weekend, the divisional round.
Best time to apologize for hitting your own player: Immediately, Frank Martin.
Best book review section that isn't going out of business after all: Kirkus Reviews.
Best course of action when dealing with an injury: Hide it from an employer who's already ticked off that you pitched in the World Baseball Classic.
Best team when College of Charleston plays the University of North Carolina in basketball: Obviously not UNC.
Best goals-against-average in the NHL: Tuukka Rask of the Bruins.
Best name in the NHL: Roman Hamrlik.
Best news for society: Former Net Jayson Williams will be taken out of circulation for at least 18 months.
Best active quarterback yet to win a Super Bowl: Donovan McNabb.
Best racer making a Formula One comeback: Michael Schumacher.
Best hat for Andre Dawson to wear into Cooperstown: Expos.
Best running day that went for naught: 169 yards from Cedric Benson.
Best time for a non-call: When Aaron Rodgers's face mask has been yanked down?
Best curb on swimmers' times: The elimination of the polyurethane suits from all official competitions.
Best comedian getting some shabby treatment: Conan O'Brien.
Best active American skier: Lindsey Vonn, who just became the first American man or woman to win a race on three straight days.
Best role in Daniel Baldwin's recent career: Catcher of Shaquille O'Neal.
Best balm to Neil Rackers' bruised ego: Kicking that game-winning field goal in overtime. Oh wait ...
Best new comedy on television: "Modern Family."
Best fast-food commercials: Sonic, featuring these guys.
Best exhibition of sportsmanship: The Yates High School basketball team in Houston scored 100 points in the first half of a 170-35 victory -- and continued its full-court press into the second half.
Best NFL game next weekend: All of them.
Best choice between a haircut or ski cap: Ski cap.
Best gift to those guys still prowling the New York City nightlife: Derek Jeter has taken himself out of the game.
Cam Martin is a contributor to Page 2. He previously worked for the Greenwich (Conn.) Time and The (Stamford, Conn.) Advocate, and has written online for CBS Sports and Comcast SportsNet New England. You can contact him at cdavidmartin@yahoo.com.