Commentary
Get your hoops highlights right here
Originally Published:
February 8, 2010
By
Cam Martin
| Special to Page 2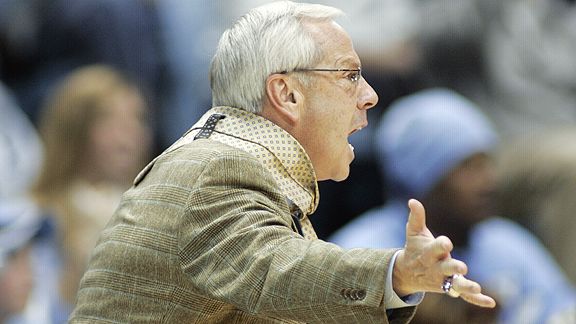 AP Photo/Jim R. BoundsRoy Williams is not a happy man these days.
Welcome back to the College Hoops DVR, in which -- depending on whim -- we look backward or forward or just let things play, always in quick succession.
REW: Duke's proposed Super Bowl ad -- a rabid Blue Devils fan sitting beside an attractive female -- was rejected by CBS for being patently impossible.
REW: During Colorado's overtime loss to No. 1 Kansas, Colorado fans chanted "Overrated" at the visiting Jayhawks. They followed that up by chanting "We are losers."
STOP: In its ongoing campaign against obesity and poor eating habits, the University of California-Berkeley will no longer recruit McDonald's All-Americans.
PLAY: Nine-year-old hoops phenom Skip Tumylou, a third-grader from South Central Los Angeles, has narrowed his college choices to USC, UCLA and the Sorbonne.
FF: A 2011 NCAA lockout remains likely if schools and players can't come to an agreement about how to divide revenue.
FF: Given the success of the Super Bowl halftime show, the NCAA is in talks to create its own halftime program during the men's national championship game in April. The NCAA would like to be more hip and contemporary in its selection of musical acts, however, so they're hoping to land John Tesh or Chris Gaines.
PLAY: Northwestern, tired of campaigning for inclusion in the NCAA tournament, is now campaigning for inclusion in the Big Ten tournament.
PLAY: The University of Arizona will impose sanctions on its men's basketball team for recruiting violations committed in 2008. Among the sanctions: the loss of one scholarship, a two-year probationary period, and the public acknowledgement that Arizona State has hotter women.
PLAY: Kansas coach Bill Self says the Jayhawks can win the national championship if they continue to score more points than the opposition, particularly in overtime.
PLAY: Kentucky players say their locker-room chemistry is fraying because DeMarcus Cousins is not a team player. In his most recent transgression, the freshman forward failed to complete his designated assignment -- making the guacamole dip for the Wildcats' Super Bowl party.
PAUSE: UConn (14-9) might play a game against the UConn women's team next season, Geno Auriemma said. "Provided, of course, they can prove themselves by beating some lower-rung women's teams first."
PAUSE: Schools have been enormously successful in recent years in offering free Toyota Priuses to environmentally conscious basketball recruits -- but will now have to rethink their payoffs in lieu of massive recalls.
REW: Villanova coach Jay Wright, often mentioned as one of the best-dressed coaches in college basketball, was certainly dressed for the occasion as he entered the Verizon Center in Washington D.C. on Saturday.
FF: Duke plays at North Carolina on Wednesday. No matter who wins, we lose.
PLAY: Art Hyland, the coordinator of men's basketball officials for the Big East Conference the past 26 years, has been named secretary-rules editor for the NCAA men's basketball rules committee. His first order of business: to get the rest of the country to start playing Big East basketball. "And that means no foul is committed unless the bone has popped through the skin, ya ninnies."
FF: Be sure to tune in for Monday night's Texas-Kansas game, as Kansas fans will unveil a new chant to replace Rock Chalk Jayhawk. The new chant is a closely guarded secret, but sources say "it will make as much sense as Rock Chalk Jayhawk and sort of rhyme."
FF: Kentucky coach John Calipari has trademarked the phrase "one and done" and plans to hawk T-shirts emblazoned with this slogan during the upcoming NCAA tournament. With the funds from this investment, Calipari hopes to be "one and done" at Kentucky himself.
LEGEND:
REW: A look back at a recent sporting development
PAUSE: Where things are on hold
PLAY: Where things are ongoing
STOP: Where things have come to an end
FF: A look ahead at a possible sporting development
Cam Martin is a contributor to Page 2. He previously worked for the Greenwich (Conn.) Time and The (Stamford, Conn.) Advocate, and has written online for CBS Sports and Comcast SportsNet New England. You can contact him at cdavidmartin@yahoo.com.