Commentary
The Weekly Best for Feb. 16
Originally Published:
February 16, 2010
By
Cam Martin
| Special to Page 2
Welcome to the Weekly Best, a look at the best in sports, pop culture and $8 airline pillows.
Best cure for boredom: An active imagination.
Best excuse to get nationalistic: The Olympics.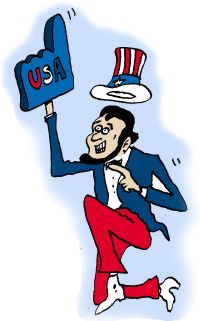 Best hockey team in the world: U-S-A! U-S-A!
Best American president: Abraham Lincoln.
Best item on his resume: The Emancipation Proclamation.
Best-dressed golfer: Jesper Parnevik.
Best-dressed if Jesper retires: John Daly.
Best way to relax on Valentine's Day: Watch a road crew patch a pothole on television.
Best accomplishment by billionaire American sailors: Congratulations, you won the America's Cup.
Best thing about the Olympic torch podium malfunction: It doesn't matter in the grand scheme of anything.
Best winless team in Division 1 college basketball: The Bryant Bulldogs.
Best dunk in the Slam Dunk Contest: You tell me; I didn't watch it.
Best player in the NBA All-Star Game: Cowboys Stadium.
Best nickname in Black Sox history: Shoeless Joe Jackson.
Best nickname in White Sox history: The Big Hurt.
Best make plans for the NIT: UConn.
Best nod to consumer comfort: Starting May 1, American Airlines will charge passengers only $8 for a blanket.
Best way to motivate Derek Jeter: Make him play for his next contract.
Best reason to watch the pairs ice-dancing competition: Tanith Belbin.
Best-known as a workout song, but allegedly the sexiest tune of all-time: "Physical" by Olivia Newton-John.
Best sign that you need to stop buying things on credit: When a credit card company offers you an APR of 79.9 percent.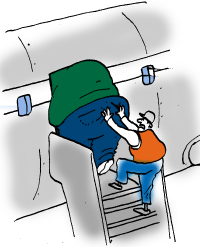 Best director who's too fat to fly: Kevin Smith, director of "Clerks" and "Cop Out."
Best hoops team that consistently plays to the level of its competition: Georgetown.
Best hoops game this week: No. 10 Georgetown versus No. 5 Syracuse.
Best consolation for professional golfers: If one player happens to win all the majors in 2010, just know this: It's the Year of the Tiger, according to the Chinese calendar.
Best John Cusack movie: "Better Off Dead."
Best quote from that movie: "Gee, I'm really sorry your mom blew up, Ricky."
Best check your attic: You might own an old Nintendo game worth more than $13,000.
Best role for a 7-year-old girl: The sexually charged Queen of Carnival.
Best place for people who put their little girls in pageants or tiaras: Jail.
Best response from Mike Krzyzewski when asked if he had interest in becoming coach of the New Jersey Nets, a team that might be bought by a Russian billionaire: "Nyet."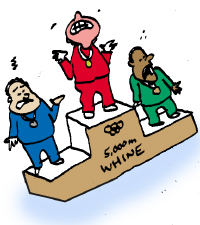 Best exhibition sport at this year's Winter Olympics: Whining, which seems to be catching on nicely.
Best destination for Reggie Bush: Wherever he'll get paid the most.
Best sit down and stay a while: The Dolphins released Joey Porter but then had to take him back because his departure would have activated a bonus and put them over the salary cap.
Best song by The Knack: "My Sharona."
Best after that: Uhhh ...
Best watch out for that rogue wave: This one crashed ashore during the Mavericks Surf Contest in California, hospitalizing several people.
Best time to buy low and sell high: Right before Thursday's NBA trade deadline.
Best pants in the Olympics: The Norwegian curling team.
Best attempt to maintain street cred: American snowboarder Nate Holland says competitors' pants are too tight and betray the true spirit of the sport.
Best-looking fan of the North Carolina Tar Heels: Brooklyn Decker.
Best-looking fan of the Duke Blue Devils: Yet to be determined.
Best Clark Kent: Shaquille O'Neal.
Best Superman: Dwight Howard.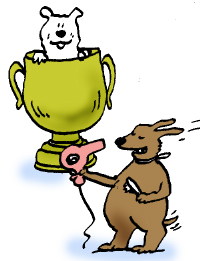 Best endorsement for Sen. John McCain: Samuel P. Wurzelbacher, aka Joe the Plumber, says of the 2008 Republican nominee for president, "I don't owe him [bleep]. He really screwed my life up, is how I look at it."
Best give that dog a bath: The Westminster Dog Show is on!
Best team in baseball: The Yankees.
Best candidate to knock them off: The Red Sox.
Best guess as to what fans outside the northeast did upon reading that: Sigh.
Best comparison for renowned civil rights leader Floyd Mayweather Jr.: Has to be Martin Luther King Jr. or Malcolm X.
Best case of hypocrisy: You blame the death on the luger -- and then change the design of the course.
Cam Martin is a contributor to Page 2. He previously worked for the Greenwich (Conn.) Time and The (Stamford, Conn.) Advocate, and has written online for CBS Sports and Comcast SportsNet New England. You can contact him at cdavidmartin@yahoo.com.