Commentary
Championship Week, time to celebrate
Originally Published:
March 11, 2010
By
Cam Martin
| Special to Page 2
Welcome back to the College Hoops DVR, in which -- depending on whim -- we look backward or forward or just let things play, always in quick succession.
PLAY: By winning the Ivy League regular season, Cornell became the first school to earn an invitation to the NCAA tournament. The Ivy League, you see, doesn't put together a postseason tournament, because people at these schools are inherently lazy.
REW: The Razzies -- awarded annually for the worst acting performances of the year -- were handed out Saturday in Hollywood. Fans of the North Carolina Tar Heels probably were left wondering why their team wasn't honored. It's because the Razzies do not give out an award for "Worst Performance by a Defending National Champion."
[+] Enlarge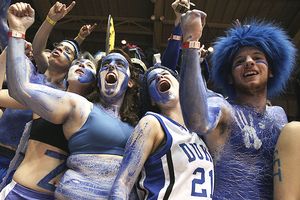 AP Photo/Gerry BroomeThe Cameron Crazies are definitely ready for March Madness.
PLAY: Kentucky assistant coach Rod Strickland is among the names rumored to be under consideration for the DePaul head-coaching job. Strickland, a DePaul alum, certainly would bring excitement to the moribund program. And who knows, maybe he'd bring John Wall, DeMarcus Cousins and Eric Bledsoe with him, too?
STOP: By both finishing 13-3 in the ACC, Duke and Maryland were forced to split the regular-season crown. This was fine with Duke fans, who prefer the tiara look anyway.
REW: After Maryland beat Virginia in Charlottesville on Saturday to earn a share of the ACC regular-season title, the hometown Cavaliers were gracious enough to let the visiting Terps fans do some light-hearted rioting. For Maryland fans, it was almost like being at home.
FF: With the first day of the NCAA tournament following directly on the heels of St. Patrick's Day, American businesses are expecting a 100 percent drop in productivity next Thursday.
FF: Tournament officials are considering a "plus one" system for the NCAA tournament, with the winner of the men's bracket earning the right to get pasted by the UConn women's team.
PLAY: Advocates of Big Ten expansion now have a report to back them up. An analysis prepared by a Chicago-based firm looked at whether the addition of five schools would generate enough revenue to make expansion worthwhile, according to the Chicago Tribune. "The point was: We can all get richer if we bring in the right team or teams," a source told the Tribune. In other news, Wall Street expects to make money if it picks the right stocks.
PLAY: With the discontinuation of the Hummer, schools are scrambling to find the next big automobile with which to bribe prospective players.
PLAY: Are you a single sheeter or a multisheeter? We're talking, of course, about the number of sheets you fill out for the NCAA tournament. If you're a single sheeter, you're widely held to be pious, self-congratulatory and rather cheap. If you're a multisheeter, you're understood to be reckless, devoid of principles and something of a loser. I, for one, am a single sheeter, because I'm lazy.
PLAY: Lately it's become fashionable for a coach to don a loud blazer in the dominant color of his school. Among the coaches getting in on the fun are Bruce Pearl of Tennessee, Buzz Williams of Marquette, Steve Alford of New Mexico and Ricardo Montalban of Louisville.
REW: West Virginia's Da'Sean Butler hit a running bank shot to beat Villanova in overtime Saturday -- a shot that should have been disallowed because Butler did not call "glass." That kind of bush league stuff might fly in the regular season, Da'Sean, but it certainly won't wash in the NCAA tournament.
PLAY: With the possibility of an NBA lockout looking more and more real every day, college players must be mortified at the prospect of staying in school and learning for four years.
FF: Because they finished with the two worst in-conference records in the Atlantic 10, Fordham (0-16 in conference) and LaSalle (4-12) were not invited to participate in the conference's postseason tournament. They should be well rested if and when they get their invitations to the NCAA tournament.
PLAY: During the Big South championship game between the Winthrop Eagles and the Coastal Carolina Chanticleers, the Coastal Carolina mascot -- Chauncey the Rooster -- was carrying a sign that read "Best Mascot Alive." Apparently Chauncey doesn't travel very much, because he's not even the best rooster in South Carolina. That designation, of course, belongs to the Gamecock of South Carolina. After all, everyone knows what a Gamecock is. But a Chanticleer? Not so much.
LEGEND:
REW: A look back at a recent sporting development
PAUSE: Where things are on hold
PLAY: Where things are ongoing
STOP: Where things have come to an end
FF: A look ahead at a possible sporting development
Cam Martin is a contributor to Page 2. He previously worked for the Greenwich (Conn.) Time and The (Stamford, Conn.) Advocate, and has written online for CBS Sports and Comcast SportsNet New England. You can contact him at cdavidmartin@yahoo.com.