Commentary
Please fill out the Page 2 Sports Census
Originally Published:
April 14, 2010
By
Cam Martin
| Special to Page 2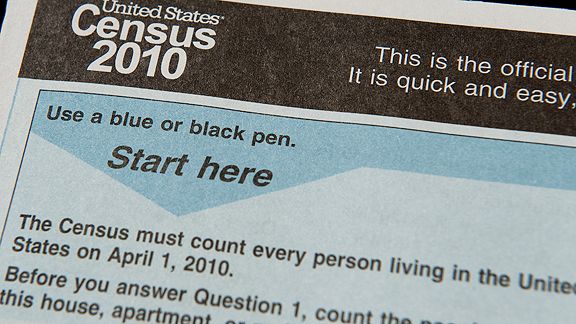 Paul J Richards/AFP/Getty ImagesHopefully you completed your U.S. Census form by now. Did you fill out the Page 2 Sports Census?
The Page 2 Sports Census must count every living sports fan in the United States, so please fill out the following survey. If you don't respond, we will come to your door during the series finale of "Lost" to get your answers.
1. How many people live in your household?
A. One
B. Two or more
C. One Boston fan who sucks the oxygen out of the place and threatens the existence of all other residents
2. What is the race of Person One?
A. White
B. African-American
C. American Indian or Alaska Native
D. Asian Indian
E. Texan
F. Japanese
G. Chinese
H. Other
3. What is your telephone number? We may call you if we don't like your answers.
Area Code + Number
4. How many children are in your home?
A. Zero
B. One or more
C. Does an adult who throws temper tantrums when his team loses count as a child?
5. How many senior citizens (65 or older) live in your home?
A. Zero
B. One or more
C. Two guys who never shut up about the 1908 Chicago Cubs
6. Are you married?
A. Yes
B. No
C. Hell no
D. Yes, but not on Sundays during the NFL season
7. Are you currently employed?
A. Yes
B. No
C. Do I look employed? I'm filling out a damn survey
8. At any time since Feb. 1, 2000, has Person One attended regular school or college?
No __
Yes, public school or college __
Yes, private school or college __
Yes, haven't missed a home game in decades __
9. Does Person One sometimes live or stay somewhere else? Mark all that apply
In college housing __
In jail or prison __
In the military __
In a state of denial when Alabama loses __
10. Does Person One have any of the following long-lasting conditions?
A. Deafness or severe hearing impairment?
B. A condition which substantially limits one or more basic physical activities such as walking, climbing stairs, reaching, lifting, or carrying?
C. Blind allegiance to the Oakland Raiders?
11. Income in 2009: Wages, salary, commissions, bonuses, fantasy winnings, tips from all jobs -- report amount before deductions for taxes, bonds, dues, and fantasy guru advice.
Annual amount dollars: $ _ _ _ _ _ _ _ _ _
12. What best describes your current household?
A. House
B. Apartment
C. Mobile home
D. Shrine to the Kentucky Wildcats
13. What fuel is most often used to heat this household?
A. Gas
B. Oil
C. University of Tennessee memorabilia
14. How many professional sporting events did you attend in the last year?
A. None
B. One
C. Two or more
D. Two or more, but I live in Oakland, so the word "professional" doesn't really apply
15. Have you ever been recruited by Lane Kiffin?
A. Yes
B. No
C. Not yet
16. Which sport(s) do fans at this residence follow? (Check all that apply)
Baseball __
Basketball __
Football __
Hockey __
NASCAR __
Golf __
Curling __
Competitive eating __
Non-competitive eating __
Other __
If you checked other, please explain:
____________________________________
____________________________________
____________________________________
Jerry Greene and Hampton Stevens contributed to this article
Cam Martin is a contributor to Page 2. He previously worked for the Greenwich (Conn.) Time and The (Stamford, Conn.) Advocate, and has written online for CBS Sports and Comcast SportsNet New England. You can contact him at cdavidmartin@yahoo.com.