Commentary
The Weekly Best for April 27
Originally Published:
April 27, 2010
By
Cam Martin
| Special to Page 2
Welcome to the Weekly Best, a look at the best in sports, pop culture and casino conspiracy theories.
Best two minutes in sports: The Kentucky Derby.
Best after that: The Preakness Stakes.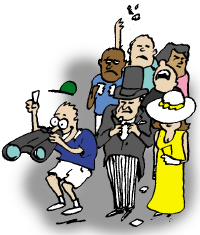 Best after that: The Belmont Stakes -- so long as the same horse wins the first two legs of the Triple Crown.
Best NFL draft pick with three first names: Jason Pierre-Paul of the Giants.
Best home-plate collision: Mark Teixeira of the Yankees and Bobby Wilson of the Angels.
Best news for Teixeira: He didn't end up on the disabled list, unlike Wilson.
Best-selling Blu-ray DVD of all time: "Avatar."
Best watch your step: Or you'll moonwalk off the top of the dugout like this mascot.
Best pitcher in the Plant City, Fla., Little League: Is a girl who's thrown two perfect games.
Best 20-year-old space telescope: The Hubble.
Best defensive player in the NBA: Once again Dwight Howard.
Best "Survivor" villain of all time: Was arrested last week for battery in Louisiana.
Best guess as to what he said upon being arrested: "I'm Russell Hantz! You don't know who you're dealing with!"
Best soccer goal celebration: Perhaps of all time.
Best band I discovered at Coachella: "Band of Skulls."
Best pick up the tab: With a $125 million contract extension, Ryan Howard can afford it.
Best instance of self-dentistry: Eric Belanger of the Capitals pulled out his own tooth after a stick to the mouth knocked out several more.
Best conspiracy theory I'm willing to advance: "Passenger 57" (with its infamous line, "Always bet on black") was a mob-financed movie meant to affect people's gambling habits in favor of the house.
Best reason I'm willing to advance this theory: It's mine.
Best treatment for post-traumatic stress disorder: Ecstasy?
Best one-legged high school pitcher: Nate Winters of Florida.
Best NHL game Tuesday night: Game 7 between the Red Wings and Coyotes.
Best after that: None, it's the only NHL game scheduled.
Best record in the AL West: Belongs to the Oakland A's.
Best news about "Dexter": Michael C. Hall is fully recovered from cancer.
Best place to find 14-year-old Katie Brice last Saturday: Competing in a NASCAR-sanctioned race in Connecticut.
Best indication that "Basketball Wives" has struck a nerve: Chris Douglas-Roberts tweets, "Words can't express how much I HATE "Basketball Wives" on VH1. I really HATE the show b/c y'all "@" me & ask questions about EVERY athlete!!"
Best ex-president coming out with a memoir in November: George W. Bush.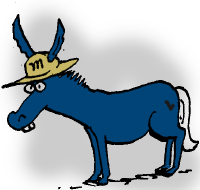 Best win three in a row: Or suffer another playoff disappointment, ye Dallas Mavericks.
Best wishes on a speedy recovery: To Poison front man Bret Michaels, who was in critical condition following a brain hemorrhage.
Best place to find Carlos Zambrano: In the Cubs' bullpen.
Best believe it: The Padres are tied for the best record in the NL West.
Best the Broncos could get with the No. 25 pick: A third-string quarterback?
Best pre-draft advice: Was probably given to Jimmy Clausen, who left school early to be drafted in the second round.
Best outlook in years: For the Detroit Lions.
Best conferences: Could soon be considerably bigger if the Big Ten, SEC and Pac-10 all expand.
Best waste of ink: After all that, the 65-team NCAA tournament will expand to a whopping 68 teams.
Best salary for a no-show job: The Jets released Alan Faneca but still have to pay him $5.25 million.
Best post positions to pull in the Kentucky Derby: Either 1 or 5, as both have produced 12 winners.
Best put your money elsewhere: The 17 and 19 positions have never yielded a victor.
Best amputee runner in U.S. history: Amy Palmeiro-Winters, who's the first to qualify for a U.S. national track and field team.
Best maximize your television ratings: And start running the Kentucky Derby at night?
Best pick a team besides the Saints to win next year's Super Bowl: Drew Brees landed on the cover of Madden 11.
Best indication that the Steelers will once again emphasize the running game: They drafted center Maurkice Pouncey in the first round.
Best reputation in the financial industry: Once belonged to Goldman Sachs.
Best nickname for a great young pitcher: El Chupacabra, aka, Yovani Gallardo of the Brewers.
Best call him that with the proper tone of voice: It means "the goat sucker" in Spanish.
Best nickname for Goldman Sachs: El Chupacabra of the financial industry?
Best make copies: Sony is ending production of the 3.5 inch floppy disk.
Best boxing match of the year: Figures to be Shane Mosley versus Floyd Mayweather on Saturday.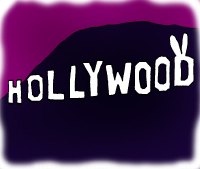 Best keep your distance from E.T.: British scientist Stephen Hawking says, "If aliens visit us, the outcome would be much as when Columbus landed in America, which didn't turn out well for the Native Americans."
Best new comedy starring a dwarf: Is being developed by Ricky Gervais for HBO.
Best free dive ever: A New Zealander dove to 380 feet without the use of fins on Sunday.
Best for last: Hugh Hefner donated the final $900K needed to save the famed Hollywood sign.
Cam Martin is a contributor to Page 2. He previously worked for the Greenwich (Conn.) Time and The (Stamford, Conn.) Advocate, and has written online for CBS Sports and Comcast SportsNet New England. You can contact him at cdavidmartin@yahoo.com.