Commentary
The Weekly Best for May 18
Originally Published:
May 18, 2010
By
Cam Martin
| Special to Page 2
Welcome to the Weekly Best, a look at the best in sports, pop culture and the Dalai Lama himself.
Best things: Come in small packages.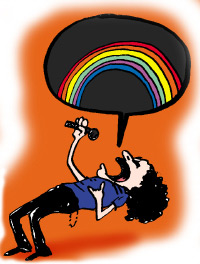 Best diminutive heavy metal singer: The late Ronnie James Dio.
Best MMA fight we can hope for next: Fedor Emelianenko versus Alistair Overeem.
Best team "by far" in all of sports last year: UConn women's basketball, according to President Obama.
Best word to describe Cavaliers fans these days: Disabused.
Best defined as: "Freed of a mistaken or misguided notion."
Best put that in a sentence: "Cavaliers fans are disabused of the notion that their team, as currently constituted, can win an NBA title."
Best player in the NBA: Still Kobe Bryant.
Best place to see the Dalai Lama himself this week: Radio City Music Hall.
Best bet says: He won't be reciting Carl Spackler's lines from "Caddyshack."
Best test of character: How you handle success.
Best after that: How you handle failure.
Best after that: How you handle disgrace.
Best look elsewhere for Mark McGwire's name: It'll no longer be on Interstate 70 in Missouri.
Best TV show just tabbed for syndication: "The Big Bang Theory."
Best get your copy of the new Black Keys album: It drops Tuesday.
Best news for people who are bad at relationships: Your weakness might be a survival technique.
Best don your cape: And start playing like Superman, Dwight Howard.
Best believe: That Red Wings fans are rooting for the Sharks to beat the Blackhawks.
Best step aside, James Bond: The best-grossing film franchise of all time is now Potter, Harry Potter.
Best story in baseball: Still the San Diego Padres.
Best way for a 16-year-old girl to spend seven months: Becoming the youngest person to sail solo around the world?
Best move by the World Speed Sailing Record Council: It discontinued its "youngest" category.
Best reason to do that: Some idiotic parents were bound to ship a toddler off to sea.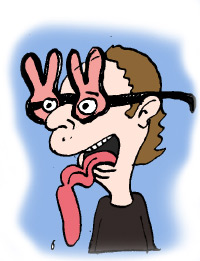 Best way to see a Playboy centerfold: In 3-D?
Best bundle up: If Super Bowl XLVIII is awarded to New Jersey.
Best debut for a rap song since 1997: Eminem's "Not Afraid" debuted at No. 1.
Best way to solve problems in Russia: Bribe officials, say 50 percent of Russians.
Best hockey season ever: For someone who's a fan of the Flyers and Boston College.
Best prepare for an influx of Republicans: At the 2012 National Convention in Tampa.
Best opportunity to see whether Donald Trump is a big softie: If he names Bret Michaels the winner of "Celebrity Apprentice."
Best-grossing film in America: "Iron Man 2."
Best breakfast if you're gonna skip lunch: Eggs Benedict.
Best parts of "The Blind Side:" Definitely not the hokey on-the-field football scenes.
Best not tell Russell Crowe that his "Robin Hood" accent sounds Irish: Or he'll storm out of your interview.
Best names in NASCAR history: Will be inducted as the sport's inaugural Hall of Fame class Sunday.
Best NBA franchise never to win a title: The Utah Jazz.
Best NFL equivalent: The Tennessee Titans.
Best believe I'm not counting their days as the Houston Oilers: As they won the first two AFL championships.
Best book I can't bring myself to read: The last "Harry Potter."
Best reason to hold off: If I haven't read the ending, then the series isn't over.
Best novelist appearing in an upcoming episode of "Sons of Anarchy:" Stephen King.
Best record in baseball: Belongs to the Tampa Bay Rays.
Best rivalry in baseball: Still belongs to the Red Sox-Yankees.
Best way the Rays could inject themselves into the greatest rivalry: Get more fans.
Best pitching prospect since Mark Prior: Stephen Strasburg.
Best place to find Mark Prior: Out of baseball.
Best road record in the American League West: Belongs to the 7-11 Texas Rangers.
Best home record in the National League: And yet the Mets are only 5-12 on the road.
Best sell high on Alex Gonzalez: The Blue Jays shortstop has nowhere to go but down in fantasy baseball.
Best indication that you won't want to see a film: When its plot summary begins with, "Based on the video game."
Best way to stop the Phillies from stealing your signs: Change them.
Best television network for the Twitter-inspired sitcom "$#*! My Dad Says:" CBS?
Best worst movie ever: "Troll 2," according to the documentary "Best Worst Movie."
Best aspect of the "Survivor" season finale: Russell received zero votes from the jury.
Best word to describe the Associated Press' decision to revote for NFL Defensive Rookie of the Year after Brian Cushing failed a test for performance-enhancing drugs: Sanctimonious.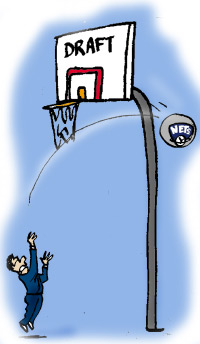 Best odds to win Tuesday's NBA draft lottery: The New Jersey Nets.
Best good-luck charms the Nets could bring to the drawing: Jay-Z and Beyonce.
Best bet to catch a beer thrown at a championship soccer parade: John Terry of Chelsea.
Best get to the polls Tuesday: If you're a voter in Arkansas, Arizona, Kentucky or Pennsylvania.
Best news for Caravaggio, the Italian painter: Researchers may have found your bones.
Best consolation for Freddy Adu: He's 20, so he can still make the World Cup team in the future.
Best quote in the past week: "We don't think there are two players who said that [about Ken Griffey Jr. sleeping in the clubhouse]. I challenged everyone in that room -- if they said that to stand up and fight me. No one stood up." -- Mike Sweeney of the Mariners.
Best job for Sweeney when he retires from baseball: Private investigator.
Cam Martin is a contributor to Page 2. He previously worked for the Greenwich (Conn.) Time and The (Stamford, Conn.) Advocate, and has written online for CBS Sports and Comcast SportsNet New England. You can contact him at cdavidmartin@yahoo.com.