Commentary
The Weekly Best for June 8
Originally Published:
June 8, 2010
By
Cam Martin
| Special to Page 2
Welcome to the Weekly Best, where we review the ultimate in sports, pop culture and gladiator graveyards.
Best tunes: Are played on the oldest fiddles.
Best-known for his blown call in the 1985 World Series: Don Denkinger.
Best-known for his blown call in Armando Galarraga's one-hit shutout: Jim Joyce.
Best indication that Bud Selig just doesn't get it: He didn't overrule Joyce's mistake.
Best not to start them too early: This Phillies fan looks a wee bit young to be drinking alcohol.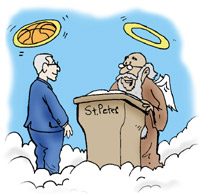 Best college hoops coach ever: John Wooden.
Best Wooden coaching disciple: Denny Crum.
Best Wooden quote: "If you don't have time to do it right, when will you have time to do it over?"
Best center fielder since Willie Mays: Ken Griffey Jr.
Best thing given the circumstances: His retirement.
Best lay off the weed: This writer says Jim Edmonds has had a better career than Griffey.
Best name on the U.S. soccer team: Herculez Gomez.
Best soccer players in the world: Were dropping like flies in advance of the World Cup.
Best pop culture character of the past 20 years: Homer Simpson, according to Entertainment Weekly.
Best be kidding me: Buffy the Vampire Slayer was No. 3.
Best-preserved gladiator graveyard: Discovered in York, England.
"Best Original Video": Will earn $25,000 from Vimeo, the video-sharing site.
Best final round of Graeme McDowell's career: His 63 to win the Wales Open.
Best beach in the United States: Coopers Beach in Southampton, Long Island, according to Dr. Beach.
Best young spellers in the country: Once again braved the stage during the Scripps National Spelling Bee.
Best news for a city starving for championships: The winner of the spelling bee is from Cleveland!
Best Laker ever: Kobe Bryant, says Jerry West.
Best month for the U.S. dollar since October 2008: May.
Best season Brett Favre has ever had: 2009, according to him.
Best man's friend: Dogs can reportedly sniff out prostate cancer.
Best Buy: Was fraudulently overcharged $41 million for computer parts by an Illinois couple.
Best parts of the MTV Movie Awards: Did not involve Tom Cruise's stale character from "Tropic Thunder."
Best odds to win the World Cup: Spain.
Best track for Jimmie Johnson: Charlotte Motor Speedway.
Best-named movie coming out this summer: "Dinner for Schmucks."
Best dancer on the English soccer team: Wayne Rooney, according to goaltender David James.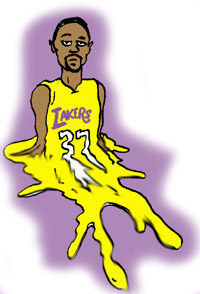 Best time for Ron Artest to suffer his first 2010 postseason meltdown: Game 2 of the NBA Finals.
Best personal finish at Texas Motor Speedway: Danica Patrick came in second in Saturday's Firestone 550K.
Best road record in baseball: Tampa Bay, 22-8.
Best home record in baseball: New York Mets, 22-9.
Best team fielding percentage in baseball: Minnesota Twins, .993.
Best bet to play station-to-station baseball: The Red Sox with their MLB-low 18 steals.
Best think twice about running on the Cardinals: They've thrown out 14 runners and allowed 14 swipes.
Best believe it: The Kansas City Royals have the major's second-highest team batting average behind the Yankees.
Best chance of beating your MLB opponents: When you shut them out and score at least one run.
Best reason the Royals are still 10 games under .500: They're the only team in baseball that hasn't pitched a shutout.
Best-rated show I finally brought myself to watch: "Glee."
Best thing I can say about it: They put a cheesy rendition of "Another One Bites the Dust" right at the beginning of the episode, confirming quickly that the show is as bad as I imagined.
Best estimates say: I watched less than five minutes before turning it off.
Best cooking show on television: "Hell's Kitchen."
Best fiction writers under the age of 40: These 20, according to The New Yorker.
Best thing to do with Prince Fielder: Trade him, says Michael Hunt of the Milwaukee Journal Sentinel.
Best race in American League All-Star voting: Between Justin Morneau and Mark Teixeira at first base.
Best set aside the time to watch: The United States faces England in the World Cup on Saturday at 2:30 p.m. EST.
Best be grateful for your second chance: Angelina of "Jersey Shore."
Best look for Katy Perry: Not that blue wig she was rocking at the MTV Movie Awards.
Best red-carpet vehicle: The tank that Bradley Cooper rode to the premiere of "The A-Team."
Best to just let these things play out: And stop boggling your mind about which collegiate conferences are going to expand and how.
Best team in the NFL: The Chargers, according to Steve Wyche of NFL.com.
Best look down the list: To find the Saints at No. 8.
Best look up the list: To find the Falcons at No. 7.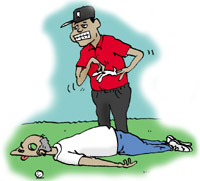 Best look elsewhere for Chris Pronger's best game: His minus-5 in Game 5 was the worst of his NHL career.
Best news for Bernie Madoff: Fellow inmates reportedly love him.
Best reason Elton John played Rush Limbaugh's wedding: He got paid $1 million.
Best-looking ladies like Selita Ebanks: Tend to go for rich jocks like Ryan Howard.
Best way to end a distinguished journalism career: Not in shame like Helen Thomas.
Best chance to get an autographed Tiger Woods glove: After he hits you with a shot.
Best ticket in Washington on Tuesday night: Stephen Strasburg's major league debut.
Cam Martin is a contributor to Page 2. He previously worked for the Greenwich (Conn.) Time and The (Stamford, Conn.) Advocate, and has written online for CBS Sports and Comcast SportsNet New England. You can contact him at cdavidmartin@yahoo.com.