Commentary
Pregame Flyover: Dramatic NFC stories
Updated:
October 29, 2010, 3:32 PM ET
By
Cam Martin
| Special to Page 2
Welcome back to the Pregame Flyover, your source for quick previews of all the week's games, including supersonic reconnaissance of Wembley Stadium in London, where the 49ers and Broncos will meet in a rematch of Super Bowl XXIV. San Francisco won that game 55-10, setting Super Bowl records for offensive point total and margin of victory. And since the Broncos allowed 59 points to the Raiders last week -- an Oakland franchise record -- it's obvious the NFL brought Denver to London for the express purpose of having it participate in a record-setting game. With the Broncos facing Troy Smith and the high-emission 49ers, that's probably what we're going to get. The question is, will it be noteworthy for the number of points or for the number of turnovers? Perhaps both.
Now, before we get to this week's matchups -- and discuss which games are probably worth watching, which are of questionable worth, which are of doubtful worth and which should only be watched by Jerry Jones -- we need to look at the seven AFC teams that have never won a Super Bowl and ask, "Is this their year?"
Will the Bengals or Chargers be this year's version of the Saints?
Last week we looked at the seven NFC teams that have never won a Super Bowl and wondered what it would take for them to shed this ignominy and become 2010 champions. Would you say those were far-fetched scenarios for the Lions, Seahawks and others? Certainly not in comparison with other NFL developments. After all, who could have predicted that Michael Vick would replace Donovan McNabb in the hearts of Eagles fans? Or that Brett Favre would be accused of sexting his playbook to a Jets employee? Or that the Cowboys and Bears would be overrated and undercoached? Actually that last one was rather predictable. Nevertheless, this point still stands: a team such as the Chargers or Bengals or Jaguars can definitely win the Super Bowl this year. Let's plot the narratives:
Narrative of the 2010 Super Bowl Champion San Diego Chargers: After seven games the Chargers' offense (422.7 yards per game) and defense (allowing 244.3 yards per game) were both ranked first in the NFL -- yet San Diego was a confounding 2-5, and most observers blamed the problems on special teams. In a brilliant maneuver indicative of his confirmed genius, coach Norv Turner decides to eliminate its most obvious problem -- special teams. Starting in Week 8, the Chargers refuse to punt under any circumstances, stop attempting field goals and tell Kris Brown to drill every kickoff out of bounds. The team's offensive and defensive units respond superbly to Turner's investment of confidence, and after San Diego wins its first Super Bowl -- a blowout against the punt-happy Chicago Bears -- the team decides not to award championship rings to its punter, kicker or special teams coach.
Odds it goes down like this: The same as Norv Turner winning NFL Coach of the Year.
---
Narrative of the 2010 Super Bowl Champion Cincinnati Bengals: On the morning of Thanksgiving, the Bengals were a middling 5-5 in the AFC North when coach Sherman Lewis informed Carson Palmer that his young brother, Jordan, was replacing him at quarterback. What transpired at the Palmer family Thanksgiving brunch remains unclear, but neighbors reported seeing Carson swinging a golf club at the rear window of his brother's black Escalade. Jordan, whose laser-like focus had always been the envy of teammates and opponents, leads the Bengals on their charge into the playoffs by leaning heavily on Terrell Owens (101 receptions, 1,432 yards, 23 touchdowns ) and Chad Ochocinco (101 receptions, 1,432 yards, 23 touchdowns). When Owens and Ochocinco lose the Super Bowl MVP to Palmer, they both refer to him as "Jordan von Oelhoffen" in postgame tweets.
Odds it goes down like this: The same as someone watching a marathon of "The T.Ocho Show."
---
Narrative of the 2010 Super Bowl Champion Tennessee Titans: When Kerry Collins is reportedly seen helping a little old lady cross the street on Halloween morning, coach Jeff Fisher dons his private investigator's hat and returns to the scene of the incident to interview potential witnesses. Once he's satisfied that Collins did in fact lend aid to a feeble senior citizen, Fisher announces that Collins will remain the starter until Vince Young does something equally philanthropic. Young never does, and the Titans remain Collins' team through the Super Bowl. They beat the Rams on a last-second quarterback sneak, when Collins sheds the tackle of midseason signee Leonard Little, erasing memories of Kevin Dyson.
Odds it goes down like this: The same as Chris Johnson running for 2,500 yards this season.
---
Narrative of the 2010 Super Bowl Champion Buffalo Bills: After allowing 30 or more points in a team-record five straight games, the 0-6 Bills tighten things up and allow 29 points each to the Chiefs, Bears, Lions, Bengals, Steelers, Vikings, Browns, Dolphins, Patriots and Jets. Ryan Fitzpatrick and the rejuvenated offense set Buffalo team records for offense, averaging 30 points per game over their final 10 contests, and they win the Super Bowl against the Giants when Lawrence Tynes kicks wide right on a 19-yard field goal as time expires.
Odds it goes down like this: The same as the Bills losing four straight Super Bowls.
---
Narrative of the 2010 Super Bowl Champion Cleveland Browns: In Week 7, the Browns stunned the Saints in New Orleans, the third straight year that Cleveland beat the defending Super Bowl champions. Emboldened by this development -- as well as by the realization that Colt McCoy is more than just a great name for a Cormac McCarthy character -- the Browns eke into the playoffs, where they beat Cincinnati, Pittsburgh and Denver, advancing to their first Super Bowl when Knowshon Moreno fumbles a go-ahead touchdown for the Broncos with less than a minute to go. In the lowest-rated Super Bowl in history, Cleveland beats Detroit 2-0.
Odds it goes down like this: The same as Jim Brown bojangling for anyone.
---
Narrative of the 2010 Super Bowl Champion Houston Texans: On Nov. 1, 2010, the Indianapolis Colts hosted the Texans, a team they'd lost to on the road in Week 1. When the Texans again beat Peyton Manning and the Colts, dropping Indianapolis to 0-3 in the AFC South, Manning says, "They're nothing special; we'd pound them on a neutral field." When the Texans later beat the Giants in the Super Bowl, reporters remind Texans quarterback Matt Schaub of Manning's earlier remarks -- and how it'd be impossible for two AFC teams to meet at a neutral site like the Super Bowl -- and Schaub replies, "Well, everyone knows Cooper is the smartest Manning."
Odds it goes down like this: 50/50.
---
Narrative of the 2010 Super Bowl Champion Jacksonville Jaguars: Realizing his laid-back sartorial selections had created a lack of professionalism in his team, Jags coach Jack Del Rio petitions the league for the right to wear this suit for the remainder of the season. The league acquiesces, much to the detriment of the Jags' remaining opponents, all of whom are so distracted by Del Rio's ensemble that they immediately waste their two red-challenge flags, only to be reminded that dressing like a merman is not reviewable. The Panthers forfeit the Super Bowl when they refuse to take the field against an opponent dressed in such nauseating colors.
Odds it goes down like this: The same as the Panthers making the Super Bowl.
---
[+] Enlarge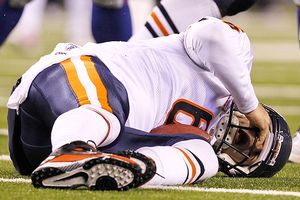 AP Photo/Kathy WillensJay Cutler demonstrates how to properly dress as him for Halloween.
Hints on recognizing NFL Halloween costumes
Sure, a lot of people are going to honor the excellence of "Jersey Shore" and dress up as Snooki or The Situation for Halloween this weekend, but some NFL fans will also pay homage to some of the league's wide assortment of characters. Here's a quick primer to help you recognize some of the costumes you might see this weekend:
If a person is wearing a referee's uniform and a Steelers hat, he's probably dressed as: Gene Steratore.
If a person is wearing a Jets hat and only stops talking long enough to shove a snack in his mouth, he's probably dressed as: Rex Ryan.
If a person is wearing a Bears uniform and lying on the ground, he's probably dressed as: Jay Cutler.
If a person has dyed his hair red and is speaking out of both sides of his mouth, he's probably dressed as: Roger Goodell.
If a person looks exactly like Omar Epps, he's probably: Mike Tomlin, and he's not dressed up.
Probable, Questionable, Doubtful and Out
Just as the NFL puts out an injury report on the likelihood that certain players will suit up each week (Probable, Questionable, Doubtful or Out), we put out a viewing report on the likelihood that games will be worth watching. Because let's face it, you can't watch them all.
"Probable" Games of the Week(75 percent chance these games will be worth watching): Green Bay at New York Jets; Pittsburgh at New Orleans; Houston at Indianapolis.
SPOTLIGHT PROBABLE: Pittsburgh at New Orleans.
With a loss to Pittsburgh, the Saints will exceed: Their loss total from last year.
With a win against Pittsburgh, the Saints will exceed: Their win totals in six of the eight seasons between 1975 and 1982.
The Saints may have won the Super Bowl last season, but more than half of the Superdome: Will probably be filled with Steelers fans.
The Steelers will win if: Ben Roethlisberger can limit the number of pick-sixes he throws to Tracy Porter.
The Saints will win if: Drew Brees can limit the number of pick-sixes he throws to a journeyman linebacker.
After the game, what are the odds we'll see Roethlisberger: Partying in his Satan T-shirt on Bourbon Street?
---
"Questionable" Games of the Week (50 percent chance these games will be worth watching): Buffalo at Kansas City; Miami at Cincinnati; Seattle at Oakland; Minnesota at New England; Tennessee at San Diego.
[+] Enlarge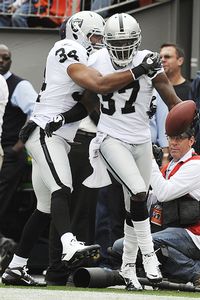 AP Photo/Jack DempseyRaider Chris Johnson's enthusiasm for last week's victory may have led him to go a bit overboard.
SPOTLIGHT QUESTIONABLE: Seattle at Oakland.
This is a rematch of: The 1983 AFC Championship Game.
In the first half of that game, the Seahawks had: 16 total yards.
You guessed it: They got blown out 30-14.
In 1983, Matt Hasselbeck was: The Seahawks' backup quarterback.
Really? Yes, and Dan McGwire was third-string.
Really? No.
The Raiders, who won last week, haven't won: Back-to-back games since 2008.
But they should take solace in knowing: The Seahawks rarely win road games outside their division.
This week Raiders defensive back Chris Johnson called Oakland: The most talented team in the NFL.
To the best of our knowledge, the league did not: Drug test Johnson immediately after.
---
"Doubtful" Games of the Week (25 percent chance these games will be worth watching): Denver at San Francisco; Carolina at St. Louis; Washington at Detroit; Tampa Bay at Arizona.
SPOTLIGHT DOUBTFUL: Denver at San Francisco at Wembley Stadium in London.
Luckily this is considered a home game for the Niners, because: Home is where they got their only win of the season.
If the Broncos give up only 58 points, they'll have: Improved over last week.
People who care about the international history of the NFL might remember: The Niners played the first international contest in league history in Mexico City in 2005.
Man, does the NFL ever send good teams overseas? Mexico is not overseas; it's below California and a few other states.
Why would an American be in the stands at this game? They're either ex-pats or they're the grand prize Pig in a Poke winners.
Otherwise: They wasted a lot of money to see an underwhelming matchup.
Both these teams have byes next week, so maybe they'll return from England with: New head coaches.
---
"Out" Game of the Week (100 percent chance this game will be watched by someone, but hopefully not by you): Jacksonville at Dallas.
SPOTLIGHT OUT: Jacksonville at Dallas.
This is a matchup between: Two last-place teams.
Last week the Jags' starting quarterback was: Todd Bouman.
Bouman hasn't won a game as a starter since: 2001, when he played for Minnesota.
All four of the Jaguars' losses have been by: 20 or more points.
If you didn't pick up Jon Kitna for your fantasy team, then you're probably not: Delusional, so be thankful for that.
The four previous games between these teams have all been decided by seven points or less, which means: Absolutely nothing.
Cam Martin is a contributor to Page 2. He previously worked for the Greenwich (Conn.) Time and The (Stamford, Conn.) Advocate, and has written online for CBS Sports and Comcast SportsNet New England. You can contact him at cdavidmartin@yahoo.com or follow him on Twitter: @CameronDMartin.