Commentary
Time for some meaningful action
Originally Published:
January 14, 2011
By
Cam Martin
| Special to Page 2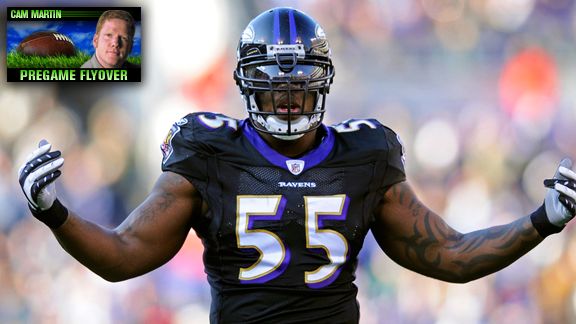 AP PhotoTerrell Suggs says the Ravens-Steelers game will be "Armageddon."
This is your Pregame Flyover of the divisional round of the NFL playoffs, when the four top seeds return to action following their bye weeks and fans are treated to the best football weekend of the season. It doesn't matter that the Jets versus Patriots is a tame verbal rivalry with all the on-the-field history of Bills versus Dolphins; the winner gets to play in the AFC Championship Game. And it doesn't matter that Atlanta fans won't have the option to root for Michael Vick this weekend; watching Aaron Rodgers and the Packers' offense still guarantees that one half of the game won't be plodding and predictable. Now before we get to this week's matchups, let's time a moment to remember that ...
Meaningful football has ended in three NFL divisions
Eight teams remain standing in the NFL playoffs, including two teams each from the AFC North, AFC East and NFC North, and one team each from the NFC West and NFC South. The season has ended for teams from the NFC East, AFC South and AFC West, three divisions that have combined to win two Super Bowls since John Elway retired. If it weren't for the Mannings -- Peyton with the Colts in 2006 and Eli with the Giants in 2007 -- this triumvirate of divisions would be without a Super Bowl title in the post-Elway era. But, hey, at least their division champions always take a winning record into the postseason, right? That's what's important. Meanwhile, the AFC West needs to get itself a Manning. They had one (Eli), but the Chargers traded him for this gent.
Baltimore Ravens at Pittsburgh Steelers
Terrell Suggs is not a good salesman. A lot of people think the Ravens and Steelers have the best rivalry in the NFL. These two AFC North foes have a history of playing close, hard-hitting games that produce memorable injuries, heated banter and illegal bounties. In 2007, the Ravens reportedly placed a bounty on Hines Ward and then-Raven Bart Scott reportedly threatened to kill him after a game. In 2008 Ray Lewis broke Rashard Mendenhall's shoulder and sent him to injured reserve. And earlier this season Haloti Ngata put a hairpin turn into Ben Roethlisberger's proboscis. The history and hatred between the teams runs thick and deep, like the river of slime beneath Manhattan in "Ghostbusters 2." So what in the world was Ravens linebacker Terrell Suggs thinking when he said this week's game was going to be like "Armageddon?" We certainly hope it doesn't play out like a cheesy movie set to the music of Aerosmith, because nobody wants to see that.
Suggs has a one-finger message for the Steelers. Suggs wore a huge T-shirt this week that read "Hey Pittsburgh" and featured a large purple Raven extending its middle finger. We wonder if this shirt comes in extra small. We have a nephew in Baltimore with a birthday coming up.
The Ravens are 3-0 against the Steelers in the last four seasons: When Roethlisberger doesn't play.
Baltimore's 7-3 road playoff record is the best in NFL history: And includes zero wins in Pittsburgh.
Steelers wins to remember: Falcons, 15-9; Ravens, 13-10; Stevie Johnson, 19-16.
Steelers loss to forget: Patriots, 39-26.
Baltimore has the best defense: So far in the postseason, allowing a minuscule 161 yards to the Chiefs last week.
Why an impartial observer might root for the Ravens: Unless you're from Pittsburgh (or you happen to be one of the millions of American children who threw their allegiance to that team winning all the titles in the 1970s), you probably don't want to see Pittsburgh win its third Super Bowl in the last six years and its seventh overall.
Why an impartial observer might root for Pittsburgh: You take glee in watching one team dominate a sport. Perhaps you're a member of the squash team at Trinity College in Hartford, Conn.
Green Bay at Atlanta
This is a matchup of: Two teams that dumped Brett Favre.
The Falcons have put together three consecutive winning seasons for the first time in franchise history: And if they can win consistently for several more years, fans in Atlanta might treat them as indifferently as they treat the Braves.
This is a rematch of: A game in November, which Atlanta won 20-17 after Matt Bryant kicked a 47-yard field goal with 9 seconds remaining. Bryant had to kick the ball twice after the Packers tried to ice him with a timeout. "Pressure is what you feel when you're not prepared," Bryant said. "I've been preparing for that since I was 6 years old." Yeesh, a 6-year-old who sets his sights on becoming a field goal kicker. It's sad when soccer players wash out at such a young age.
Yes, the Falcons' offense is plodding and predictable. Matt Ryan's 6.5 yards per attempt ranked 26th in the NFL, tied with Mark Sanchez and ahead of only Derek Anderson, Sam Bradford and Jimmy Clausen among quarterbacks who averaged at least 14 attempts per game. His longest completion of the season was 46 yards, and only Anderson had a long pass that was shorter. None of this is to say that Ryan can't win a Super Bowl; he'll just do it in a plodding and predictable way.
Falcons wins to remember: New Orleans, 27-24; Baltimore, 26-21; Green Bay, 20-17; and San Francisco by two points.
Falcons loss to forget: Philadelphia, 31-17.
Packers wins to remember: New York Giants, 45-17, in regular season; Eagles, 21-17 last week.
Packers losses to forget: Miami, 23-20; Detroit, 7-3; Washington, 16-13.
Why an impartial observer might root for the Packers: If the 6-seed Packers beat the 1-seed Falcons, then the Seahawks (8-9) will face the Bears on Sunday knowing a win will allow them to host next week's NFC Championship Game.
Why an impartial observer might root for the Falcons: The Falcons and the Seahawks are the only remaining playoffs teams that have never won a Super Bowl. If they meet in next week's NFC Championship, impartial observers are going to have a tough time deciding who to root for -- on par say with Jim Mora Jr., who was fired as the coach of both teams.
If the Falcons lose: We will hopefully still be treated to their Play 60 bus commercial starring Vincent Price Arthur Blank.
Seattle at Chicago
This is a rematch of: A game in October, which Seattle won 23-20. The Seahawks remember it well: It was one of their two road wins this season.
Jay Cutler comes into this game with an unblemished postseason record in both college and the pros. Cutler, who plied his trade at the Vanderbilt football factory, has never lost a postseason game in college or the pros. He's never won one, either.
How will he fare in his postseason debut? A lot of Cutler's success in this game will depend on the amount of time he's given to pass. He was sacked 52 times during the regular season, but the Bears' offensive has been performing well of late. They haven't allowed nine or more sacks in a half since the Giants game in early October.
What's motivating Seattle in this game? With a win they can reach .500.
What's motivating Chicago in this game? They need to prove the game-time temperature, which is expected to be between 10 and 20 degrees, benefits the team that is more accustomed to freezing its ass off.
Prop bet you can probably find: Will Marshawn Lynch score the first touchdown?
Prop bet you probably can't find: Will Cutler have more tackles than touchdown passes?
When the Bears are on offense: Offensive coordinator Mike Martz needs to maintain a balanced package of pass and runs plays and not forget to give touches to Marshall Faulk Matt Forte.
When the Bears are on defense: They need to keep Lynch from setting off earthquake detectors.
When the Seahawks are on offense: That means their defense is off the field, which is always a good thing because their defense was ranked 27th in the NFL.
When the Seahawks are on defense: They hope the Bears hand the ball to Chester Taylor, who was the first post-merger running back to average less than 2.4 yards per carry with a minimum of 100 carries.
T.O. is pretty good at predictions. During this week's episode of "The T.Ocho Show," Terrell Owens said Seattle -- despite being a 10-point underdog -- is in a good position to knock off Chicago."Of course they can [win]. They just won. They have all the confidence and all the momentum on their side." Owens also correctly predicted the Seahawks' win over the Saints and the Packers' win over the Falcons. However, he was incorrect in predicting people would watch his television show.
New York Jets at New England
This rivalry needs legs.Over the years this AFC East divisional rivalry has been defined more by what happens off the field than on -- whether it was Bill Parcells leaving New England to coach the Jets, Bill Belichick submitting his resignation as "HC of the NYJ" on a napkin so he could take the same position with the Patriots or Eric Mangini reportedly dropping the dime on his former Patriots employer to blow the lid off Spygate. Sure, former Jet Mo Lewis paved the way for the Tom Brady era by sending Drew Bledsoe to the hospital with a bone-jarring hit in 2001, but the on-the-field fireworks between these teams have paled in comparison with the off-the-field drama. You know how many times these franchises have played each other in the playoffs? Twice, in 1985 and 2006. The Patriots won both times; but in neither instance did they go on to win the Super Bowl. If one of these teams can go through the other on the way to a championship, then the rivalry will have more legs. Till then it's mainly got mouths and feet.
Speaking of mouths. Someone needs to wash out Antonio Cromartie's. The New York Daily News asked him what he thinks of Brady, and he responded, "An ass----." "---- him." Whoa, Antonio, such language. You kiss your nine children (with eight different women) with that mouth?
Reminder to Jets players: You are definitely allowed to get in Brady's face, wave your arms and attempt to distract him. Use of the word "psych!" is also permitted. But you are not allowed to touch him.
Reminder to Patriots players: Jets players are not allowed to touch Brady. Tell a referee if an infraction is somehow overlooked.
Advantage Patriots: Jets special teams coach Sal Alosi will not be available to trip opposing players this game.
Advantage Jets: Ines Sainz, the sideline reporter that Jets players and coaches reportedly harassed earlier this season, thinks you're going to win.
Why an impartial observer might root for the Jets: Maybe they're the type of person who gets humiliated but keeps yapping all the same.
Why an impartial observer might root for the Patriots: Maybe they hate the type of people who get humiliated but keep yapping all the same.
What are fans of the Miami Dolphins and Buffalo Bills rooting for in this game? A meteor to hit Foxborough.
Cam Martin is a contributor to Page 2. He previously worked for the Greenwich (Conn.) Time and The (Stamford, Conn.) Advocate, and has written online for CBS Sports and Comcast SportsNet New England. You can contact him at cdavidmartin@yahoo.com or follow him on Twitter: @CameronDMartin.