Commentary
Excellence in NFL mediocrity
Originally Published:
January 21, 2011
By
Cam Martin
| Special to Page 2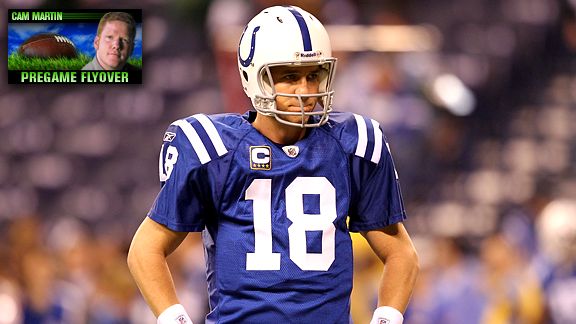 Getty ImagesCongratulations, Peyton. Your playoff achievements in the field of only being so-so have not gone unrecognized.
This is your Pregame Flyover of Sunday's NFL conference championships, that point in the season when the end is so bitterly close that you want to slam on the brakes. The playoffs are wonderful, sure, but there are only three games left in the season. Three! After that it's a long and torturous 16 days until the NFL scouting combine. I don't know how I'm going to make it from Feb. 7 to Feb. 23 without organized football activities. I fear I might grow antsy and develop new hobbies and interests. Please tell me this won't happen. Now, before we preview Sunday's two games, let's hand out some hardware -- not to the best or worst of the 2010 season, but to the most mediocre.
NFL awards for mediocrity
The NFL will soon announce its awards for most valuable player, coach of the year, offensive rookie of the year and defensive rookie of the year, and we all know the respective winners are going to be Tom Brady, Bill Belichick, Sam Bradford and Ndamukong Suh. They were the big winners in 2010, at least during the regular season, and they'll get their due, so we don't need to highlight their exploits. And we don't need to point out the folks who had terrible seasons, either -- the guys who got fired (Mike Singletary, Brad Childress, Wade Phillips, etc.), or who played for three teams during their walk year (Randy Moss) or who were arrested while wearing a Pocahontas wig (Laurence Maroney). So we're going to turn our attention to the mediocre. We gave them some love at the halfway point of the season, so it seems fitting to check back in with our beloved middle-feeders.
Most mediocre coach: Ken Whisenhunt. Two years after guiding the Cardinals to the Super Bowl, Whisenhunt watched his team struggle to a 5-11 record, thanks largely to an inability to replace the retired Kurt Warner at quarterback. You may not have been on the hot seat this year, Coach Whisenhunt, and you may not be on anyone's short list for coach of the year, but rest assured your mediocre season did not go unrecognized.
Most mediocre Manning: Peyton Manning. Danieal of the Bears is still playing, while Eli couldn't get the Giants into the postseason, but did get 10 wins. Peyton made the playoffs but was one-and-done with the Colts. At 9-10 on his career in the postseason, he may have just retired this award as the most mediocre Manning.
Most mediocre collection of receivers: Derrick Mason, Anquan Boldin and T.J. Houshmandzadeh of the Ravens, the first threesome of teammates in NFL history with more than 600 catches apiece. None of them is going to the Pro Bowl, none of them is going to the Super Bowl, and none of them needs to tell you that it's all Joe Flacco's fault. Just ask any Ravens fan; they'll tell you.
Most mediocre NFL column: By definition it still has to be this one.
Most mediocre NFL division: AFC West. No one from this division has won the Super Bowl since John Elway retired, but there was hope that this year's Chiefs team had a winning formula: a great running game, good quarterbacking and a stout defense. Add in the fact that Arrowhead Stadium is usually a tough place for opponents to play and most people expected the Chiefs to keep it relatively close and lose by maybe 20 to the Ravens in the first round of the playoffs. But like the Chargers of recent years, Kansas City brought shame to the division, losing 30-7 to Baltimore.
Most mediocre coaching search: Miami Dolphins. Usually when a team publicly pursues a new head coach, it has already told the current head coach that his services are no longer needed. The Dolphins chose a different approach with Tony Sparano. They kept him on the hook as they chased after Jim Harbaugh, who left Stanford and ended up with the 49ers. Most people assumed the relationship between the Dolphins and Sparano was now fractured. But Miami retained him -- a coach they had essentially cheated on -- and made amends by signing him to a contract extension. Kobe Bryant approves of this strategy.
Most mediocre consolation: Seattle Seahawks. When a playoff team loses, the stars of that team usually have the consolation of playing in the Pro Bowl. The best players on the Seahawks were deprived of this consolation, however, as none of them was elected to the game. Instead of looking forward to a vacation to Hawaii, they could only look forward to returning to Seattle.
Green Bay Packers at Chicago Bears
The oldest, most untapped rivalry in football. Quick, what's your most memorable Bears-Packers game? If you're an octogenarian fan of one of these two proud old franchises, you might say it's the 1941 playoff game won by Chicago 33-14, which was the most recent time these two teams faced off in the postseason. If you're a fan in your 20s, you might mention a 1999 game that doesn't ring a bell to anyone outside Green Bay or Chicago. For me it's the game mentioned in "A Christmas Story," when Ralphie's mother tries to change the subject of him getting into a fight with Scut Farkus by pointing at his father's newspaper and saying she sees the Bears are playing the Packers this week. (The ruse worked, and things were never the same between Ralphie and his mom after that.) Here's hoping things are never the same between the Bears and Packers after their 182nd meeting this week. For that to happen, we don't need to see the first overtime game of these playoffs, though it'd be nice to see how the new overtime rules actually play out. And we don't need to see Jay Cutler making any game-saving tackles. We just need to see what the Bears-Packers rivalry is actually like. Yes, their fans know, and players on both sides swear it's the matchup they're most pressured to win. But a lot of NFL fans think of the Bears-Packers rivalry as little more than an older, more-NFC version of the Browns-Bengals. This week's matchup should leave us with something more.
Advantage Bears: Brett Favre says the Packers are going to win it all, and he rarely says anything truthful about football-related matters.
Advantage Packers: The Bears have five Vanderbilt players on their team; some Commodores fans have even taken to calling the team (look away!) the VanderBears.
The Bears have no one to blame but themselves. Chicago had an opportunity to keep the Packers from reaching the playoffs with a victory in Week 17, but lost 10-3.
Most hated player on the Bears: Probably Jay Cutler, whose gruff demeanor hasn't endeared him to many strangers.
Most hated player on the Packers: Probably Atari Bigby, who refuses to acknowledge that he might have been named after the pioneering video game console. Your grandmother named you "Atari" because it's the Japanese word for "attack"? Sure, man. And your gram wasn't an ace at "Space Invaders."
New York Jets at Pittsburgh Steelers
This is a rematch of: A Week 15 game in Pittsburgh, which the Jets won 22-17.
What's different this time? Back then the Steelers were without Troy Polamalu and the world was without evidence of Rex Ryan's foot fetish.
An AFC title game involving Pittsburgh? How novel. For a record 15th time since 1970, Pittsburgh will play in the AFC Championship Game, an opportunity it has managed to squander 50 percent of the time. Sure, the Steelers have won six Super Bowls in seven visits, but they've gone a mediocre 7-7 in conference title games. If they lose to the Jets, they'll actually be under .500 in this round of the playoffs. They're basically the Peyton Manning (9-10 in his postseason career) of NFL teams: Sure, they've won a lot, but they've left a lot of opportunities on the table, too.
Ryan has grown emotionally. Before New York's previous two playoff games against the Colts and the Patriots, the Jets head coach said beating Peyton Manning and Bill Belichick was "personal." He went in a different direction this week against the Steelers and Mike Tomlin, going out of his way to say it was not personal. It's good that Ryan will not be getting as emotionally involved this time; he's setting himself up for less emotional devastation if the Jets get snot-bubbled Sunday.
Between the two defenses, the Steelers have the advantage over the Jets in: Every major statistical regular-season category, including average total yards allowed (276.8 to 291.5), points allowed (14.5 to 19), total sacks (48 to 40), forced turnovers (35 to 30) and linebackers threatening to retire because the commissioner was picking on them (1 to 0).
The Steelers' defense will definitely have underperformed if: Bart Scott says after the game, "They can't stop a nosebleed!"
Believe it or not: There's a Facebook page devoted to Brett Keisel's beard.
Believe it or not: The Jets' Facebook page was founded in 1959, i.e., 45 years before Mark Zuckerberg founded the company. If you're trying to attribute the idea for this social network, the Jets clearly have a stronger legal claim than the Winklevoss twins.
Ryan has a chance to join: Marty Schottenheimer, Don Coryell, Bum Phillips and John Madden as the only coaches to lose back-to-back AFC championship games.
Mike Tomlin has a chance to join: Chuck Noll and Bill Cowher as Steelers coaches who have lost the AFC title game at home.
Why an impartial observer might root for the Steelers: They're tired of the trash talking emanating from the likes of Bart Scott, Antonio Cromartie and Darrelle Revis of the Jets.
Why an impartial observer might root for the Jets: They were an impartial observer who also rooted for the UNLV teams of the early 1990s.
Jets players you might like to see make their first Super Bowl: LaDainian Tomlinson, Jason Taylor, Braylon Edwards, D'Brickashaw Ferguson, Shaun Ellis, Mark Sanchez, Drew Coleman, Cromartie, Scott, Revis, Jerricho Cotchery, Dustin Keller and Tony Richardson.
Steelers players you might like to see make their first Super Bowl: Um, kicker Shaun Suisham and rookie center Maurkice Pouncey?
Cam Martin is a contributor to Page 2. He previously worked for the Greenwich (Conn.) Time and The (Stamford, Conn.) Advocate, and has written online for CBS Sports and Comcast SportsNet New England. You can contact him at cdavidmartin@yahoo.com or follow him on Twitter: @CameronDMartin.