Commentary
Michael Oher book augments 'Blind Side'
Originally Published:
February 9, 2011
By
Cam Martin
| Special to Page 2
People who've read "The Blind Side" or seen the film might think they have a clear picture of Michael Oher's stunning life story. But the Ravens left tackle -- whose itinerant childhood in Memphis, Tenn., was spurred by his mother's ongoing battle with drugs and alcohol -- says the book by Michael Lewis and (especially) the Oscar-winning film with Sandra Bullock do not accurately reflect some central aspects of his upbringing. To set the record straight -- and to raise awareness of the need for better foster-care programs in this country -- Oher has just released a memoir, "I Beat the Odds: From Homelessness to The Blind Side and Beyond."
"'The Blind Side' is about how one family helped me reach my fullest potential, but what about the people and experiences that all added up to putting me in their path?" Oher writes in the memoir, which was co-written with Don Yaeger, a former associate editor for Sports Illustrated. "As anyone in my family will tell you, they were just part of a complicated series of events and personalities that helped me achieve success. They were a huge part of it, but it was a journey I'd started a long time before. And it's that journey I want to share in this book for other struggling kids who are fighting for their own way out."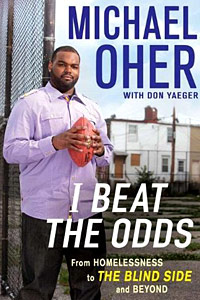 Gotham Books Michael Oher says he realizes he's a role model and wanted to write a memoir to talk about others who have helped him.
"The Blind Side" opened on Oher's years at Briarcrest Christian School, a private school where he'd gone on scholarship. It was there that he came to the notice of Sean and Leigh-Anne Tuohy, whose daughter, Collins, was a classmate of Oher's. As the book and movie relate, the Tuohys learned about Oher's background and the fact that he had no permanent place to live. But they only learned as much as Oher was willing to reveal. Shy by nature, he had tried to block out many of the bad memories he had of his childhood, when his mother's problems and the intervention of foster-care authorities caused him to attend 11 different schools in nine years.
"I had needed to forget a lot of stuff in order to not get swallowed up by the hurt and sadness," he writes
But after the release of the book and movie, Oher started receiving thousands of letters, many of them from children who were also in foster care.
"I understand I am a role model for other people," Oher said in a telephone interview with Page 2. "I felt a responsibility to talk about the years before ['The Blind Side']."
One of 12 siblings, Oher discusses in the memoir how "begging and bumming was just a way of life." As he got bigger -- and the 6-foot-4, 313-pound lineman was always big for his age -- he often needed to shoplift just to eat. That was when he was living with his mother. When he was living with foster parents, his preoccupation was with running away back to his mother.
"I didn't believe that anyone other than my family could love me, and I would rather be hungry and sleeping on the floor so long as I knew that the people I was with would always be looking out for me. As much as Velma [one of his foster mothers] cared for me, I never could believe that she loved me. … I was really lucky that nothing worse happened to me while I was out by myself -- just about 8 or 9 years old -- looking for my mother. It's actually pretty amazing that I ended up OK."
Of his time on the streets, Oher writes in the memoir, "All out shooting matches were pretty rare, but I do clearly remember one time watching a baby get shot in the midst of an argument."
Contrast that kind of experience with the safe, loving household created by the Tuohys.
"The moment I stepped into that house I knew it was going to be a great thing. We hit it right off. There was never a dull or an odd moment with us. I owe them so much," he said.
One thing he does not owe them, however, is his knowledge of football.
"In the movie 'The Blind Side,' you see S.J. [the son] teaching me different plays using ketchup bottles and spices. I know stuff like that makes for a good story on screen, but in reality, I already knew the game of football inside and out," the book says.
He'd also like to make clear that Leigh-Anne has some questionable taste in clothes.
"She still teases me about all the striped rugby shirts I picked out, and that scene made it into the movie. But what the film doesn't show is the hideous shirt covered in flowers and palm leaves that she pulled for me to try on. It looked like something an old man would wear on the beach in Hawaii."
Oher says his portrayal in the movie made him seem slow-witted and lacking in personality.
"I liked the movie as a movie, but in terms of it representing me, that's where I had a hard time loving it. I felt it portrayed me as dumb instead of as a kid who had never had consistent academic instruction and ended up thriving once he got it," he wrote.
Ultimately, though, he's happy his life story can give hope to other disadvantaged kids.
"While I may quibble with how I was depicted in the movie, I am truly grateful that my story has been such an inspiration," the book says.
He wants to make clear, however, that he wasn't just lucky to find a loving adoptive family like the Tuohys. He was in that position because he was driven and committed to improving himself.
"That partnership was important for all the pieces to fall into place," the book says. "I was trying to open doors and they were trying to show me the way through. It never would have worked if it had been one-sided: just me pushing but not knowing what to do with the opportunity; or them trying to guide me but me not being willing to do any of the work. There had to be a give and take."
Cam Martin is a contributor to Page 2. He previously worked for the Greenwich (Conn.) Time and The (Stamford, Conn.) Advocate, and has written online for CBS Sports and Comcast SportsNet New England. You can contact him at cdavidmartin@yahoo.com or follow him on Twitter: @CameronDMartin.