Commentary
Page 2's 50 most-anticipated comebacks
Originally Published:
April 2, 2010
By
Cam Martin
| Special to Page 2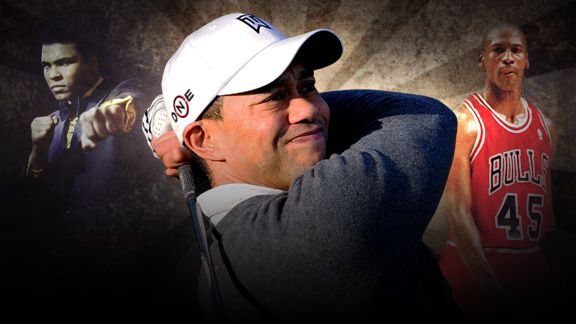 ESPN.com Illustration
You've made it this far, so let's get right to the top 25 selections of Page 2's most-anticipated comebacks:
25. "Seinfeld"



Thanks to the benefits of syndication, the cast of "Seinfeld" hardly disappeared once the series ended in 1998. Nevertheless, seeing them make new material with "Seinfeld" co-creator Larry David on "Curb Your Enthusiasm" in 2009 was reason enough to get down on our knees and thank God we knew them and had access to their dementia.
24. Nancy Kerrigan



Kerrigan won a bronze medal in figure skating at the 1992 Winter Olympics, making her relatively famous in the sports world. She became world famous in January 1994, when an assailant hired by the ex-husband of her main rival, Tonya Harding, bashed her right knee with a pipe. The injury caused Kerrigan to miss the U.S. championships. In her absence, Harding won the event and made the Olympic team. Still, the U.S. Figure Skating Association named Kerrigan to the Olympic team over Michelle Kwan, who finished second at nationals. People who cared nothing for figure skating then tuned in to watch Kerrigan and Harding compete in the '94 Olympics. Kerrigan won silver, while Harding finished eighth after blubbering about her broken boot lace. Those Olympic broadcasts remain among the most-watched programs in television history.
23. Alex Rodriguez



The 2009 season got off to an inauspicious start for the highest-paid player in baseball when a Sports Illustrated story revealed Rodriguez had failed a test for performance-enhancing drugs in '03. How would he perform on the field after the embarrassing revelation -- and after he returned from hip surgery? Rodriguez hit 30 home runs in 124 games and batted .500 in the playoffs as the Yankees won their first World Series since 2000 -- perhaps finally proving A-Rod is not championship kryptonite.
22. Tiger Woods (2009)



After Woods hobbled to a stunning win over Rocco Mediate in a sudden-death playoff at the 2008 U.S. Open, golf's greatest player had surgery on his injured left knee -- a necessary decision that caused him to miss the last two majors in '08. In his absence, casual fans' interest in golf plummeted. When Woods returned eight months later to play in the WGC-Accenture Match Play Championship, the Associated Press called it "one of the most anticipated returns in sports." All was right in the golf world -- until Thanksgiving, anyway.
21. Michael Jordan (2001)



If Jordan had come out of retirement to play for the Bulls again (or for any number of teams besides the Wizards), fans might have greeted his second un-retirement with more enthusiasm. But Jordan, then 38, joined a club that was decidedly short on talent -- thanks largely to Jordan, who helped assemble it as club president -- and the Wizards failed to make the playoffs in Jordan's two-year stint in a Washington jersey.
20. Michael Jackson



The King of Pop hadn't toured since 1997, so when he announced plans for a series of London concerts in the summer of 2009, fans eagerly bought tickets to 50 nights' worth of shows. Stunningly, Jackson died of a drug overdose on June 25, before the series of concerts began.
19. "Star Wars"



Between 1977 and '83, George Lucas ambushed popular culture with "Star Wars," "The Empire Strikes Back" and "Return of the Jedi," as Luke Skywalker, Han Solo, Princess Leia, Chewbacca and Darth Vader became household names. When the franchise returned in 1999 with "The Phantom Menace," Lucas believed fans would bequeath the same respect to Jar Jar Binks. Unfortunately, this was not the character we were looking for. Move along.
18. Bob Knight



The Hall of Fame coach won three national championships at Indiana, but his notorious temper cost him his job in 2000. Four months after the school adopted a "zero tolerance" policy in regard to Knight's behavior, he was fired for grabbing a student by the arm and lecturing him about respect after the student reportedly said, "Hey, Knight, what's up?" Knight returned to coaching a year later at Texas Tech, where he quickly improved the program, enjoying five seasons of 20-plus wins. He retired in 2008 with the most wins, 902, in Division I history.
17. Tom Brady



After leading the Patriots to the first 16-0 regular season in NFL history and setting a league record with 50 touchdowns passes in 2007, Brady's '08 season ended in Week 1 when a hit by Kansas City's Bernard Pollard tore ligaments in the quarterback's knee. The Patriots went on to finish the season 11-5 but missed the playoffs for the first time since '02. As a result of Pollard's hit, the NFL enacted the "Brady Rule," which prevents defensive players from lunging or diving while on the ground to tackle the quarterback. Brady returned to throw 28 TD passes in '09, but the Patriots lost to the Ravens 33-14 in the first round of the playoffs.
16. George Foreman



The former heavyweight champion had been absent from the ring for 10 years when he announced his return to boxing at age 38 in 1987. Foreman said he wanted to prove that 40 was not a "death sentence," and in 1994 he proved as much, knocking out 26-year-old Michael Moorer to reclaim the title he held two decades earlier. That same year, Foreman introduced the famed eponymous kitchen grill which subsequently made him insanely wealthy.
15. Elvis Presley



The King dominated rock and roll until his induction into the Army in 1958, but his grip on the genre loosened during his two-year stint in the service. It slipped further during the British rock invasion of the early '60s. By the time of his '68 Comeback Special, his hip gyrations were tame when compared to the culture at large. Still, Presley's Las Vegas television special reminded old fans of his talents, while acquainting a new generation with rock's first superstar.
14. "The Terminator"



Arnold Schwarzenegger had a one-track mind in his search for Sarah Connor in this 1984 film, so when he dropped the infamous "I'll be back" line, the threat was clear -- to everyone except the cop behind the glass at the police station. Moments later Arnold returned, driving his car straight into the cop's booth. Try to imagine O.J. Simpson delivering the same line. He was considered for the title role, but filmmakers rejected him because they considered him "too nice" to portray a cold-blooded killer.
13. Ted Williams



The Splendid Splinter was the only baseball player to interrupt his career to serve in both World War II and the Korean War, and the summary of his baseball career invariably makes note of the five years he missed while flying overseas combat missions. When he returned from Korea for the 1954 season, many thought the 35-year-old's best playing days were far behind him. But Williams hit .345 or better in each of the next four seasons, including a remarkable .388 in 1957 at age 38.
12. Brett Favre (2010)



The favorite son of Kiln, Miss., has not yet announced if he'll be returning to the Vikings next season, so it's difficult to compare the anticipation of this possible return against each of his previous comebacks. Suffice to say, some people will be so excited if Favre returns that they'll be breathing deep into brown paper bags. Others might need the same bags to barf into.
11. Mike Tyson



Tyson, who became the youngest heavyweight champion in history in 1986 at age 20, lost the title to a little-known Buster Douglas in '90 and went on to serve three years in prison after a rape conviction. With his release in '95, fans wondered if Iron Mike was still the baddest man on the planet. His first fight back, against "Hurricane" Peter McNeeley, was purchased on pay-per-view by 1.52 million homes, a record at the time. It lasted 89 seconds, slightly longer than it takes to read this paragraph.
10. Monica Seles



At 16, Seles became the youngest female French Open champion in 1990. She was the No. 1 player in the world in '93 when a deranged fan, who was partial to Steffi Graf, plunged a 10-inch knife into Seles' back during a match in Germany. Seles missed more than two years of competition because of the physical and mental fallout. She returned to the tour for the Canadian Open in August 1995 -- and won. Later, she won the '96 Australian Open and reached several more Grand Slam finals. She never regained the No. 1 ranking, though.
9. Lance Armstrong



After surviving testicular cancer in 1996 and winning a record seven consecutive Tour de Frances from 1999 to 2005, Armstrong became a household name -- and then put away the bike. When he announced he would participate in the '09 Tour, all of France rejoiced. (Or not.) Nevertheless, the cycling world was giddy with anticipation. Armstrong finished third, and he plans to ride in the Tour again this summer. Viva la Lance!
8. Michael Vick



Selected No. 1 overall by the Falcons out of Virginia Tech in 2001, the lefty quarterback seemed poised to revolutionize the position with his dazzling speed and cannon arm. He led the Falcons to the playoffs twice but never emerged as the legend some envisioned. In 2007, he was implicated in a dogfighting ring and eventually sent to prison for 21 months. After his release in May 2009, Vick sought to resume his NFL career -- to the dismay of animal rights activists. Less than three months later, he signed with the Eagles, where he had an underwhelming season backing up Donovan McNabb.
7. Magic Johnson



When Magic Johnson announced he had the HIV virus and would be retiring from basketball in 1991, many fans feared the Lakers star would succumb to AIDS. Few thought he'd play basketball again. But Johnson followed up his stint with the 1992 Dream Team by playing the '92 preseason with the Lakers, a comeback that was thwarted when some players expressed fears about playing against someone with HIV. The controversy led Johnson to back away from the game once again. But in January 1996, with people better educated about the realities of contracting HIV, Johnson rejoined a young Lakers team and helped them go 22-10 in 32 games. The Lakers lost to the defending champion Rockets in the first round of the playoffs, and when the team acquired Kobe Bryant and Shaquille O'Neal that summer, Johnson retired from the Lakers for good.
6. Ben Hogan


In 1948, Hogan won the U.S. Open and the PGA Championship. In '49, his life nearly ended when his car collided head-on with a Greyhound bus. Doctors said he'd never walk again, much less play competitive golf. But less than a year later, Hogan overcame his physical disabilities -- he had bad circulation for the rest of his life -- and pushed Sam Snead to a playoff before losing the Los Angeles Open. A few months later, Hogan won the U.S. Open for a second time, the fourth of his nine career major championships.
5. Mario Lemieux (1993)



In 1993, the Penguins were two-time defending Stanley Cup champions, thanks largely to the play of their superstar center, Lemieux. That January, he was on pace to challenge Wayne Gretzky's season record of 215 points when he announced he'd been diagnosed with Hodgkin's disease. He left the team for two months to undergo radiation treatment. When Lemieux returned to the ice on March 2 -- the same day he received his last radiation treatment -- he posted a goal and assist against the Flyers, and Philadelphia fans gave him a standing ovation.
4. Tiger Woods (2010)



Woods last played competitively in the Australian Masters in November. That was nearly five months ago. Yet doesn't it seem longer? It probably does to Woods, whose image went from laser-focused champion to, well, something a tad more tawdry and unhinged. How will the Associated Press Athlete of the Decade (2000-09) fare when he returns to this year's Masters? Will fans boo him? They didn't during Monday's practice round. Will Woods be able to put it all aside and focus on what he does best -- win majors? Get your popcorn ready. You know you'll be watching.
3. Muhammad Ali



After the heavyweight champion refused to serve in the Army in 1967, he was convicted of a felony and stripped of his title. Four years later, the Supreme Court overturned the conviction. Meanwhile, Ali had been working to regain the belt, which belonged to Joe Frazier, who like Ali was undefeated. After return bouts against Jerry Quarry and Oscar Bonavena, Ali faced Frazier in March 1971 in "The Fight of the Century." Frazier won by unanimous decision, but Ali later won two rematches.
2. Michael Jordan (1995)



Less than three months after the murder of his father, Jordan retired from the Bulls in October 1993. The three-time defending NBA champions lost their best player, and the NBA lost its most popular and marketable athlete. In an effort to fulfill a childhood dream which his father also had for him, Jordan attempted to play professional baseball. However, he hit just .202 in one season with the Chicago White Sox's Double-A affiliate. In a two-word press release on March 18, 1995, Jordan announced "I'm back" and returned to the Bulls. The next day, he took the court against the Pacers, a game that drew the highest Nielsen ratings for an NBA game in 20 years. Chicago didn't win the title that year (losing to Orlando in the playoffs), but he did lead the Bulls to three more titles in '96, '97 and '98.
1. Douglas MacArthur



After the Japanese attack on Pearl Harbor drew the United States into World War II, American forces throughout the Pacific were overrun and Gen. MacArthur was forced to retreat from the Philippines to Australia in 1942. He vowed, however, that "I shall return" -- and after the tide turned in the Allies' favor, he made good on his historic promise.
Maria Burns Ortiz, Kelley Carter, LZ Granderson, Jerry Greene, Jemele Hill, Shane Igoe, Scoop Jackson, Paul Lukas, Jeff MacGregor, Toby Mergler, Thomas Neumann, Kurt Snibbe and Hampton Stevens contributed to this article.
Cam Martin is a contributor to Page 2. He previously worked for the Greenwich (Conn.) Time and The (Stamford, Conn.) Advocate, and has written online for CBS Sports and Comcast SportsNet New England. You can contact him at cdavidmartin@yahoo.com.