Commentary
Get your hoops highlights here
Originally Published:
December 22, 2009
By
Cam Martin
| Special to Page 2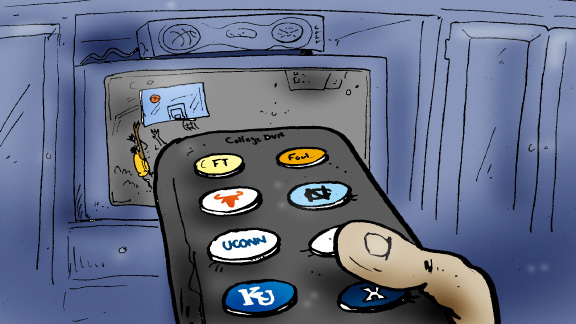 Kurt Snibbe for ESPN.com
Welcome back to the College Hoops DVR, where -- depending on whim -- we look backward or forward or just let things play, always in quick succession.
PLAY: With their 12th consecutive victory to start the season, the New Mexico Lobos have shed their low profile and emerged as a Top 25 team, so the school is hoping to hire a full-time coach to replace its current coach, who moonlights as a theater usher.
PLAY: Seattle's Charles Garcia leads Division I with 92 free throws made. He's also first in free throws attempted (155) and free throws missed (63). He does not lead in free throw percentage.
STOP: Kansas beat Michigan for the first time in the school's 111-year history on Saturday, after losing to the Wolverines in the previous five meetings. Kansas still has never beaten Bucknell, and some suspect the Jayhawks have been ducking the Bison since losing to them in the opening round of the 2005 NCAA tournament.
REW: The highly anticipated matchup between Texas and North Carolina at the palatial new Cowboys stadium went off without a hitch Saturday, as no field goal attempts hit the overhead scoreboard.
PLAY: His reputation is expanding faster than the universe. He once had an awkward moment just to see how it felt. He lives vicariously through himself. He is John Wall.
REW: Kansas' Markieff Morris needed just eight minutes to foul out Saturday, which allowed him to fit in some last-minute Christmas shopping.
PLAY: Columbia leads the nation in 3-point field goal percentage (47.3), yet the Lions are only 5-4, due in large part to the dearth of 3-point field goals they've actually attempted this year (just 110). Of teams ranked in the top 10 in 3-point field-goal percentage, only North Florida has fewer attempts (91) than Columbia.
PLAY: Larry Drew II of North Carolina wears "Drew II" on the back of his jersey, just in case the official scorer is ever on the verge of charging a foul to his father.
STOP: One week after Jim Calhoun agreed to return one dime to the cash-strapped state of Connecticut, the Hall of Fame coach received a raise and a five-year contract extension, negating his goodwill gesture.
REW: Because of heavy snow in Washington, D.C., American University postponed its game versus UMBC on Saturday. Georgetown, which hosted Old Dominion at its on-campus gym, also claims its game was postponed.
STOP: Northwestern has raised its profile with its best start (9-1) since the 1993-94 season, but school administrators say they still have no interest in joining the Big Ten.
STOP: Oklahoma staved off the upset bid by undersized Northern Colorado on Saturday, winning 80-79 -- helped in part by the disparity in shot blocks between the two teams (6 to 0, including two by Sooners freshman Tiny Gallon). Afterward, Big 12 officials apprised Oklahoma that "there's no such thing as a tiny gallon; it's either a gallon or it's not." No word yet on whether Gallon will be forced to change his nickname.
REW: In an effort to keep Matt Howard out of foul trouble against Xavier, Butler coach Brad Stevens told his starting forward that everyone on Xavier has communicable leprosy. It worked: Howard finished with two fouls, and Butler beat the Musketeers by one.
PAUSE: Pennsylvania remains the only winless team in the Ivy League (0-7), but it still has two more chances to get off the schneid before 2010 with road games against Davidson and Duke. The Quakers are better on the road than at home (0-3 versus 0-4), so hopes are high.
PAUSE: With Monday's defeat of Drexel, Kentucky became the first college basketball program to reach 2,000 wins. Some people are still not impressed.
REW: During Saturday's game at Cowboys Stadium, UNC coach Roy Williams was once again pestered by an opposing fan's heckling, so he had security remove Jerry Jones from the building.
STOP: On Saturday, USC handed Tennessee the worst loss in Bruce Pearl's tenure, 77-55. Alas, it's too late for the Volunteers' head coach to change his jovial Christmas card.