Commentary
Fishing has cheating like any other sport
Originally Published:
May 11, 2010
By
Jack McCluskey
| Special to Page 2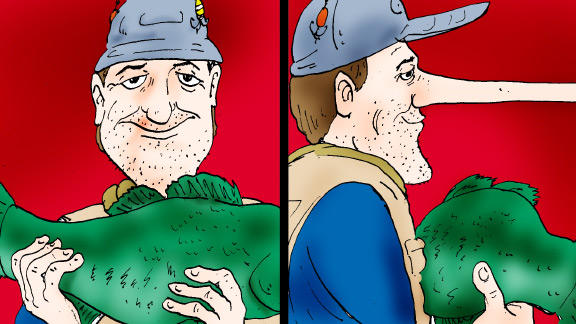 Kurt Snibbe/ESPN.com
Imagine that Alex Rodriguez had to hook himself up to a polygraph after every home run. That Shawne Merriman had to pass a lie detector test after every sack. That Alex Ovechkin had to pass one every time he lit the lamp.
That's essentially what happens in professional bass fishing. Anglers with a prize-winning catch are routinely rigged for a polygraph, to make sure they didn't, you know, rig their catch.
"The way it works in the fishing community is everybody wants to get polygraphed, because that means you're in the money," said Bryan Davis, the tournament director of Bud Light Trail, a minor league bass fishing organization in Texas.
Of course, the good folks in charge of fishing tourneys only implemented the polygraph protocol because cheating posed a serious threat to the viability of the sport. And Davis was the tournament director responsible for catching the latest high-profile cheater.
In something seemingly straight out of a Carl Hiaasen novel, a 45-year-old Texas man last month pleaded guilty to a felony charge of attempted theft after stuffing a 1-pound weight down the gullet of a nine-pound bass he weighed in during a tournament.
Robby Rose of Garland, Texas, received a sentence of 15 days in state jail, a $3,000 fine, and five years' probation and the surrender of his fishing license during probation.
Rockwall County prosecutors and the Texas Parks and Wildlife Department say Rose tried fraudulently to obtain the Bud Light Trail Lake Ray Hubbard Big Bass Tournament grand prize, a $55,000 Legend bass boat.
Messages left at Rose's home were returned only by his wife, Johnna, who said neither she nor her husband wished to comment for this story.
From 1997 to 2004, Rose tried to make it in the big leagues. He entered 21 events in the Bassmaster circuit and didn't fare well. He never finished higher than 54th place, and finished as low as 299th place, according to Rose's angler page on the Bassmaster website. He averaged $31.75 in winnings, which is somewhat misleading because all $666.75 he earned came in one tournament.
Having failed in his attempt to cast his lot with the bigwigs of bass fishing, Rose returned to the calmer waters of the amateur circuit -- where he found success. After he won the Bass Champs tournament at Cedar Creek in February 2007, Rose's winnings totaled $120,000 on that circuit, according to a post on the circuit's website.
But while Rose was reveling in that $20,000 victory, other anglers were grumbling.
Just how did Rose manage to win a team event when he was fishing solo? they wondered. And how did he manage to land a limit of five fish, when all but one of the other 234 teams in the event failed to boat five bass between two fishermen?
Captain Garry Collins of the Texas Parks and Wildlife Department says his office regularly gets complaints about cheating in fishing tournaments. Most of them are nearly impossible to prove, basically amounting to little more than hearsay -- a losing angler's sour grapes after a bad day of bass fishing.
Yet Collins and his game wardens will go to great lengths to catch these alleged cheaters in the act. In one instance, having received pages and pages of complaints against an individual, Collins mobilized all his resources. He had wardens on the banks, watching the accused angler through binoculars. He had wardens on boats, posing as competitors.
The target that day was accused of a much more common method of cheating, staking fish -- catching big fish before a tournament, putting them in a wire mesh cage and then tying the cage to a branch or a stake, then retrieving the fish during the tournament and passing them off as fresh catches. Collins & Co. came up empty. "It's really, really hard to catch 'em pulling a fish cage because they just wait 'til they're alone," Collins said.
To counter this surreptitious behavior many tournaments employ in-boat observers. After complaints began to mount against Rose, the Bass Champs series reportedly told Rose he'd have to fish with an observer. Rose decided not to continue fishing in the Bass Champs series.
Rose moved to other tournaments. In the last weigh-in of the BLT Lake Ray Hubbard Big Bass tourney, Rose submitted the biggest fish of the hour. As is customary, he was ushered off to take his polygraph exam while tournament officials examined his fish.
That's when things got weird.
As Rose was led away, the fish handler and the tournament director, Bryan Davis, noticed a pronounced lump in the fish's stomach. Curious, the officials touched the lump, which they found to be hard, and then placed the fish in a holding tank and moved on to weigh in other fish. However, once they placed Rose's fish in the tank another strange thing happened.
It sank like a lead weight.
"It was just sitting on bottom of the tank," Davis said. "Normally a fish'll hover and not sit on the bottom. It won't stay in one spot. This one just wasn't moving."
At that point, Davis decided to interrupt the polygraph exam and confront Rose. The director collected Rose, who he said looked shocked when told there was a problem with his fish, and brought him to the holding tank where the fish was still sitting at the bottom.
"I asked him, 'Robby, is there anything in this fish that's gonna disqualify you?'" Davis said. "He didn't say anything. Then I told him I was fixing to cut the fish open unless he had another way to get whatever was in it out without harming the fish."
Hearing this, Rose immediately grabbed the fish, squeezed it from tail to head and removed a shiny 1-pound lead weight from its mouth.
Rose handed the weight and the fish to Davis, apologized then left.
The stunned tournament officials notified game wardens and documented the evidence, snapping photos of the fish and the weight and giving statements for the record. News of the disqualification spread fast, kicking up dirt on the bottom of the Texas fishing community and -- despite the fact he'd passed polygraphs after all his past cashes -- casting doubt on any and all of Rose's previous victories.
After the TPW investigation, Collins passed the case along to the Rockwall County District Attorney's office. The DA, Kenda Culpepper, and her staff determined that while there is language in Texas law forbidding staking fish, there wasn't anything in the statute that specifically forbade altering or weighting a fish.
Since Rose cheated to win the tournament prize -- a new boat -- they charged him with attempted theft of more than $20,000 but less than $100,000, a felony.
"It's not necessarily the cheating, it's the cheating to gain a prize over $10,000," Culpepper said. "Certainly cheating is bad, but it's that he was cheating to gain a $55,000 bass boat. That's why we charged him.
"We took it very seriously because of the value of the boat."
Davis, meanwhile, says that even with the 1-pound weight in the fish, Rose wouldn't have won the grand prize in the tournament. He stood to win only a few hundred dollars in cash for catching the biggest fish of the hour. And while that might not seem like enough reward for the risk involved, Collins isn't surprised that Rose cheated.
"Fishing is supposed to be for fun, but throw money into it and people are gonna try to do something to get it," Collins said.
Perhaps the strangest part of the Lake Ray Hubbard incident was not why but how Rose decided to cheat. It's not unheard of for an angler to weight a fish, but none of the people involved in the Rose case can remember a fisherman using a solid, 1-pound weight which, when placed in a nine-pound fish, would represent one tenth of the fish's total weight.
In other words, it's not what you'd call a subtle way to attempt to tilt the scales in your favor.
"No," Collins said with a laugh, "there would be better ways to do it. But when you start to thieve you think you're smarter than everybody sometimes."
For apparently thinking he was smarter than the BLT staff, Rose got himself a criminal record, a jail sentence (he's allowed to serve his 15-day term on weekends, according to lead prosecutor Alex Imgrund) and exile from the Texas fishing community. "I feel sorry for his family, because he's pretty much ruined his life in the fishing world," Davis said. "Well, y'know, fishermen talk. This was a very big deal in the fishing world."
The Rockwall County DA, Culpepper, said she received calls about the case from as far away as Ontario, Canada. She said it's uncommon for a case such as this one to be prosecuted, and that she hoped the publicity the case received would help send a message to the fishing community.
"Not only is cheating immoral, it's also against the law in this instance," Culpepper said.
Despite the incident with Rose, Davis said he believes "99.9 percent of anglers are honest, and wouldn't mind implementing other things to keep everyone honest."
But when your sport already includes paid observers and polygraph examiners, what other options are left?
Maybe foul play is inevitable. After all, when the goal is to hook the big one, some will do just about anything to reel it in.
Jack McCluskey is an editor for ESPN.com.