Mr. Met for the Hall of Fame?
The Mets announced this week that Mr. Met is one of 12 nominees for induction to the Mascot Hall of Fame this year. While popular sentiment would dictate that Mr. Met should be voted into the Hall, a fairer way of evaluating his candidacy would be to apply Bill James' Ken Keltner Test, a list of subjective questions devised by the sabermetric guru, to the mascot's career in blue and orange. Voting is taking place through Sept. 6 at mascothalloffame.com.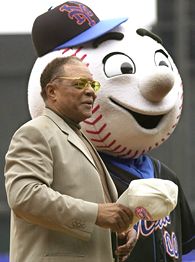 AP Photo/Kathy Willens
See, Mr. Met's got some great supporters, including Willie Mays.
1. Was he ever regarded as the best mascot in baseball? Did anybody, while he was active, ever suggest that he was the best mascot in baseball?
Mr. Met was the first mascot in baseball, making him the best mascot at that time. In recent seasons, it is hard to argue that he has been consistently at the level of his division rival, the Phillie Phanatic, whose ATV antics and borderline-offensive belly-gyration dance have earned him the love of millions. But the Phanatic did not exist until 1977, and the San Diego Chicken -- another member of the MHOF -- is clearly inferior to Mr. Met. The Chicken was originally a radio promotion, but Mr. Met's first appearance occurred, immaculately, at the Shea Stadium grounds. And while Mr. Met has a Cal Ripken-like respect for the game, the Chicken once brawled with a Barney look-alike on the field.
2. Was he the best mascot on his team?
Mr. Met has clearly been the finest mascot in Mets history. Lady Met (also known as Mrs. Met) has a certain charm, but she has been phased out of the team's day-to-day plans. (Rumor has it that the day she was informed of this by longtime Mets PR director Jay Horwitz formed the basis for the "There's no crying in baseball!" scene from "A League of Their Own.") The three Met children have yet to distinguish themselves in any way -- one cannot rule out the kind of criminal behavior typical of former child stars in their future.
3. Did he have an impact on a number of pennant races?
An unconfirmed story says that when Gil Hodges noticed shoe polish on the baseball that hit Cleon Jones' foot during Game 5 of the 1969 World Series, it was brought to his attention by Mr. Met, who got his point across by smudging his head in the exact same spot.
4. Was he a good enough mascot that he could continue to mascot regularly after passing his prime?
The Mets are fortunate enough not to know the answer to this, as he has played at essentially the exact same level since his start with the Mets in 1964. Still, it is hard to imagine that a late-career Mr. Met would have as effective a "Singin' in the Rain" dance during weather delays. That is an awfully big umbrella.
5. Is he the very best mascot in baseball history who is not in the Hall of Fame?
Clearly he is. As the unfortunate tragedy from this past weekend showed -- when Mariner Moose nearly ended the season of Coco Crisp (incredibly, despite the name, not a mascot) by clipping him with his ATV -- mascoting is not a routine art. Mr. Met's silent cheers have earned him the love of millions of fans, while his streak of 43 seasons without injuring an opposing player or fan stands in stark contrast to Mariner Moose, the automatic tarp machine at Busch Stadium and, indeed, Vince Coleman himself.
6. Are most mascots who have comparable career statistics in the Hall of Fame?
There simply is no comparison. His longevity and innovation are unmatched in the mascot world. I suppose his closest comparison is Candy Cummings, who is to the curveball what Mr. Met is to waving hands in the air in an encouraging or celebratory way. Cummings, of course, is in the Hall of Fame for nonmascots.
It is also easy to dismiss the hardship Mr. Met faced being the first mascot, in the face of retrograde baseball traditionalists. As the Mets traveled around the league in 1964, Mr. Met often was forced to eat in separate restaurants from his teammates. And while the other Mets stayed in top hotels, Mr. Met often stayed with host families in the mascot section of town. The valiant Choo Choo Coleman, whose sympathy toward Mr. Met can be traced to a family history of gigantism, put his arm around Mr. Met before a game against the Reds in Cincinnati, the birthplace of the National League.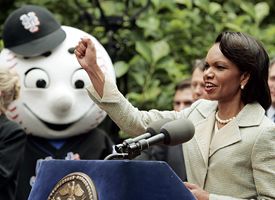 AP Photo/Richard Drew
And Mr. Met has friends in high places, like the Secretary of State.
7. Do the mascot's numbers meet Hall of Fame standards?
Mr. Met's number represents the Mets to such an extent that should he ever retire, the franchise will undoubtedly honor him as it has Tom Seaver, Gil Hodges and Casey Stengel. And those who do doubt it need only ask Tony Clark about his attempt to wear No. 00 for half a season. After being harshly questioned by Queens schoolchildren, he switched to 52. "Mr. Met had 00 long before I got here and he'll be here long after I leave," Clark told the schoolchildren, according to the Staten Island Advance. "It's his to keep."
8. Is there any evidence to suggest that the mascot was significantly better or worse than is suggested by his statistics?
While Mr. Met's T-shirts often fail to make it into Shea Stadium's Upper Reserved section, it is fair to note that Shea has always been a pitchers' park. Power totals are deflated at Shea.
9. Is he the best mascot at his position who is eligible for the Hall of Fame but not in?
When the other nominees include Youppi!, a mascot so passionless that his support failed to keep his team in existence, as well as the felonious Mariner Moose, it is clear that Mr. Met is the class of this class.
10. How many Most Valuable Mascot-type seasons did he have? Did he ever win an MVM award? If not, how many times was he close?
While the Baseball Writers' Association of America continues to ignore the vital mascot contribution, it is fair to say that Mr. Met's cheering contributed to the team's two championships, four National League pennants, seven playoff appearances and 10 90-win seasons. That is, clearly, far better than the Phillie Phanatic.
11. If this mascot was the best mascot on his team, would it be likely that the team could win the pennant?
As Mr. Met proved many times, ya gotta believe it. It is also believed that Mr. Met's black cat running across the Chicago dugout doomed the Cubbies in 1969. Often through the years, a close game has turned due to Mr. Met's mildly effectual waving of his arms in celebration or encouragement -- a baseball weapon as deadly as the productive out.
12. What impact did the mascot have on baseball history? Was he responsible for any rule changes? Did he introduce any new equipment? Did he change the game in any way?
To summarize: first mascot, first mascot to present a birthday cake to Casey Stengel, first mascot to appear in a "SportsCenter" commercial, first mascot to sire children, first mascot to appear on currency (he is on the $1, $5 and $10 of Mets Money). Only an astonishing lack of taste by my wife prevented his being the first mascot to officiate at a wedding. New equipment now vital to baseball includes Mr. Met's Enormous Haberdashery Shop, which is now the industry standard of hats for major league mascots, minor league mascots and Barry Bonds.
13. Did the mascot uphold the standards of sportsmanship and character that the Hall of Fame, in its written guidelines, instructs us to consider?
Even the friendliest of baseball people, in the course of 43 years in the business, earn some enemies along the way. But Mr. Met seemingly has no detractors at all. He still holds court at popular weekly breakfasts each Sunday morning during the season. He can be seen on "Late Night with Conan O'Brien" and on YouTube dancing at Indian weddings. Naturally, we know that the silent Mr. Met never said a bad word about anyone -- not even Youppi!. He is a legend, and deserves a mascot's highest honor -- yet he hasn't let it go to his head.
Howard Megdal covers New York baseball for the New York Observer and Gotham Baseball Magazine. He can be reached at hmegdal@yahoo.com.