Commentary
Time for the NFL Pregame Ritual
Updated:
September 26, 2009, 7:42 PM ET
By
Toby Mergler
| Special to Page 2
Welcome back to the Pregame Ritual. The second week of the NFL season proved to be just as entertaining as the first, as the Bengals shocked the Packers, the Texans and Titans engaged in an awesome hard-nosed slugfest, and the Jets took down Goliath with little more than a slingshot and an overwhelming pass rush.
Here is a look at this Sunday's action.
Three key games to watch
[+] Enlarge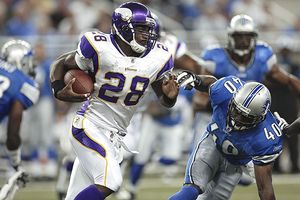 AP Photo/Paul SancyaThat's right, Brett, just keep handing the ball to this man.
San Francisco at Minnesota (1 p.m. ET)
If you liked football before the forward pass was invented, boy, oh boy, are you in for a treat here. Minnesota is last in the league in pass attempts, and San Francisco isn't far ahead. Of course, why would either team rely on Shaun Hill or this version of Brett Favre, whose skills now resemble Joe Namath's -- only if Namath was still playing today. Instead, each team gets to lean upon one of the best backs in football in Frank Gore and Adrian Peterson. If either team falls behind big, it could get ugly -- they might have to resort to high-risk outside pitches instead of safe inside handoffs.
Pittsburgh at Cincinnati (4:15 p.m.)
The late games this week leave a lot to be desired, but this will probably be the most entertaining of the bunch. Pittsburgh has plenty to prove after falling to Chicago last week, and Cincinnati is riding high after shocking Green Bay. The real reason to watch is the resurrection of the Bengals' offense. Carson Palmer (who inspired my favorite fantasy team name this year, the "Big Lebowski"-themed "Palmer Than You Are") just played his best game in years, Cedric Benson's career has suddenly been upgraded from "trainwreck" to "skateboarding accident" and Chad Ochocinco has his swagger back.
We're particularly excited about No. 85 playing well again. His act is extremely tired when he's not backing it up, but when he is, we'll admit to chuckling at his end-zone celebrations. Now that he's taken to planting people in the stands to aid his antics, the sky is really the limit. We're hoping it will reach the point where he buys tickets for the traveling cast of "Cats" and tosses on the mascot head before jumping into the stands to sing the finale with them.
Indianapolis at Arizona (8:20 p.m.)
One of the best fantasy games of the year gets the spotlight Sunday night. No lead will be safe in this game as long as your opponent has players involved. In this situation, we always like being the chaser rather than the chasee. It's the same reason we like to bet the over instead of the under. Nothing ruins the fan experience more than spending three hours vigorously rooting for nothing to happen. Other than Fox's creepy dancing robot, that is.
Play we'd like to see today
As far as we can tell, the Music City Miracle kickoff gambit is the only play in NFL history with a 100 percent success rate. While we've seen other laterals on kick returns, we can't ever recall another time when the receiving team basically set up a screen pass and took it to the house. What is stopping teams from at least trying this again? In fact, since the Bills are likely to fall behind the Saints' juggernaut, they should try to cash in on some karmic justice by turning the tables and running it themselves.
[+] Enlarge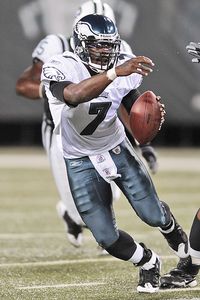 AP Photo/Bill KostrounMichael Vick will probably get more attention on the bench than most players on the field.
Fine, I'll ask
Five questions about the Kansas City-Philadelphia game:
• Which side of this bet would you rather have: rushing yards by Larry Johnson or Michael Vick mentions by the announcers?
• Does Matt Cassel just giggle maniacally every time he sees how much money is in his bank account?
• Has Andy Reid's mustache been in the league long enough to qualify for its own pension?
• Who is more likely to protest: PETA, or the staff at Old Country Buffet when Dwayne Bowe attempts to get his ninth plate?
• After Brian Westbrook retires, when his wife asks him if he can rake the lawn or pick up the kids on Sunday, will he respond with "I'm questionable"?
Storyline we care about
Matt Cassel may lose his starting job
It's nearly impossible to believe this is the same guy who caused Jay Cutler and the Broncos to break up, and made people question whether the Patriots should keep him and dump Tom Brady. All of a sudden, Cassel's becoming the mistress that you haven't seen a picture of yet but is rumored to have broken up a celebrity's marriage. You assume she must resemble a young Helen of Troy, but then the photo pops up on a blog and she looks more like your Uncle Troy. It's sad to say, but everyone's reaction is immediately the same. Really? He left his wife for that?
It's hard to believe Todd Haley is bluffing, however. He was part of the decision to start the undrafted Tony Romo over Drew Bledsoe in Dallas, and to bring in old man Kurt Warner to replace young gun Matt Leinart in Arizona. The lesson here is clear. If you are in a fantasy keeper league and this change happens, you should go get Brodie Croyle RIGHT NOW.
Storyline we don't care about
Redskins rookie sorry for Twitter post
This story is so ridiculous. Can't we just agree that everyone should shut up?
Fans should save their booing for when the team actually loses (we're sure they'll have a chance soon enough), as all wins look the same in the standings. Rookies who have not established the slightest semblance of a reputation should not take it upon themselves to trash the people that help employ them. OK? OK.
This probably wouldn't have been a story at all if Henson hadn't attacked people who work from 9 to 5 at McDonald's. Anyone working full-time to put food on the table shouldn't be disparaged, especially in such a bad economy with so many people out of work completely. Henson should have gone after a much less sympathetic and laudable bunch: Page 2 NFL preview writers. If he had said "The question is who are you to say you know what's best for the team and you work 1 to 1:15 writing columns for Page 2," he might have been greeted as a hero for being the voice of reason.
STREAK FOR THE CASH PICK
If you haven't played ESPN.com's Streak for the Cash yet, you should give it a shot. It's free to play, and you could win $1 million. But beware: It's addictive.
Since it's a known fact that a football column must include some sort of pick or the universe folds in on itself, here is this week's selection:
Chicago over Seattle: OK, I got burned last week by underestimating Mark Sanchez. But I remain confident betting against Seneca Wallace facing a Bears team that's fresh off a victory over the defending champs. In his eight starts last year, Wallace averaged 189 yards passing per game. If you remove Julius Jones' 62-yard run in Week 1, he's averaging a putrid 2.5 yards per carry this season. Can't pass. Can't run. Can't win.
-- Toby Mergler
Patrick Swayze's pep talk
We are huge fans of Patrick Swayze's action movies, and were incredibly saddened by his passing. In a small attempt to pay tribute, we'll relay some of his words of wisdom in this space each week in an effort to fire up a particular player or team.
"Is that all the gusta you can musta?"
-- Jim Cunningham, "Donnie Darko"
It's a simple question that needs to be answered immediately by the Tampa Bay defense. This once proud and feared unit has allowed the second-most points in the league, and has displayed the same lack of energy and passion as the kids in the assembly that Jim Cunningham addressed. If they don't re-establish their defensive identity quick, they will be the Lions South, but without the young talent. At that point, Bucs fans might have to turn to watching the depressing "Donnie Darko" to cheer themselves up.
Most important fantasy players
Matt Schaub: To paraphrase Mitch Hedberg, "You either love him or hate him. Or think he's OK." Schaub's performance continues to be all over the map; he can single-handedly win or lose you a week. We're betting he comes up big against Jacksonville on Sunday.
Matt Forte: So far, this consensus top-five overall pick is averaging 2.2 yards per carry, which is the same number of drinks per quarter his owners are consuming to deal with his anemic performance. If he doesn't shred a Seattle defense that just gave up 207 yards to Frank Gore, that number could skyrocket.
Willis McGahee: If you predicted McGahee would be in the top five overall in fantasy scoring after two weeks, please step right up to receive your prize -- a swift kick in the crotch for being so stupid in the first place. But the former stud turned dud is suddenly a must-start again and is poised for another big week against the Browns.
Joseph Addai: If you own Addai, you really can't panic after the Colts' game Monday night, in which their total time of possession couldn't even have filled the commercial space in an episode of "Gossip Girl" (though, to be fair, that entire show seems to be an ad for not having children). We're willing to give Addai a few more weeks before we write him off completely.
Enjoy the games, everyone.
Toby Mergler is a freelance writer based in Washington, D.C., who has previously written for MLB.com, Fanball and the Virginia Law Weekly. He can be reached at tobymergler@gmail.com.
NFL WEEK 3 PREVIEW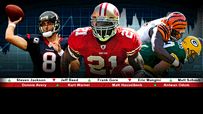 PICKS
MNF: PANTHERS AT COWBOYS
FINAL WORD
FANTASY
POWER RANKINGS
MVP WATCH
STOCK WATCH: Fallers, risers
COLUMNS/BLOG POSTS
INSIDER
SCOUTS INC.
MOST SENT STORIES ON ESPN.COM