Commentary
Page 2's NFL Pregame Ritual, Week 4
Originally Published:
October 3, 2009
By
Toby Mergler
| Special to Page 2
Welcome back to the Pregame Ritual. Last week, Brett Favre continued his walk down the path of a classic villain, ruthlessly murdering a secondary character right before the big showdown with his old master. It's too bad the 49ers had to suffer, but we're excited it raised the stakes for Monday night's game.
Here's a look at Sunday's action:
Three key games to watch
Baltimore at New England (1 p.m. ET)

[+] Enlarge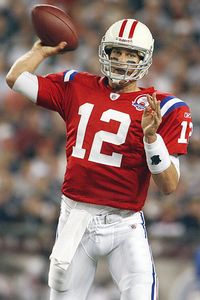 Stew Milne/US PresswirePerhaps Tom Brady hasn't quite been himself yet this season, but it's far too early to panic.
We were shocked to hear Ray Rice scored his first NFL touchdown last week. Given all the preseason hype, we were certain he had more career scores than the cast of "High School Musical." Turns out that wasn't the case. On the other side of the ball, there seems to be a developing backlash against Tom Brady, even though he has thrown for more yards this season than golden boy Drew Brees. Sure, Brady hasn't been himself and has overthrown more guys than usual, but anyone who claims they'd rather have another quarterback leading the New England offense is either lying, stupid or Al Davis. Even if Davis was in charge of Brady's future, he'd end up trading him back to New England anyway.
Dallas at Denver (4:15 p.m.)
Denver's early-season slate has been full of teams that resemble those mass-produced cookies full of crappy ingredients: soft and easily crumbled. But now the Broncos are moving into the homemade peanut-butter-chocolate-chip portion of their schedule as they face Dallas, New England, San Diego, Baltimore and Pittsburgh in their next five games. Their best chance for a win over these seemingly superior teams comes today at home against the Cowboys and their banged-up backfield. If Denver can pull it off, it will guarantee at least a .500 record at midseason. After the Broncos' tumultuous offseason, such a feat is a borderline miracle and should move Doogie Howser, HC to the front of the coach of the year line. We hope sparkling cider is available at the awards ceremony, because we'd hate to see the NFL get the bad publicity that comes with serving alcohol to minors.
San Diego at Pittsburgh (8:20 p.m.)
Yes, the defending Super Bowl champs have the same record as the Lions and Raiders. But they also have as many wins as the Rams, Buccaneers, Panthers, Chiefs, Titans, Browns, Dolphins and defending NFC champion Cardinals combined! I guess when expectations are high, panic is quicker to develop when a team starts off slow, but it seems premature in the case of the Steelers. They've proved they don't need home-field advantage to win a Super Bowl. Once they get Troy Polamalu back, they should recover in time to make the playoffs. And if the team falls apart, it will just free Big Ben up to pursue his professional wrestling career.
Play we'd like to see today
STREAK FOR THE CASH PICK
If you haven't played ESPN.com's Streak for the Cash yet, you should give it a shot. It's free to play, and you could win $1 million. But beware: It's addictive.
Since it's a known fact that a football column must include some sort of pick or the universe folds in on itself, here is this week's selection:
Tennessee over Jacksonville: While it's sometimes a trap to go with such a popular pick, count us squarely among those who believe a desperate team is a dangerous team. Besides, Jacksonville can't sell out its stadium, and owner Wayne Weaver is openly discussing moving a few home games to Orlando. They should change the name of the stadium to "Neutral Field."
-- Toby Mergler
Jason Campbell has been fine between the 20s this year but has performed dismally in the red zone, so we'd like to see the Skins attempt a radical solution -- developing a second quarterback as a closer. Similar to a goal-line running back, the closer would take the snaps in the red zone and would specialize in operating the play package utilized in such close quarters. The backup quarterback spends almost all his time watching the first string practice, why not allow him to develop this specialty? What better way to help the team? Besides, what does Jim Zorn have to lose? His job is already as good as gone.
Fine, I'll ask
Five questions about Monday night's Green Bay-Minnesota game:
If Brett Favre is like a kid out there, is he now the annoying one you always wanted to beat up at recess?
After coming out of nowhere to become a stud one season, then disappointing his fantasy owners the next, does Steve Slaton owe Ryan Grant royalties?
Why does Adrian Peterson have scales in that new Nike commercial?
After getting sacked 12 times in three games, is Aaron Rodgers taking Polaroids of all his bruises for a possible civil suit against his O-line?
If the Vikings win, Favre will be the first quarterback to beat all 32 teams. But given all his career interceptions, is he also the first QB to help all 32 teams win?
Storyline we care about
Dolphins trade for Tyler Thigpen: The Tyler Thigpen Experience is back, baby! We're offering a prayer to the fantasy gods that he gets a chance to resume his assault on the record books. If given the opportunity, he could shatter the mark for most fantasy points accumulated by a quarterback on putrid teams. He's only 25 and has already played for the Chiefs and the Dolphins. He's well ahead of where Trent Green was at the same age! If properly nurtured, we could be seeing the birth of a legend here. Get out of the way, Chad Henne, and let Thigpen fulfill his destiny.
Storyline we don't care about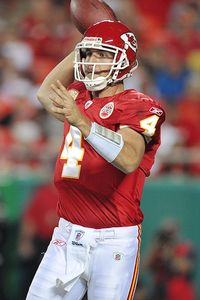 John Rieger/US PresswireFor any team whose entire season is garbage time, Tyler Thigpen is a perfect fit.
Nike denies signing Michael Vick: We understand everything Michael Vick does generates interest and page views, but should anyone care about this story other than his creditors? Good for Vick if he can find some way to pay back the massive amounts of money he owes. And if Nike wants to roll out a new signature shoe -- perhaps the Zoom Vick Third String, complete with a fleece insole to help keep you warm on the bench -- then good for them as well. A line of Michael Vick signature clipboards couldn't be far behind.
Patrick Swayze's pep talk
Swayze's action movies were undeniably awesome, and his recent passing was incredibly sad. In a small attempt to pay tribute, we'll relay some of his words of wisdom in this space each week in an effort to fire up a particular player or team.
"People who really want to have a good time won't come to a slaughterhouse. And we've got entirely too many troublemakers here. Too many 40-year-old adolescents, felons, power drinkers and trustees of modern chemistry."
-- Dalton, "Road House"
Having been outscored by a whopping 66 points through 3 weeks, a slaughterhouse is exactly what Cleveland Browns games have turned into. And the seeds of bad behavior (locker room fights and dissent over player fines) have been planted. Given the manure the team is producing on the field, these seeds could blossom in no time. Cleveland needs to find a cooler as good as Dalton to turn this thing around before they test the limits of the Dawg Pound's loyalty. Mangini should probably begin his mornings by doing shirtless tai chi down by a river. Can't be any worse than whatever he's doing to prepare now.
Most important fantasy players
Eli Manning: When you place Eli in your lineup, take cues from his role in the famous Helmet Catch: Close your eyes and hope for a miracle.
Glen Coffee: When he got hurt on the first play last week, Frank Gore JaMarcus'd a ton of fantasy teams, as he was directly responsible for countless defeats. Now the rookie Coffee gets a chance to shine. If his starting debut goes half as well as the debut of "Modern Family," which was the best network comedy pilot since "30 Rock," his owners should emerge victorious.
Steve Slaton: We recently overheard a trade negotiation involving a potential swap of Slaton for Earnest Graham, the proud owner of 17 rushing yards this year (not points -- yards). That smoky scent you detect is the smell of Slaton-led teams going up in flames.
Vernon Davis: It's not just Mike Singletary that Davis has famously frustrated. He's been killing his fantasy owners for years. But now Davis describes Singletary as his best buddy and is putting up huge stats for anyone who had the guts to draft him. The lesson here is clear. Next time a fantasy player on your team is frustrating you, drop your pants and yell at the computer.
Enjoy the games, everyone.
Toby Mergler is a freelance writer based in Washington, D.C., who has previously written for MLB.com, Fanball and the Virginia Law Weekly. He can be reached at tobymergler@gmail.com.
SPONSORED HEADLINES
ESPN TOP HEADLINES
MOST SENT STORIES ON ESPN.COM
NFL WEEK 4 PREVIEW
PICKS
FINAL WORD
POWER RANKINGS
REALITY CHECK
MVP WATCH
STOCK WATCH: Fallers, risers
COLUMNS/BLOG POSTS
SCOUTS INC.
MONDAY NIGHT FOOTBALL