Commentary
NFL Pregame Ritual (Week 9)
Originally Published:
November 7, 2009
By
Toby Mergler
| Special to Page 2
Welcome back to the Pregame Ritual. We are in the eye of the NFL-hype hurricane, as last week we saw Brett Favre return to Green Bay (how great would it've been if he had tried a Lambeau Leap after one of his four TD passes?), and next week will feature another round of Peyton Manning versus Tom Brady. This week we'll just have to settle for a full slate of evenly matched, competitive games. Hopefully we'll survive.
Here is a look at the action in Week 9.
Three key games to watch
Houston at Indianapolis (1 p.m. ET)
The Texans bandwagon is a lot like the bus in the movie "Speed." Everyone climbed aboard expecting a smooth ride. Then, evidence of turmoil caused all its riders to panic and attempt to get off, risking life and limb to avoid supporting what looked like a classic underachieving team. But now things have smoothed out a little, and the bandwagon is in limbo, with everyone a little afraid to make a move that would upset the delicate balance achieved. Now all that's left is to see whether the bus explodes. We like the Texans going forward, but this week Peyton Manning is in the Dennis Hopper role, with his finger on the button, ready to destroy Houston's hot streak. (Why yes, that is the maximum amount we could stretch the analogy. Thanks for asking.)
San Diego at New York Giants (4:15 p.m. ET)
We are really looking forward to this game, since it pits the two most disappointing three-loss teams in the league, both of whom have proved capable of complete dominance as well as utter ineptitude. There hasn't been a widely televised event with this level of unpredictability since Michael Jackson's memorial service. Will the two teams break the under by 30, or the over by 30? Will Dr. Eli or Mr. Manning show up at quarterback for the Giants? Will LaDainian Tomlinson jump out of his coffin? We'll certainly be tuning in to find out. After all, it's not often you get to watch a must-have game between two teams that don't seem to care whether they win or lose.
Dallas at Philadelphia (8:20 p.m. ET)
Roy Williams declared this week that he is still the No. 1 receiver in Dallas. Here are a few other things he might think he's No. 1 at:
• Toy expert (Santa's got nothing on Roy)
• Physicist
• Snake-charmer
• Provider of micro-loans to impoverished nations
• Eater of fruit
• Showing up his QB (this one might actually be true)
Can you prove that he's not No. 1 at any of these things? Even if you have loads of demonstrable facts and irrefutable evidence to the contrary, it doesn't matter to Williams. He knows he's the best at all of them -- things just happen to have gone someone else's way.
STREAK FOR THE CASH PICK
If you haven't played ESPN.com's Streak for the Cash yet, you should give it a shot. It's free to play, and you could win $1 million. But beware: It's addictive.
Since it's a known fact that a football column must include some sort of pick or the universe folds in on itself, here is this week's selection:
San Francisco over Tennessee: Plenty of photos of a shirtless Vince Young have circulated around the Internet. Good thing he's comfortable without clothes, because the Niners' D is going to depants him this afternoon.
-- Toby Mergler
Play we'd like to see Sunday
What we'd really like to see is for someone, anyone, to repeat the mistake that James Butler made last week, as we can't get enough of watching it. It was the dumbest safety we can remember, though somewhere Dan Orlovsky can't believe what he's reading.
Short of that, we'd like to see a new wrinkle added to the Wildcat. Defenses barely pay attention to the tight ends in the Wildcat because they are just there to block. Why not try to sneak in the rarely seen tight end reverse? Hand it off to Ricky Williams coming in motion, and then have him hand it off to a tight end coming off a fake-block assignment, running the other way. Bonus points if you use Jason Taylor as the runner. He looked great sprinting for a TD against the Jets -- the Fins should give him a chance! Don't get us wrong, watching Ronnie Brown run behind an overloaded line and fall forward for 4 yards over and over again makes for excellent television -- but it's always exciting when they do something different with the formation.
Fine, I'll ask
Five questions about Monday night's Pittsburgh-Denver game:
• Would Denver consider signing Glen Davis, or would they worry that Brandon Marshall would be jealous if they brought in another Big Baby?
• Does this look like the dirtiest player in the NFL to you?
• Do you think Ward replaced his normal game tapes this week with women's soccer tapes to learn a couple of new moves?
• Eddie Royal -- fantasy bust, or fantasy apocalypse?
• Will Kyle Orton be forced to ride under the team bus to the game?
Storyline we care about
Disgruntled Cleveland Browns fans meet with team owner
How cool is this? Two Cleveland Browns fans threatened a public display of disapproval over the direction of the team, and rather than revoking their tickets or threatening to have the pair removed from the stadium, the team's owner agreed to meet with them to discuss their grievances. How refreshing! Let this be a lesson to all owners. Fans are a lot like girlfriends. Nothing makes them madder than when they think you are not listening to them (besides maybe having to watch Derek Anderson play quarterback). Pay attention to what they say, address some of their needs, and they may stick around despite the fact that you go out drinking with your buddies four nights a week and you have that weird gland problem. (Or so we've been told.)
Storyline we don't care about
Fans don't want Larry Johnson to get record
On the other hand, sometimes fans can go a bit too far. It's one thing to say you want Larry Johnson off the team for both his on-field and off-field actions. That we can applaud. But doing it because you don't want him to become your team's all-time leading rusher seems a bit forced. The Chiefs' current all-time leading rusher is Priest Holmes, who basically achieved that record in three seasons (which is shocking, since in "Tecmo Bowl" Christian Okoye went for about 700 yards per game). DeAngelo Williams became the Panthers' all-time leading rusher Sunday and didn't even know about it. Johnson is not about to enter some sort of hallowed ground here.
Patrick Swayze's pep talk
Swayze's action movies were undeniably awesome, and his passing earlier this year was incredibly sad. In a small attempt to pay tribute, we'll relay some of his words of wisdom in this space each week in an effort to fire up a particular player or team.
"I want you to be nice until it's time to not be nice."
-- Dalton, "Road House"
Come on, Giants. Are you the team that started the season 5-0, or the team that has looked terrible going 0-3 since? You've gone from being the best team in football to third place in your division, and your coach has started staring off into the distance again, as if he's the captain of a ship about to be boarded by pirates. It's time to show some passion. After all, the Yankees' season is over, and New Yorkers are about to turn their full attention (and ire) toward you. If you don't step up and display some toughness, you can bet your fans aren't going to be nice to you.
Most important fantasy players
Ryan Moats: Gary Kubiak is the best hidden version of Satan since Al Pacino in "The Devil's Advocate" -- in fantasy football terms, of course. Fantasy players were so grateful for Steve Slaton last year, they managed to forget that Kubiak studied under the fantasy football Lucifer himself, Mike Shanahan. Accordingly, roll with the popular pickup Moats at your own risk.
Jamaal Charles: Charles successfully followed Ricky Williams and Cedric Benson at Texas -- taking over for Larry Johnson should be a cakewalk in comparison. It's like a session musician filling in for Eddie Van Halen, and then being asked to replace a Jonas Brother.
Nate Burleson: The Seahawks have 99 problems, but Burleson ain't one. (But 98 of them are T.J. Houshmandzadeh.) Burleson has been rock-solid all year long and could explode this week against the Lions' porous pass defense.
Aaron Rodgers: Question: Who is more quietly at the top of their field -- Aaron Rodgers among fantasy QBs, or Tami Taylor among attractive fictional high school principals? Since Taylor, from "Friday Night Lights," is primarily up against Mr. Belding from "Saved By the Bell," we'll go with Rodgers -- who, with little fanfare, is now tops among all players in total fantasy points.
Enjoy Week 9, everyone.
Toby Mergler is a freelance writer based in Washington, D.C., who has previously written for MLB.com, Fanball and the Virginia Law Weekly. He can be reached at tobymergler@gmail.com.
NFL WEEK 9 PREVIEW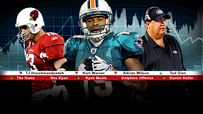 PICKS
HOT READ: Jacksonville viable for NFL?
FINAL WORD
POWER RANKINGS
DANGEROUS PLAYERS
MNF: Steelers at Broncos
COLUMNS/BLOG POSTS
FANTASY
SCOUTS INC.
PAGE 2
MOST SENT STORIES ON ESPN.COM