Commentary
NFL Pregame Ritual (Week 11)
Originally Published:
November 20, 2009
By
Toby Mergler
| Special to Page 2
Welcome back to the Pregame Ritual. The first holiday commercials are firmly upon us, which means two things. One, the stretch run of the NFL season is about to begin. And two, a small army of people who are waaaaaaaay too happy to be wearing sweaters and singing songs are going to invade your brain for the next month. There's no use trying to avoid it; resistance is futile.
Here is a look at Sunday's action:
Three key games to watch
Indianapolis at Baltimore (1 p.m. ET)
The Colts' undefeated record should be blemished already, and they will be severely tested against a Ravens team coming off a bye week. Sure, the Ravens allegedly played a game Monday night against the Browns -- but it had all the luster of an intrasquad scrimmage, particularly when compared with Sunday night's Pats-Colts mega-clash. The game against the Browns did fire up Ray Lewis, however. The Colts better look out -- Lewis may dive on top of the pile in an effort to get credit for a tackle with some extra vigor Sunday.
San Diego at Denver (4:15 p.m. ET)
Every time these two teams play, does anyone else wonder what would have happened to Frank Cushman had he actually been selected by one of these two teams in "Jerry Maguire"? Both situations would have been difficult. The movie was released in 1996 and the Chargers were a mess in that era, going 4-12 in 1997. Basically, Cush would have been dealt the same hand as Ryan Leaf, and who's to say it would have played out any better? After all, who was the last quarterback from Texas to actually experience sustained success at the NFL level? On the other hand, Cush would have sat behind John Elway for a couple of years in Denver and then had to replace the legend, which we've seen has been an impossibly tall task. We think he would have been a bust either way. What's that? We're the only one who has ever thought about this and we should shut up now? OK.
Philadelphia at Chicago (8:20 p.m. ET)
The Eagles are suddenly more of a fixture on Sunday nights than "The Simpsons." Thank goodness flex scheduling is right around the corner. This game should be fun to watch, though. The Eagles have completely abandoned the running game, and the Bears are actually pretty good against the pass (eighth in the NFL), so we should see a competitive game. Unless, that is, Jay Cutler -- who has thrown 11 interceptions in three night games this year -- continues his struggles under the lights. Perhaps his new heartthrob look was just a precursor to his trying to obtain a role in the next "Twilight" movie by showing just how monstrous he can be after the sun goes down.
Sign we'd like to see
I am actually retiring the "Sign we'd like to see" section, since the Redskins finally came to their senses and reversed the poorly conceived ban. However, I will continue to honor Daniel Snyder in other ways. For example, I massively overpaid DJ Gallo for the idea for this section two weeks ago, and I blame my editors for its failing so quickly. It had nothing to do with me, even though I was solely responsible for the environment the section was written in. If I had made mistakes, I can assure the readers that I would have learned from them, and I'd like to tell our fans that I look forward to launching something else soon that will fail even worse. Writing a column can be rough, but luckily I have my pet around to make me feel better when things go bad.
Fine, I'll ask
Five questions about Sunday's Buffalo-Jacksonville game:
• Is the economy so bad that even Yale grads like Dick Jauron can't keep a job?
• Was Jauron happy to have more time for his favorite hobby -- not living in Buffalo?
• Had interim head coach Perry Fewell's Wikipedia page even been updated before Bills owner Ralph Wilson started to recruit Mike Shanahan to replace him?
• If a winning record and one of the best running backs in football don't sell out games, would Jacksonville be more successful marketing halftime shows that involve Frisbee-catching dogs or monster trucks, and treating the games as the sideshow instead?
• If Maurice Jones-Drew starts a trend by apologizing to his fantasy owners, when will Terrell Owens have time to do anything else?
Storyline we care about
Raiders banish JaMarcus Russell to the bench
Oh, come on! Won't someone please think of the sports humor writers? Russell and his nearly unprecedented poor performance were an absolute gold mine. What are we supposed to do now? If we had been there when the announcement was made, there would have been footage of us diving in slow motion and screaming "Nooooooooo!" while tackling Tom Cable to prevent him from making this decision. Please come back soon, JaMarcus, you are already missed.
Storyline we don't care about
Browns would give Cavs' James a shot
Man, the speculation about where LeBron will play next year is officially out of control when it spills into other sports. The media has plenty of time to spend on such a subject, but what is Eric Mangini doing wasting time talking about it? The number of things he needs to worry about more than this is roughly equivalent to the amount of money in LeBron's bank account. However, we're not surprised to hear that Brady Quinn is keen on bringing in guys from other sports. He probably thinks it would be swell if the Browns hired four or five guys from the UFC to protect him from Ray Lewis.
Patrick Swayze's pep talk
Swayze's action movies were undeniably awesome, and his recent passing was incredibly sad. In a small attempt to pay tribute, we'll relay some of his words of wisdom in this space each week in an effort to fire up a particular player or team.
"Ain't it wild? That's what makes it so interesting. You can do what you want, and make up your own rules. Why be a servant to the law, when you can be its master? … If you want the ultimate, you've got to be willing to pay the ultimate price."
-- Bodhi, "Point Break"
Perhaps Bill Belichick can take solace in the fact that he's not the only one who would have gone for it on fourth down against the Colts. Bodhi absolutely would have done the same thing, and he's the coolest guy to climb onto a surfboard since The Joker. Personally, I loved Belichick's decision, since it made for fantastic theater. And we hate him for making us like him even for a single day.
Most important fantasy players
Ben Roethlisberger: Owning Roethlisberger in fantasy football is like owning the light blue properties in Monopoly. They can be acquired relatively cheaply -- however, they aren't exciting, and no one really enjoys having them. But every time around the board, somebody ends up paying you rent, and they turn out to be more valuable than you think.
Jason Snelling: God must be confused right now by the number of prayers he's getting asking for Michael Turner to play, and the equal number of prayers asking that he doesn't.
Vincent Jackson: The only thing that's more surprising than the Chargers wideout's dominance this year is the fact that there has never been a fictional police captain in a movie named Vincent Jackson. It's a perfect name. That guy wouldn't take no malarkey from anyone -- except for the mayor, who would always be on his butt about something.
Justin Forsett: Fantasy football is a great hobby, and a phenomenal addition to the general NFL experience. But one downside is the instant recognition bestowed upon previously unknown running backs, while many great linemen remain permanently anonymous. Instead of using a waiver wire, backs like Forsett should be awarded to fantasy owners based on a timed quiz involving 10 non-skill-position players. The first person to correctly match the names with their positions and teams gets the guy with the new-RB smell.
Enjoy Week 11, everyone.
Toby Mergler is a freelance writer based in Washington, D.C., who has previously written for MLB.com, Fanball and the Virginia Law Weekly. He can be reached at tobymergler@gmail.com.
NFL WEEK 11 PREVIEW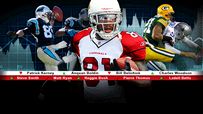 PICKS
FINAL WORD
POWER RANKINGS
HOT READ: Percy Harvin
MNF: Titans at Texans (8:30 ET)
COLUMNS/BLOG POSTS
FANTASY
PAGE 2
SCOUTS INC.
MOST SENT STORIES ON ESPN.COM