Commentary
Jay Leno-inspired sports comebacks?
Originally Published:
January 21, 2010
By
Toby Mergler
| Page 2
The shake-up currently occurring across the late-night talk show landscape has been fascinating to follow. In case you haven't heard (is that really possible?), NBC has cancelled "The Jay Leno Show" in prime time and is moving Leno back to his old 11:35 p.m. time slot, where he was a dominant force for many years. Conan O'Brien, Leno's successor on "The Tonight Show," is out of the job after just seven months -- that just became official on Thursday morning.
The stakes and drama involved in this story are higher than anything seen recently in Hollywood, and got us wondering about possible parallels in the sports world. The following is a list of "Sports Lenos" -- guys who moved on from prestigious positions and might wish to return in order to restore their former glory.
[+] Enlarge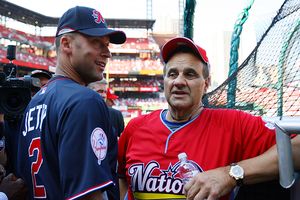 Elsa/Getty ImagesDon't you think Joe Torre would love to be reunited with Derek Jeter?
Position: New York Yankees manager
Leno: Joe Torre
Analysis: Is there any doubt that Torre longs to return to the Yankees? I mean, look at him in the Dodgers' dugout. Doesn't he look way sadder than he did with New York?
Successor Reaction: Joe Girardi simply flips to page 3,753 of his life manual, to the page entitled "What to do if Joe Torre ever returns to screw me out of a job."
Step 1: Plant bottles containing PEDs in every locker in an effort to taint 2009 title.
Step 2: Call Theo Epstein, give him PIN numbers to Yankees debit cards.
Step 3: Punch a Steinbrenner, any Steinbrenner, in the mouth.
Step 4: Steal Jeter's little black book and A-Rod's purple lipstick on way out.
Position: Bill Belichick's supporting cast
Leno: Todd Haley's supporting cast
Analysis: It should come as no surprise that all those Kansas City assistant coaches and team executives would jump at the chance to rejoin their hoodied former master. All this talk of "getting the band back together" is ridiculous. It's like The News announcing a plan to reunite without Huey Lewis.
Successor Reaction: Their response is likely to be lost in the shuffle, as people try to figure out who now holds these jobs. As opposed to previous years, I actually had to look up New England's assistant coaches this year. The Patriots' staff Web page looks like a Guess Who? board.
Job: Los Angeles Lakers center
Leno: Shaquille O'Neal
Analysis: Sure, Shaq experienced an initial bit of success after leaving the Lakers, but things have gone downhill ever since. It's gotten so bad, a reality show called "Vs. Shaq" is being pitched around Hollywood. Every week, a new athlete from a different sport proves he or she can beat O'Neal in basketball. Perhaps donning the purple and gold would motivate Shaq to return to his former dominant self.
Successor Reaction: We can predict Andrew Bynum's indignant reply: "Why would they want a broken-down big man who occasionally shows flashes of brilliance but generally can't be relied upon? They've already got me, and I never asked Kobe about the flavor of my rear end."
Position: USC football coach
Leno: Pete Carroll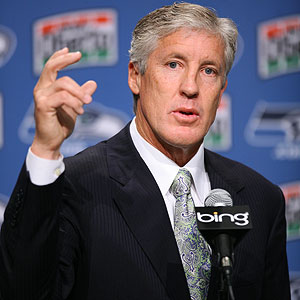 Otto Greule Jr/Getty ImagesEnjoy it while it lasts, Pete. Your NFL track record is pretty dicey.
Analysis: Sure, I'm speculating here, but the parallels between Carroll and Leno are numerous. Both faced major questions about their ability to take over storied programs. Both quickly proved that their talents were tailor-made for their positions, and launched their programs to sustained runs at the top of the ratings. And both made huge mistakes in taking other jobs in which they were set up to fail. The length and success of Carroll's time with the Seahawks is going to make "The Jay Leno Show" look like "Seinfeld."
Successor Reaction: Lane Kiffin takes the news surprisingly well. Turns out he has already gotten tired of the USC job, and is ready to move on to something better. Rumor has it he plans to use his brief time at USC as a springboard to becoming governor of California. His campaign will feature nothing but photos of his wife and a promise that he'll stay in the position forever, even if his dream job -- Galactic Emperor -- becomes available. He'll be elected in a landslide, but no one will be sure why.
Position: Boston Red Sox left fielder
Leno: Manny Ramirez
Analysis: Who knows why he really was unhappy in Boston, but is there any other reunion on this list you'd like to see more? The Red Sox and Manny need each other. The Sox really miss his bat in the middle of the lineup, and he really misses having a giant wall to pee behind mid-inning.
Successor Reaction: Forget about Jacoby Ellsbury's reaction -- the real danger would be the actions of teenage girls throughout New England, who might commit a series of self-immolations on Yawkey Way to protest the displacement of the Red Sox heartthrob.
Position: University of Florida football coach
Leno: Steve Spurrier
Analysis: Spurrier's detour to the Washington Redskins was one of last decade's greatest failed NFL experiments. But he could thrive in a return to Gainesville. He had great success in his first go-round, and back then he had to compete with an at-his-best Bobby Bowden and a program at "The U" which churned out pros at a very impressive rate. But now, both those teams are down from their peaks, and in-state recruits are flooding The Swamp. It would be like hosting "The Tonight Show" after David Letterman has retired, leaving no serious competition.
Successor Reaction: Urban Meyer is thrilled by the news. He's been in the market for a less successful coach to serve in an interim capacity anyway.
[+] Enlarge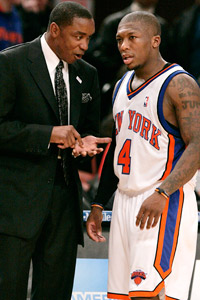 AP Photo/Frank Franklin IIKnicks fans, relax -- Isiah's never coming back.
Position: New York Knicks president of basketball operations
Leno: Isiah Thomas
Analysis: This is just wishful thinking on our part, as his return to the Knicks would be funnier than Jay Leno and Conan O'Brien put together. Page 2 just isn't the same without Zeke prominently in our lives. It's like when George Clooney left "ER." Sure the show went on, even thrived. But a little part of you missed the old star.
Successor Reaction: Donnie Walsh's unedited response: "HAHAHAHAHA. Wait, really?"
Position: Florida State football coach
Leno: Bobby Bowden
Analysis: Worried about losing a hot-shot young successor who has paid his dues, FSU forced a legend out the door who wasn't quite ready to go yet. Sound familiar? At least Leno got a new show. Bowden just got every phony job offer imaginable short of becoming Florida's delegate to the UN.
Successor Reaction: If Bowden attempts a return to the Seminoles' sideline, Jimbo Fisher is likely to replace his game tapes with horror films in an effort to figure out a way to eliminate somebody who just won't go away.
Position: Denver Broncos quarterback
Leno: Jay Cutler
Analysis: Unless the air in Denver is not only less dense, but also less full of defenders prepared to pick off poorly thrown balls, I'm not sure Cutler would have been any better off playing for the Broncos this season. But perhaps a move back to his old stomping grounds would allow him to recapture the magic that made him one of the league's best young quarterbacks. If he's not willing to move back to the Mile High City, he should at least consider ditching his new corporate look and return to his raggedy roots. It worked for "Wild Thing" Vaughn in "Major League" -- maybe it will work for Cutler, too.
Successor Reaction: Kyle Orton would probably accept a backup role with the Broncos. After all, there aren't that many NFL teams which play in cold-enough environments for him to fully take advantage of his well-cultivated neck warmth.
Toby Mergler is a freelance writer based in Washington, D.C., who has previously written for MLB.com, Fanball and the Virginia Law Weekly. He can be reached at tobymergler@gmail.com.