By Jeff Merron
Page 2
We have certain Olympic fantasies (more about those later), but this is the ultimate: to have every athlete who competed in every Olympics face off against each other. Carl Lewis vs. Jesse Owens. Jackie Joyner-Kersee vs. Babe Didrickson. Mark Spitz vs. Michael Phelps ...
Now it has been done. In that mushy gray software of the mind. My mind. Which does, I admit, resemble watery oatmeal at times.
So here we go, to the worst, weirdest and most wonderful the Summer Games have ever offered.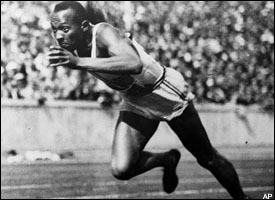 Owens won four golds at the 1936 Olympics.
Greatest male track Olympians, 1896-1956
1. Jesse Owens. A black man playing an away game on Nazi turf. And he wins with style and grace. You want to change the face on the 10-spot? Forget Reagan or any other politician. Put Jesse on there. We should never forget.
2. Jim Thorpe. In 1912, Won the pentathlon, then won the decathlon with a score that would have come close to beating Bob Mathias in 1948. And for relaxation, finished fourth in the high jump and seventh in the long jump.
3. Emil Zatopek. In the 1952 games, the Czech marvel won the 10K by 15 seconds, the 5K by five yards going away, and had the track all to himself as he won the marathon -- his first -- by 2 1/2 minutes. And he did it all in one week. In 1948, he'd won silver in the 5000 and gold in the 10K.
Honorable mention: Bob Mathias, winner of decathlon in 1948 and 1952; Paavo Nurmi, the Flying Finn who dominated the distances in the 1920s, and now graces that country's 10 mark note.
More Olympics
Click here for ESPN.com's coverage of the 2004 Athens Olympics.
Greatest male track Olympians, 1960-2000
1. Carl Lewis. Five Olympic teams. Four golds in 1984. Four straight golds in the long jump. Absolutely dominant in 1984, when he won the 100 by eight feet and the long jump by a foot. If only he could have learned something from hearing the national anthem so many times.
2. Alberto Juantereno. The Cuban's 400-800 double in 1976 was a greater feat than Michael Johnson's 200-400 in Sydney. No sprinter had a body like Juantereno's -- he was big, long-legged, powerful, kind of strange looking. A 400 man moving up to the longer distance, he stronged his way to the 800 win and a world record.
3. Peter Snell. The relatively unknown New Zealander scored an upset in 1960 with a win in the 800. Four years later, he arrived in Tokyo as the world record-holder in the 800 and the mile, and won the double, taking the 800 by half a second and the 1500 by 1.5 seconds.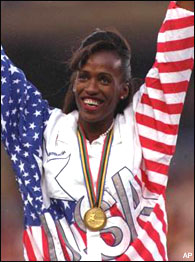 A four-time Olympian, Joyner-Kersee won six Olympic medals.
Greatest female track Olympians
1. Jackie Joyner-Kersee. She was great for a long time. 1984: Silver medal, heptathlon. 1988: golds in heptathlon and long jump, with a world record in the hep. 1992: Gold again in the heptathlon, bronze in the long jump. 1996: bronze in the long jump.
2. Marion Jones. With three golds, a silver and a bronze in Sydney in 2000, she fell short of her goal of taking home five golds. But her achievement was stunning nonetheless.
3. Florence Griffith Joyner. In 1988, she shattered world records in both 100 and 200 on way to double gold. Conspiracy theories abound -- how'd she do it? Simple answer: her fingernails broke the tape.
Honorable mention: Derartu Tulu. The Ethiopian won the 10K in 1992 in Barcelona, finished fourth in 1996, and came back to win again in Sydney in 2000, running the final lap in 60.25.
Biggest upset
1. Rulon Gardner beats Russian Alexander Karelin for super heavyweight Greco-Roman wrestling gold, 2000. Karelin hadn't given up a point in 10 years and hadn't lost in 13. Gardner was an unknown.
2. Mary Lou Retton beats Romanian Ekaterina Szabo for all-around gold, 1984. At the time, everyone was talking about how the Russian boycott weakened the competition. But Mary Lou would have beaten the Soviets, too.
3. Billy Mills comes from nowhere to win 10K, 1964. "Look at Mills! Look at Mills!"
Honorable mention: Abebe Bekila wins 1960 Rome marathon, running barefoot.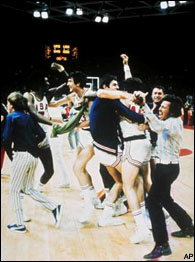 The U.S. celebrated when it thought it had won gold.
Biggest controversies
1. Soviet Union-U.S. basketball, 1972. It's hard to believe this is at all controversial. But the well of ignorance will never dry up.
2. John Carlos and Tommy Smith, 1968. Americans silently exercise free speech at the Olympics, and are thrown off the team because of it. Shame on the USOC.
3. U.S. boycott of 1980 Games. One of the wimpiest political gestures ever, and of course it accomplished nothing. The Soviets remained in Afghanistan for another nine years. The athletes wanted to go to Moscow, and many remain bitter about the decision to this day.
Greatest to never win gold
1. Jim Ryun, U.S. (800, 1500)
2. Hicham El Guerrouj, Morroco (1500).
3. Mary Decker Slaney, U.S. (mile, 3000)
Greatet male Olympians, other sports
1. Mark Spitz. Seven golds in Munich. Can't top that.
2. Greg Louganis. Winner of both the springboard and platform diving events in Los Angeles and Seoul. When he was at the pool, diving was a major event.
3. Steve Redgrave. The British rower won gold in five straight Olympics.
Honorable mention: Matt Biondi, swimming (11 medals, 8 of them gold)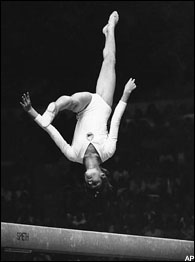 Nadia earned the first perfect 10s in Olympic history in 1976.
Greatest female gymnasts
1. Nadia Comaneci. Is there any question about this?
2. Mary Lou Retton. The embodiment of the 110 percent cliché.
3. Olga Korbut. "And she's second best? I don't believe it."
Biggest blunders
1. Eddie Hart and Rey Robinson miss 100-meter heat, 1972. Robinson was watching a second-round race on TV when he realized he and Hart were supposed to be out there competing. Their coach, Stan Wright, mistakenly told them their race wouldn't start for another two hours. Unfortunately, Wright was working from an outdated schedule. Hart and Robinson had both run sub-10 in the Olympic trials, and both men had a chance to win gold. If only.
2. Russia's Svetlana Khorkina misses a vault because it's set five centimeters too low during the 2000 women's all-around competition. Khorkina was one of the favorites to win, but was so shaken up she refused her second vault with the vault at the right height, and finished far out of the medal race. A spokesman for the Sydney Organizing Committee apologized, saying "We'll try to make sure it doesn't happen again."
3. Hammou Boutayeb of Morocco, lapped with three laps to go in the 1992 10K, decided that he'd help countryman Khalid Skah, who was battling Kenyan Richard Chelimo. Boutayeb sped up to keep pace with the two leaders, cut off Chelimo, and kept him from passing Skah, who eventually won the race by outsprinting Chelimo in the final 200 meters. Skah was disqualified for receiving assistance in the race, and Chelimo was awarded the gold. The next morning, the IAAF reversed its decision and Skah got the gold back.
Most fun Olympic city
1. Sydney, 2000. Two words: Bondi Beach.
2. Paris, 1924. A moveable feast featuring sex, drugs, the creative set (think Picasso and Hemingway and Gertrude Stein and e.e. cummings), wine, song ...
3. Barcelona, 1992. Fiesta time in "la gran encisera."
Greatest female Olympians, other sports
1. Jenny Thompson. She's already got 10 medals, including eight golds, and at age 31 will be competing in her fourth Olympics this month, swimming in the 50 free and 100 butterfly.
2. Fu Mingxia. The Chinese diver won gold in platform diving in 1992, when she was only 13. She repeated in 1996, adding another in the springboard event. In 2000, at the old age of 22, she competed in her third Games, winning another gold in the springboard and a silver in the new synchronized diving event. Still, that wasn't enough to gain her everlasting fame. So she showed up to her first big press conference as Sprite's Chinese corporate pitchman wearing jeans slathered in English-language obscenities.
3. Dawn Fraser. The Aussie swimmer won the 100 free in three straight games -- 1956, 1960, and 1964 -- and a total of eight medals overall. She set a world record in the Tokyo Games, which stood for eight years.
Greatest individual performance, single event
1. Bob Beamon, 1968, Mexico City. He shattered the long jump world record by almost two feet. Beamon was as shocked as everyone else: he suffered a cataplectic seizure after he realized what he'd done.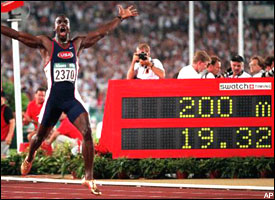 The time on the clock says it all.
2. Michael Johnson, 200 meters, 1996. He ran 19.32 on the way to gold. Five weeks earlier, the world record had been 19.72.
3. Nadia Comaneci, Romania, 1976. Her first perfect 10 on the uneven bars was, well, unparalleled.
Biggest pathbreakers
1. Joan Benoit, Los Angeles, 1984. Ran alone almost the whole way in the first women's marathon, but the whole nation was watching.
2. Abebe Bakila, Rome, 1960. First black African to win gold, a marathon inspiration in bare feet.
3. Cathy Freeman, Sydney, 2000. She lit the torch, then won gold in the 400. A giant step for Australia's Aborigines.
Biggest cheaters
1. Ben Johnson, 1988. An entire career built on the juice.
2. Fred Lotz, 1908. "Won" the marathon by riding the middle 11 miles in a car.
3. East Germans. There are lots of world record-holders and medalists who were true victims of systematic, forced doping. A sad story.
Sexiest Olympians
1. Nadia Comeneci. Hey-- she was only 14, but so was I. And it's probably legal in Jersey.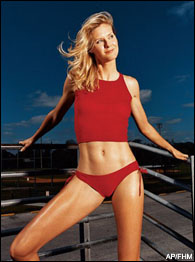 High jumper Amy Acuff receives high marks for her recent FHM photo shoot.
2. Amy Acuff. Wow. On the home page of her Web site, she writes, "I do the same thing over and over, but every time is never quite the same." Man, it's getting hot in here.
3. Inge de Bruijn, Netherlands. She'll be swimming again in Athens. I'll be watching closely -- if my wife allows.
Big matchups, big disappointments
1. Mary Decker and Zola Budd, 1984. Barefoot Budd changed countries (South Africa, her native country, couldn't compete, so she ran for England). Decker, who was too young in 1972, injured in 1976, and a 1980 boycott victim, was favored to win the 3,000 -- but Budd was the big wild card. Could she beat Decker? We never found out.
2. Dan vs. Dave. Thanks, Reebok. Too bad Dan flopped in the Olympic trials, failing to make the team after not completing a successful pole vault.
3. Eddie Hart and Rey Robinson. It could have been one of the best 100's ever, but for some bureaucratic bumbling. Both would have challenged the eventual gold medalist, Valery Borzov.
Honorable mention: Maurice Greene vs. Michael Johnson. Prematurely pegged as the mano-a-mano to watch in Sydney; both sprinters pulled up lame in the U.S. Olympic Trials and failed to qualify.
Gutsy finishes
1. Gabriele Anderson-Scheiss, 1984 L.A. women's marathon. For 5 minutes and 44 seconds, she staggered, stopped, and suffered through the final lap but repeatedly told officials to leave her alone. She finished (placing 37th) and recovered within two hours.
2. Derek Redmond, 1992 400-meter semifinals. Talk about a tearjerker.
3. Paula Barila Bolopa of Equatorial Guinea. "Paula the Crawler" finished the 50-meter free 40 seconds behind the fastest qualifier, Inge de Bruijn. Her time: 63.97. "It's the first time I've swum 50 meters ... it was further than I thought," she said. "I was very tired."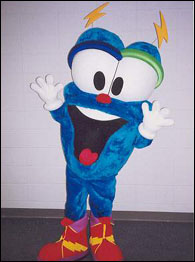 We propose the Phillie Phanatic for the 2008 Olympics.
Worst mascots
1. Izzy, Atlanta, 1996. Time magazine dubbed the bizarre figure "a sperm in sneakers."
2. Olly, Millie, and Syd (Sydney, 2000)
3. Athena (Athens, 2004)
Weird, weird happenings
1. In the 1972 marathon, Frank Shorter had a huge lead over everyone except "the imposter," a man wearing number 72, who emerged from the tunnel and ran nearly a full lap while cheered on by 80,000 fans at Olympic Stadium who thought he was the winner. Shorter led by two minutes and expected a thunderous ovation when he entered the stadium, instead was greeted with a mixed reception from a confused crowd. Things finally got sorted out, and Shorter got great cheers at the finish.
2. In 1912 Alfred Asikainen of Finland and Martin Klein of Russia battled for 11 hours in their Greco-Roman wrestling match. Klein, the winner, was unable to muster the energy to compete for the gold.
3. Also in 1912, Japanese marathoner Shizo Kanaguri took a break from the race for a picnic, and decided he was having too much fun to continue.
Three other things I'll never forget
1. Dave Wottle's golf-cap victory in the 800 in Munich. He was so bewildered by his victory that he forgot to take off his cap when the national anthem played during the medal ceremony.
2. Derartu Tulu of Ethiopia and Elana Meyer of South Africa, first and second in the 1992 women's 10K, joining hands and taking a victory lap together.
3. Vasily Alexeyev. Great to watch. But the biggest memory (no pun intended) is how they said, over and over, "He's not really fat."
Track and field, swimming, and gymnastics overwhelmingly dominate, and American -- or, more specifically, U.S. -- athletes are front-and-center all the way. That's the way I saw it, despite conscious attempts to check out the obscure sports televised in the wee hours on CNBC, deep surfing on Olympic sites like those produced by the BBC, CBC, and Sydney Morning Herald, and hour upon hour spent wrestling with David Wallechinsky's 1,172-page "Complete Book of the Summer Olympics."
Jeff Merron is a staff writer for ESPN.com.