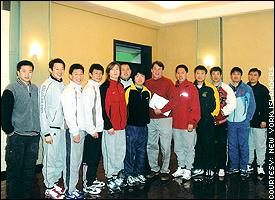 Milbury with some of the current crop of Chinese hockey players.
Speaking to the group with the help of my translator, May Zhou, I was able to get a feel for how the team functioned. Players learn the game using hand-me-down equipment in various programs run throughout the city. From the ages of 20 to 29, if they are good enough, they can progress to the Asian Hockey League. That achievement earns them the privilege of living in a dorm room with as many as six other roommates six nights a week, with Sunday as their day off to spend with their families. In May, they enjoy a three-week break before getting back to business. Their salaries are about $120 a month, with a 10 percent reduction for meals served to them in the dorm. I didn't ask about the 401K and IRA plans. With a great deal of pride, they told me they were doing this for their country.
Later in the day, I saw a group of 9- to 12-year-olds play. It was a familiar sight: moms and dads taking the time to shuffle off to the arena with their enthusiastic little guys. What was different about this group was that they arrived minus the Mercedes, and with equipment that was either too big or too small and barely functional. Enthusiasm, however, was not in short supply. Like in the U.S., the parents pay for the kids to play, and as best I could determine, the fee was about $700 RMB (or a little less than a hundred bucks a year). That equates to close to a month's salary for the average worker, and does not include equipment that can cost two or three times as much. I have always said that being around this game can be humbling, but this takes it to a different level.
*****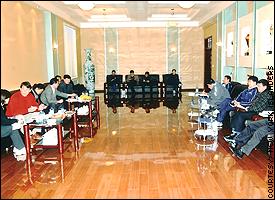 Some of the Chinese hockey facilities are very nice.
The following day, I got up early to take a peek at the city. Bustling does not adequately describe the scene, but it's the best I can do. Across the street from my hotel, an army of construction workers were feverishly pounding and lifting, putting the finishing touches on a multi-story mall. One store that was open already was a "gift" from North America, the local Wal-Mart, complete with a food market. I had to check that out. It was spotlessly maintained and every shelf was stocked. The produce and meat departments had everything you would expect, from freshly carved pineapple to roast duck. My favorite section was the fish counter, where I discovered that, for a modest sum, I could purchase a live turtle for some good old-fashioned homemade soup.
There was plenty of automobile traffic, but the preferred mode of transportation was bicycle, most of them of the vintage variety. Periodically I would spy a tiny little tin shack on a sidewalk, no more than 4 feet by 6 feet, that housed a bicycle or shoe repair shop. And women were working everywhere in every conceivable job, including tough manual labor.
This day's agenda included a luncheon with representatives of the Provincial Sports Bureau that funds the team. The affair was interesting in that there was a series of toasts made by each of my guests, in descending order of their status, to welcome me to Heilongjiang Province and to encourage Islanders cooperation with their hockey program. At every one of these functions throughout the trip, I found the people gracious and inquisitive. One evening, I mentioned that my father had served in the Marine Corps and was briefly stationed in China. The word spread with a buzz around the table, until one of my hosts was designated to toast my father and thank the United States. She spoke with undeniable sincerity and respect. I was very touched.
Mike
Milbury
HOCKEY DAYS IN CHINA