By Brian Murphy
Special to Page 2
I love L.A.!
Well, not really. But there are certain things I love about L.A., and L.A.'s sheer L.A.-ness is one of them.
This is a front-burner issue at The Cooler this week after the Lakers reached deep into their Jerry West-Magic Johnson past to produce more Tinseltown hoop dreams. Last week, the Derek Fisher Absurdity (a working film title, coming to a theater near you) got it started, followed on Saturday evening by the tsunami of L.A.-ness that carried the Lake Show past the Spurs.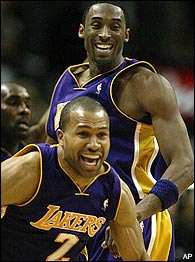 Best Performances in a Drama: Derek Fisher and Kobe Bryant.
In a sports landscape where big-city dynasties make it all worthwhile -- what, you didn't buy a ticket to boo the bejesus out of Whinin' Alex Rodriguez at an AL ballpark near you? -- Laker Culture is right out of Central Casting.
And I'm not talking about Shaq, Kobe and the Zen Master. Those guys play supporting roles. On Oscar night, they get their awards announced first.
I'm talking about the big stars, the heavyweights, the A-listers who make Hollywood so Hollywood.
I'm talking about The Laker Crowd.
That's right. The crowd.
No crowd in American sports can rival a Laker Crowd. Not Woody and Spike at a Knicks game. Not Rudy G. at a Yankees game, or Seinfeld at a Mets game. Not a U.S. Open tennis crowd with Mike Wallace counting his liver spots in between midnight sets of a Kafelnikov-Philippoussis match.
Nothing beats the Laker Crowd, if only because of its ever-changing moods.
What is beautiful about the Laker Crowd is its evolution. Nobody in Hollywood lasts forever. Being a star is not a pensioned job. Nothing but revolving doors in Hollywood, kid. Today's Ray Romano is yesterday's Bob Saget; yesterday's John Larroquette is today's Kevin James.
Just look at the Courtside Crew at Lakers games.
Back in the Magic-Kareem days, courtside was a canvas of the 1980s: Arsenio Hall, Steve Guttenberg, Lou Diamond Phillips, Jack Nicholson and a surgically-altered Dyan Cannon.
Then, on Saturday night, for Game 6, TNT gave us today's courtside look: Denzel Washington, Larry David, Tom Hanks, Jack Nicholson and a surgically-altered Dyan Cannon. (Memo to Lakers: You may want to memorialize Cannon's never-say-die fandom with a bronze statue outside of the arena. Then again, she may already have the consistency of a bronze statue, saving cost.)
What's most impressive about this crew is their street cred. Given the fact that they have to sit in one spot for two-and-a-half hours without the courtesy of a trailer on the set, given the fact that they are not the stars of the show, and given the fact that many of them, if pressed, would guess that Wilt the Stilt was a character on the old "Howdy Doody Show," their endurance is impressive.
I saw Larry David in his seat until the final buzzer on Saturday night. Think of the traffic he would face! Surely, it would curb his enthusiasm. But no, L.D. was courtside to the end. Perhaps in L.A., Staying to the End is the new Leaving Early.
For years, L.A. sports fans were defined by early departure. Well, that and beach balls. Beach balls were so prevalent at Dodger Stadium that once, my buddy T.C., in an utter rage in the bleachers, speared one out of the air, pulled the tab on it, shoved it under his arm, and squeezed all the air out of it. It was an act of defiance by a Giants fan in the Southland, and by all rights, he should have gotten his ass kicked, had the crowd not been so laden with ennui.
But L.A. just goes on being L.A.
That's the beauty of L.A.
L.A. doesn't care what you think. L.A. is going to be L.A., and the Lakers are probably going to win another NBA title, and everyone is going to continue enjoying fast-food Mexican at Baja Fresh, reading a first-rate sports page in the L.A. Times, and getting that extra little kick an Angeleno gets from a daily star sighting, like seeing Timothy Hutton in a pick-up basketball game at the local elementary schoolyard in Westwood.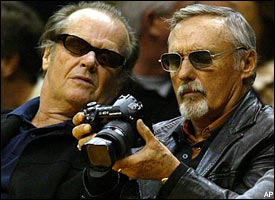 Jack Nicholson and Dennis Hopper must be studying snapshots of the Laker Girls.
Randy Newman wrote it in song:
"From the South Bay to the Valley
From the West Side to the East Side
Everybody's very happy
'Cause the sun is shining all the time
Looks like another perfect day ...
I love L.A."
At which point Laker fans yell to America: "We love it!" And so what if Newman wrote the song as a spoof? Like L.A. cares.
L.A. just goes on being L.A., and the rest of America is as powerless to stop it as if Kobe himself was coming down the lane on a fast break.
On, then, to the Weekend List of Five:
1. The Consummate Pro
How good are the NBA playoffs with Al Michaels on the mike? What a development. Out of nowhere, really. Who knew that the man who turned a ragged evening of "Monday Night Football" into the sports equivalent of a silk handkerchief, merely with the power of his skills, would show up to rescue the bedraggled NBA?
Understand, I go back to the days when Al Michaels did "Monday Night Baseball", by the way. That's Old School. Michaels on a Monday night from County Stadium in Milwaukee, weaving you through a Cecil Cooper vs. Mike Flanagan A.B. is a solid, solid summer memory from the ancient days.
(Granted, he may never have specifically broadcast a Brewers-Orioles game, but isn't it pretty to think so?)
Anyway, Al brings the Stamp of Professionalism to the scene. So strong. With Marv Albert handling the TNT action, we're talking about a double whammy that is nearly as good as it gets -- excepting, of course, any solo riff from Verne Lundquist on the 16th hole at the Masters.
It makes one wonder about a fantasy All-Announcer Team. Who would you draft, given the choice? One man's half-baked list:
NFL Football: Jack Buck and Hank Stram, doing MNF on radio.
NBA: Tough to beat the old Stockton-Heinsohn duo, if only for the quality of the games they did.
MLB: Costas. No matter the supporting crew.
NCAA Final Four: Give me Al McGuire and anybody.
Rose Bowl: Dick (Oh, My) Enberg, with Merlin Olsen riding sidesaddle.
Wild Card: Keith Jackson, doing anything.
2. Veal Scalabrine
Let's be honest. I haven't been following the New Jersey Nets much this year. So, imagine my shock when a bench shot during Game 5 of the Nets-Pistons game showed a red-headed Nets scrub, in full warm-up gear, who appeared to be, by all rights, the 16-year-old crooner John Stevens from "American Idol."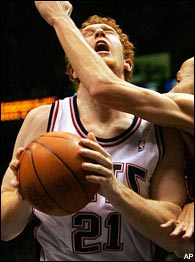 Shouldn't this guy be hanging with Grimace and the Hamburglar?
It was only after I regained my equilibrium that I realized the fire-headed lad in question was former Pac-10 standout and (blecch) USC star Brian Scalabrine.
I watched the guy play, and frankly, he played great -- proving the worth of a hoary adage in today's NBA that it is valuable to have on your roster a player who can actually shoot the friggin' thing in the basket. Very Naismith-like of Scalabrine to remind us.
Still, you had to laugh at the look. The NBA's defenders say the league is the home of the world's greatest athletes, and when you watch Kobe soar or watch an underrated player like Manu Ginobili drive to the hole with Shaq in his way, you're certain they're correct.
Then, you see the Redhead, and you see the Pistons, in Game 5 at least, demoralized and defeated by the Danny Partridge of the NBA.
Beautiful.
3. City of Brotherly Studs
Smarty Jones -- biggest winner in Philly history?
He's got to be right up there with Moses Malone.
I'd like to believe that somewhere along the line, a Philly sportswriter asked Smarty if he would win the Triple Crown, only to see Smarty pick up his right hoof and tap once, twice, and three times -- the equine equivalent of Moses' legendary "Fo, fo' and fo'" prediction in 1983.
Now the question -- What does the city of Philly do with such a winner?
I mean, you can't boo Smarty Jones, can you?
Smarty Jones isn't just winning. He's styling. He's going Secretariat on us. Somebody alert BALCO: Is Smarty Jones on 'roids? Or, worse, Horse Growth Hormone?
I expect to see at the Preakness Stakes, in the Owner's Box, the following mugs: Julius Erving, Mike Schmidt and Bobby Clarke. Just for good Philly Luck. I think Smarty Jones has a little bit of a Broad Street Bully in him, anyway.
4. A Side Note on Walk-Up Music
The phenomenon of walk-up music in big league ball is well-documented, even to the point where the amount of time the music can play for a hitter has been regulated.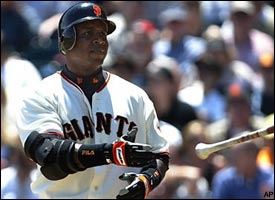 Barry's walk-up music is the highlight of his ABs.
Still, it can strike a chord in a true ball fan.
Take, for example, the travails of the staggering, flailing San Francisco Giants.
I was with my babe at Saturday's spit-the-bit effort against the Pittsburgh Pirates -- part of a swept-at-home extravaganza by the somnambulant home nine -- and let me tell you, when your team sucks, walk-up music can sound so absurd.
Conversely, when your team is steaming along, walk-up music can energize. During Barry Bonds' '01 home run binge, his chosen walk-up music from Dr. Dre's underrated "The Chronic: 2000" album struck the perfect chord: Foreboding, smooth and powerful.
Now, the Giants are 15-23. Now, when J.T. Snow comes to the plate to a sample of the Daltrey scream from The Who's "Won't Get Fooled Again," it sounds horribly out of place, given the team's utter lack of Daltrey-like energy. It sounds as sad as a boombox in a mausoleum, or an echo-ey blast of tunes at an eighth-grade dance, where every kid is standing against the wall, and no kid is on the dance floor.
Sad.
5. One Last Thought on the Laker Crowd
Why do we love L.A.?
Because of Snoop.
Snoop Dogg is L.A. through and through. Or, more specifically, Long Beach through and through. Or, even more specifically, as Snoop used to say, "Strong Beach."
So after the courtside camera at Game 6 caresses the sweet-looking Hollywood stars like Denzel, Hanks and Jack, who does it cut to as the ultimate show-stopper?
That's right. Calvin Broadus, himself.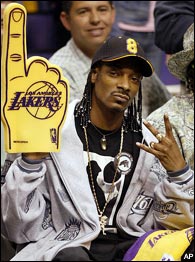 Did Snoop Dogg's laid back style influence Banks? Shizzle.
I do believe Snoop was sporting one of those giant foam "We're No. 1" fingers, too -- making him the only guy in America who can look smooth sporting one of those.
What put the scene so over the top was the man sitting next to Snoop -- the bowler-sporting Don "The Magic" Juan.
You may recall a Cooler of a fortnight ago citing a bit from "Chappelle's Show" in which they put Snoop and another man to the test to decide whose cognitive skills had been diminished most by years of marijuana intake. You may also remember Snoop's "What America Means to Me" speech.
So guess who the other guy in that skit was?
That's right. Don "The Magic" Juan. Avec bowler and diamond-studded sunglasses, too.
Juan's counter to Snoop's "What America Means to Me?" was a tender essay called: "Be Kind to Your Prostitute."
It's powerful stuff, on par with a Gandhi-like plea for peace, or a Martin Luther King-like aspiration for a better world.
God, I love L.A.
Brian Murphy of the San Francisco Chronicle writes every Monday for Page 2.