By Brian Murphy
Special to Page 2
This New York/Phil Thing -- what gives?
I mean, I get it. But only a little.
Swashbuckling player becomes popular as the anti-Tiger over the last few years. Sheepish grin is sharp contrast to scowling Tiger. Near-misses at majors give him a Heartbreak Kid sort of feel. And breakthrough win at this year's Masters is Goosebump City for everyone, like the '69 Mets or the '73 Knicks.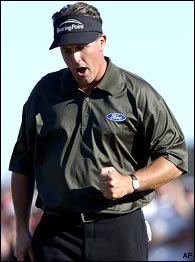 Phil Mickelson -- the most popular man in New York this past weekend.
I get all of that.
But since when did a nice story turn into Beatlemania on the golf course? Sinatra's screaming bobby soxers from Times Square now look like Prozac-laden shut-ins compared to Mickelson's mavens.
I know. I was at Shinnecock this week. I saw the standing ovations and had my ear wax rattled by the roars. The word "PHIL!" is sort of an offbeat name, especially when yelled -- and it's definitely not a word meant for repeated yelling. It doesn't roll off the tongue, like "JOE!" or the ever-popular "LOU." (Just think: If there actually were a popular player named Lou, contrarian Johnny Miller could say in the booth: "They're not chanting 'LOU', they're actually booing him.")
Phil Mickelson -- the opiate of the masses.
They phollow him everywhere.
They think he's phabulous.
They can't get their "PHIL"!
So how did this once-Great Story morph into rampant, and sorta scary, Blind Devotion? Granted, Phil's phans drink beer, not Kool Aid, but the idea is the same.
I heard L. Ron Hubbard was sending Phil letters, asking: Any tips for me, Lefty? Book sales are down.
I heard one roar Sunday and figured they had just announced Jonas Salk on the first tee.
Nope. Just Phil.
Interestingly, I went to ask a few Phans in the crowd. I stumbled upon a guy named J.J. from New York, who was fresh off a gut-rattling "PHIL!" shout on Saturday at the 16th fairway. I asked him what the deal was. J.J. admitted he was stumped.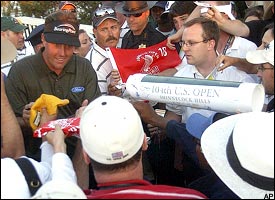 Phil loves signing his name, but when will the burden become too much?
"I don't know," he said. "He's a New York guy, right?"
No. He's from California. Southern California, even. The anti-New York.
"I know," J.J. said. "I just mean we love him in New York. New York's a city of winners, right?"
Yeah. And Phil is one-for-47 in majors. If he were a Yankee, I proffered, he would be booed straight to Hoboken.
J.J. didn't want me to crush his buzz. Phil was walking by right then.
"Hey, it's nice to see a guy smile," J.J. said. "And ... he's not Tiger."
There you have it. The best explanation I heard from anyone.
Shortly thereafter, J.J. noticed my photo ID and admitted he is a Page 2 devotee.
I was delighted to hear this, and even more delighted that he was openly savoring an icy lager in a plastic cup as he enjoyed his Saturday at Shinnecock.
My kind of reader.
Although, I must admit, I felt I was playing second fiddle to Lefty. Not once did J.J. yell out, from the bottom of his gut, the word "MURPH!"
Guess I gotta win the Masters or something.
On, then, to the Weekend List of Five:
1. Tiger
Who?
Not only is glory fleeting, but so are galleries.
Two years ago, Tiger Woods was Gandhi, and the masses reached to touch the hem of his garment.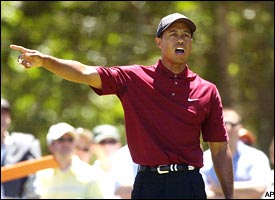 Tiger Woods was as likely to hit fans as the fairway off the tee.
Now, Lefty is the Maharaji.
Tiger? He's more like Rory Sabbatini.
Following Mickelson now is like following Tiger in the old days. You know, when Tiger was good. The security detail, the screaming fans, even the occasional birdie -- all hallmarks of the old Tiger.
Now, Tiger has fallen on such hard times, they're sending, like, one security guard with his group on the golf course -- and he's the obese guy in the yellow jacket you usually see working the graveyard shift at a convenience store. You can follow Tiger's rounds easily now. That is, if you don't mind the sound of chirping crickets.
What happened?
It's been two years since Tiger won a major. Michelle Wie was playing with Beanie Babies back then.
Based on what I saw, it may be a while before Tiger wins a major again. If this keeps up, he may have to look for a new gig. Perhaps Lefty might need a new caddie?
2. Shinnecock Slaughterhouse
Not often do we hear our professional athletes moaning and whining and chirping.
I mean, have tennis players ever beefed about line calls?
Have NBA players or coaches ever barked about officials?
Do NFL players such as Terrell Owens complain about play-calling?
Uh, never mind.
Anyway, a field of the world's best golfers gets a look at the Shinnecock Hills set-up on Sunday, and then essentially says the USGA sets up golf courses the way the Washington Generals play basketball.
Maybe that's the case. It did look ridiculous out there sometimes. But a nagging thought crept up: Wouldn't it be nice if athletes never complained? And instead, said things like: "Was the course unfair? They're giving the winner more than $1.1 million today. What part of 'unfair' don't you understand?"
For example, I never hear the athletes in the World's Strongest Man competition complain.
Imagine: I can't BELIEVE they made me carry that keg full of sand up four flights of stairs. Haven't they ever heard of a dolly?
3. Steve Williams: The Traffic Cop From Hell
Quick. Somebody hose off Steve Williams.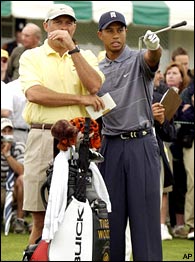 "Hey Stevie, see that guy over there with the camera? Go get him Stevie, go get him!"
This camera-grabbing act is out of control.
God forbid this website run a photo of Williams with this piece. He might drive straight to Bristol, storm through the office, kick open the door of Page 2 chief Michael Knisley's office and tear Knisley's PC from off its moorings.
All while wearing the caddie bib, I might add.
Williams must be part Indian, believing every photo taken in the vicinity of him and Tiger steals part of his soul.
Imagine if he'd grown up next to Ansel Adams. He'd be smashing his neighbor's lenses like Pete Townshend used to smash guitars.
How can a guy with the cutesy nickname of "Stevie" be so un-cutesy? Yeah, I get that cameras aren't allowed and that they should be controlled. But that's what security is for, Stevie. Your job is to help your guy find the fairway. Maybe if you looked through a telephoto lens, you could help him.
4. The Hamptons: Are They For Real?
The Open at Shinnecock allowed this California kid a chance to frolic in the Hamptons. I didn't realize how ridiculously snobby the area is until I got pulled over and cited.
"What for?" I asked the cop?
"Failure to carry yourself with insouciance and barely understated wealth; double fine for not having a summer time-share."
I agreed to pay whatever fine was necessary. The cop answered back: "No payment of fine. Just get the hell out of the East Hamptons."
I don't want to say the East Hamptons are Old School, but the town I stayed in, Amagansett, was settled in 1680.
1680!
In 1680, my people were eating grass three meals a day back in Ireland, and chasing it down with some rock soup.
I got the distinct feeling my immigrant stock wasn't welcome. If you can't provide the room-service bill from your family's voyage on the Mayflower, you don't belong in the Hamptons.
But I did enjoy my time, immensely. The elegance of the homes, the rhythmic pounding of the Atlantic Ocean, the awesome thought that Zelda Fitzgerald may once have pulled a three-month bender somewhere near my buddy Chief's aunt's beach home ... all impressive stuff.
5. New Yorkers: The Good, the Bad, the Ugly
There really is no place like New York. I am continually amazed by the element of comedy that enters into the New York sports mindset.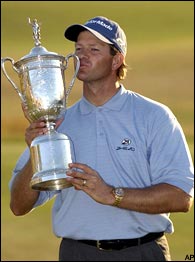 Goosen could soon add a Claret Jug to his collection, too.
When Retief Goosen hit into a fried-egg lie on the 14th hole on Sunday, I heard one guy shout above the crowd: "YO! SUNNY SIDE UP!"
As young Spencer Levin, at the tender age of 20 the brooding James Dean of the golf scene, captured the gallery's fancy with his perpetual cigarette habit, one fan shouted to the amateur, for no apparent reason: "YO, SPENC-UH! LIGHT ONE UP!"
Granted, they aren't all winners. The cat who dusted off the 'NOONAN' cry on Goosen on the 72nd hole of a U.S. Open is obviously not a true New Yorker -- probably an import from the Phoenix Open.
And then there is the creepy, group-think adoration of Lefty.
But I was heartened to see that on the slick, treacherous, seventh green on Sunday, as players moaned and kvetched about balls sliding off the putting surface, the fans in the gallery had a reaction to the sight of the kid with the garden hose, watering down the green:
They booed him.
Yo! Philly would be proud of you, New York.
Brian Murphy of the San Francisco Chronicle writes every Monday for Page 2.