By Brian Murphy
Special to Page 2
Welcome to The Hangover, all.
Before we hash and re-hash Week 1 of the NFL -- and before we discuss what type of hash Ricky Williams is ingesting in an Amsterdam café right now -- let's answer the Most Important Question from the stuffed mailbox after last week.
Reader Vaden Francisco of Eugene, Ore. wondered about the best way to tackle our Monday NFL Hangover. My answer is as tried-and-true as a Joe Gibbs game plan:
Advil and Gatorade, brother. Advil and Gatorade.
I will add that my buddy Sullivan used to note that it wasn't just any Gatorade that did it. It had to be the green Gatorade. Or, as Sully called it: Martian pee.
Now -- how' bout that Week One, huh?
You know it was a phenomenal week when we can open our Discussion Group with the following lead question:
Who Had the Better Comeback: Deion Sanders or Pat Summerall?
A brief rundown:
Summerall -- velvet pipes, an understated manner and just the right broadcast karma to touch off a tsunami of Tom Brookshier-esque nostalgia.
Deion -- zero tackles, zero interceptions, zero impact.
As they used to say in the old commercial on NFL Sundays: You make the call.
It was the most important question of the day, barely nosing out the second-most important question of the day: What did Mike Wallace say to Lawrence Taylor to make him cry?
I don't know, because I missed "60 Minutes" -- watching some ball, of course -- but I have a few guesses, starting with: "L.T., I'm so sorry, but the Spearmint Rhino is closed tonight."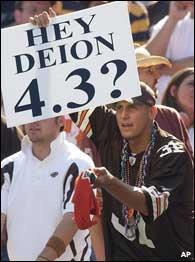 Deion's show is the biggest prime time bomb this season.
Not to be confused with the third-most important question, lobbed to me by reader Daniel Montalto after I solicited suggestions for The Hangover's format via the email address page2murphy@yahoo.com: "Here's a good topic: Why is ESPN too cheap to give you an ESPN.com email address?"
Excellent question, Daniel. That's up there with the old "If a tree falls in a forest, and nobody is there to hear it because the game is blacked out on account of the forest failing to sell-out 48 hours before kickoff, does it make a sound?"
Just between you and me, D., I think the money for my espn.com email address went into Summerall getting complimentary Disney cufflinks.
You win some, you lose some.
Besides, Summerall deserves the cufflinks, or the free Brylcreem, or whatever the graft was. The man who made the 1980s the 1980s with the mere utterance of these five words: "Tonight, on 'Murder, She Wrote'" . . . should get anything he wants.
There's your nutshell: For Summerall, it was "Murder, She Wrote."
For Deion, after one lousy game, it was All She Wrote.
Here's what else is on my mind today at The Hangover:
I begin with some bad news. I was unable, in my gentle peruse of the Raiders-Steelers game, to get a fix on Owner Al's outfit. Did anybody see him? Did he go black sweatsuit? White sweatsuit? Did he go leather? The Raiders lost, so we need to chart the sartorial cause-and-effect thing going on here.
Reader John Baker of Silverton, Ore. was hot for this topic, and wrote: "As a Chiefs fan, I usually get excited when Al wears the white leather outfit, replete with open zipper on top, Glen Campbell hair (grease optional), and the 'It's-all-about-Al' librarian chain lanyards on his glasses. I know that Al, at that moment, is in his "happy place," and has once again forgotten that white is like kryptonite to the Raiders.

"Does Al have the leather pants to go with that white jacket?"

I bet he does, John, but I know a guy I can ask: Al's barber.

I'm not kidding. I went to a new barber shop last week and got my hair cut by a guy named Rocky who has a tattoo on his forearm. Rocky is a good man, gives a good, quick cut, and let slip, in my nine minutes in his chair, that he was off to cut Big Al's hair the next day. "It's a six-minute haircut," Rocky said. "And he gives me 100 bucks."

Rocky added that he's been cutting Al's hair for 30 years, and has three Super Bowl rings, courtesy of the Big Guy.

Al Davis, my friends, is a man of largesse.

And I'll let you all ponder, for just a moment, the fact that I am getting my lid clipped by the same guy who shapes Al Davis' mane.

Players We Loved in Week One
Chad Pennington, Jerome Bettis, Bracy Walker.

Pennington is a poor man's Tom Brady, en route to becoming a middle-class man's Tom Brady. That's a good thing.

Bettis' line -- 5 carries, 1 yard, 3 TDs -- could be a word problem in the math section of an SAT. Jerome Bettis carried the ball five times in one game, for a total of one yard. He also scored three TDs. Please devise an algebraic formula proving how this is so.

And Bracy Walker! Bracy Walker only returned a blocked field goal 92 yards for a score, then intercepted Rex Grossman's pass in the final play of the Detroit Lions' first road win in 25 games. I'm thinking Papa Ford, in a burst of generosity, can slip the keys to a sweet, two-door Fiesta into Bracy's locker today.

Reader Erin L. wrote in last week to give a heavy sigh at the state of being a Motown football fan: "I'm a Detroit Lions fan," Erin wrote. "It's hopeless. Which will happen first? A.) The Lions win the Super Bowl, B.) The Cubs win the World Series, C.) "Moon Boots" make a comeback."

Now I'm no patron saint of quality footwear, but I'm told Moon Boots are hip again with the distaff set. And Detroit, at 75-to-1 to win the Super Bowl? Erin -- much, much stranger things have happened, kid.

Development of the Week
The Crushing Red-Zone Turnover.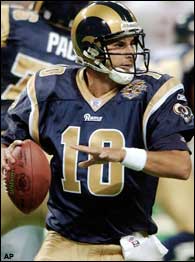 You don't make people forget about Kurt with a cough-up in the red zone.
Nothing can suck the wind out of your sails faster than your team coughing up a red-zone turnover. It's the football equivalent of your buddy in a bar telling you, after you take a long pull on a libation: "Dude, I was using that pint glass as a spitter for my chew."
A brief glance around the league shows Rams QB Marc Bulger throwing a costly INT in the red zone, Arizona QB Josh McCown returning the favor (only to have it spared by penalty), Indy RB Edgerrin James spitting up the pill at Foxboro, and a double-dip of 49ers -- RB Kevan Barlow hacking up his first carry of the year inside the Atlanta 20, and QB Tim Rattay taking a crowbar to the knees of a comeback attempt with a goal-line pick.
I see coaches all around the league giving the critical pep talk before next Sunday's tilts: "Men, when inside the 20? Let's not turn it over."
Worlds will change when these weighty words are uttered.
Is it possible that Survivor Rupert has squandered the immense amount of goodwill he had after his first two runs on "Survivor"?

Those CBS spots are wearing as thin as his deodorant after 48 hours in the tropics. Big Man, I know they're paying you handsomely, but they even made you wear the tie-dye tank. I know, I know. You've got to put food on the table. I'll leave you alone.

Week One of the Clinton Portis/Champ Bailey Scales of Justice
The rundown:

Portis: 64-yard TD run on his first carry, an electrifying moment that lifted everybody's favorite coach-turned-NASCAR-guy-turned-coach Joe Gibbs to victory.

Bailey: A sensational INT on Sunday night, played offense, caught a ball for 11 yards, and was miked the entire night by ESPN.

Hmm. Tough one. We'll give the early edge to Bailey and the Broncos, if only because we got to hear, first-hand, his exclamatory "WHOO!" when he made his pick. You can't put a price tag on that memory, my friend.

I promised a Ricky Williams/THC Watch, and I will deliver
Vikings RB Onterrio Smith escaped the long, hairy arm of the law by appealing a four-game suspension for substance abuse. He'll be wearing purple until Oct. 4, at least. Meantime, he helps the Vikes pants Dallas, 35-13. And somewhere, Ricky W. settles into an overstuffed chair in Holland ...
Most of you emailers voted "Aye" on The Hangover's column name, so we're sticking with it. In fact, most of you were downright sunshiny and positive about the whole damn column, but I'll just attribute that to your aching jones for any kind of NFL chatter. I would be remiss, however, not to note that many of you expressed outrage that I included Ray Lewis on my "Players We Love" list. Perhaps most eloquent was Rick Q., who set aside Lewis' shady legal past and took issue with the man's decision to trip the light fantastic too often for a subtler man's taste: "So I ask you, Mr. Brian Murphy, am I the only guy in the country who wants to tell Ray to stop cuttin' a rug? Am I the only guy who wants to inform Mr. Lewis that this isn't the prom, it's second-and-5?"
Speaking of dances, the Worst Jig of the Week goes to Atlanta TE Alge Crumpler (who is the NFL player voted here as most likely to have an onomatopoetic name). Crumpler scored against the 49ers, then raised his arms and did a little kick-step number that, in all honesty, looked borrowed from a German bier hall. The only thing missing was lederhosen and a stein.
Sheesh, does Mike Shanahan look more and more like Martin Sheen's President Bartlett "West Wing" character every day?
As for Jon Gruden's gold necklace, shimmering in the Atlantic seaboard sun as the final seconds ticked away in Tampa Bay's loss to Washington: Yo, Gru. The Tony Manero look faded away a cool quarter-century ago. If you want to be hip, just trade it for a set of puka shells. You'll look like Greg Brady. Which, you know, not everybody does.
Yes, I waited this long to address the T.O. situation.

He made it on to my "Players We Hate" list last week, then turned around and scored three TDs in front of an adoring Philly crowd.

Why does this all seem so incongruous?

Philly ... T.O. ... a happy ending ... you cannot tell me that something is not rotten in the state of Denmark here.

I'm reserving judgment on this whole powder keg, while fully acknowledging that when his mind is right, and the stars align, Terrell Owens is one ferocious dude.

Still ... Philly ... T.O. ... happy ending?

Am I missing something here?
Speaking of Philly, it remains, and will always remain, my favorite American sports city. I will present my case in three parts, in the form of three emails I received from Eagles fans.

Case No. 1: "I like the title of the column. Every NFL Sunday, we talk about what we refer to as the "meat hangover." For us, tailgating includes grilling all sorts of meat, and in large quantities. Ever get the meat sweats? It's when you've have so much meat that you actually start to get warm."

-- Gabriel in Philly.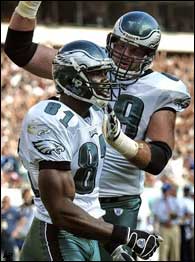 Does T.O. know what he got himself into with the Philly phaithful?
Case No. 2: "When the Eagles play the Vikings on Monday Night Football, look for the guy in the 14th row, 47-yard line, behind Philly's bench, covered in green and looking like The Incredible Hulk. That'll be me."
-- Roy Hottenstein, Kutztown, Pa.
Case No. 3: "Last year, Atlanta's punter pooped his pants in an early-season, nationally-televised game. I forget which one, but I saw it in Philly. No one mentioned it, as far as I could see. One other person on the Falcons' message board acknowledged seeing it. Please research it and publicize it. Thank you."
-- Paul Mannion, Philadelphia.
Did I mention that Philly is my alltime favorite American sports city?
As far as the Election Watch goes, it turns out some readers know of a Redskins Thing that determines the presidential winner. Something like 15 of the last 16 elections have been accurately predicted by whether or not the 'Skins win their last home game before Election Day. If the 'Skins win, the incumbent wins. If the visitor wins, the challenger does.

In other words, look for John Kerry to be wearing a foam Cheesehead for the Oct. 31 Green Bay-at-Washington clash, and for G.W. Bush to be playing clarinet in the Washington Redskins Marching Band.
Speaking of the Redskins Band, it stands the test of time like few other NFL traditions. To hear the homespun sounds of the boys playing "Hail to the Redskins," combined with the sight of Gibbs on the sidelines, is enough to make a man want to wear oversized black wraparound shades, shag a South American girlfriend half your age, and do all the other things that made Jack Kent Cooke, Jack Kent Cooke. Shoot, if I were President of the United States, one of my first moves would be to switch out "Hail to the Chief" for "Hail to the Redskins" from the Marine Band every time I enter a room. Right after, of course, I switch out "The Star Spangled Banner" for Ray Charles' "America the Beautiful" as our national anthem.
Final Quick Thoughts: David Carr's pledge to not cut his hair until the Texans win two straight is not an original one. But what is original is his look. I don't believe an NFL quarterback has ever sported a 'do exactly like Marlo Thomas' in "That Girl" before now. We have a first on our hands ... On a radio show recently, an email floated in from a Bay Area fan with the perfect call: To watch Rich Gannon throw a football these days is to catapult back to the 1979 Pittsburgh Pirates, watching Kent Tekulve sidearm it out of the bullpen ... Award for "Plant of the Week" goes to the handlers of Jeff Garcia, who, combating T.O.'s third-grade rip job of Garcia in "Playboy", artfully got to the wire services the news of a fight between Garcia's current and ex-girlfriends, one of whom is a Playmate of the Year. Next on the wire: How Garcia dumped Salma Hayek for Lindsay Lohan ... I'm not sure, but I think I saw Emmitt Smith run for a touchdown on Sunday. Then again, with DirecTV, sometimes the wind can mess with the dish and produce altered images. Couldn't be true ... And the final question of the day comes from Brad Mudd in St. Louis, who wonders: "How many beers is too many to have before going inside the stadium for a game? Here in St. Louis, we have nice escalators to get to the upper deck; but row TT is a long way to climb to your seat without a sherpa, sober even. I struggle with this question, eight, nine and hopefully 10 times in a season."

Bradley, my friend, I think you answered your own question: Eight, nine, and hopefully 10.

I did have one final question for you: Ever get the meat sweats?

Email thoughts, raves and unanswerable philosophical NFL queries to page2murphy@yahoo.com.

Brian Murphy of the San Francisco Chronicle writes every Monday for Page 2.