By Brian Murphy
Special to Page 2
Here at the Hangover, Comebacks are always Cool.
The Comeback was invented by Frank Sinatra, who roared back from two touchdowns down, late in the fourth quarter, with his Oscar-winning turn in "From Here to Eternity."
The Comeback was polished to a shine by Elvis in '68, who drove the length of the field, with no timeouts, with his concert in the round that was such an epic comeback, it's only known, 36 years later as: "The Comeback Special."
Finally, The Comeback was made certain by John Travolta's turn in "Pulp Fiction," completing a Hail Mary pass on F. Scott Fitzgerald's proclamation that there are no second acts in American lives.
During Week Five of our beloved NFL season, we had Comebacks coming out of our ... well, backsides.
Hence, the Comeback.
In fact, there was a time during what you East Coasters call the "Late Games" and what we West Coasters call "1 o'clock kickoff" that you could have drifted off into a Food Coma thinking that the Jets had blown out the Bills, the Seahawks had moved a week closer to the '72 Dolphins and the 49ers were about to declare a little-known codicil in the Collective Bargaining Agreement called "Franchise Bankruptcy: Physical and Moral" in a stumble to the Cardinals at home.
Throw in what you once thought was a Minnesota play date at Houston, and you had four legitimate Comebacks on Sunday.
Two of them worked -- the 49ers and Rams somehow pulled it out when the East Coast was watching the ticking clock of "60 Minutes."
Two of them fell short -- the Texans and Bills huffed and puffed ... and wound up with taxed lungs.
Still, Comebacks are beautiful. Comebacks are a part of the Human Experience. They make us realize where we've been, where we're going, and, really, that there are only so many original concepts in this world.
You thought long-haired rock n' roll of the '70s was dead? I present today's chart-climbers, like Jet or The Darkness.
You thought original dramas were suffering from rigor mortis in this era or Reality TV? I present to you my wife and I, nailed to the couch for ABC's comeback dramas, "Lost" and "Desperate Housewives." (Don't give me any grief about "Desperate Housewives," all right? Any of you married schlubs know that part of avoiding desperation in your house is compromise. Besides, it's pretty good. Isn't it?)
Speaking of ABC and Comebacks, by the way -- do any of you remember when ABC ruled the roost, like King Kong, swatting at the silly biplanes offered up by NBC and CBS? There was a time in the late '70s when "Happy Days," "Laverne and Shirley" and "Welcome Back, Kotter" were part of an ABC powerhouse that steamrolled the opposition like the Bill Belichick Patriots take care of the salary-cap era NFL. I still recall, with sentimental relish, ABC's fall commercial campaign of previews, set to the tune of "Still the One" by Orleans, featuring all of ABC's stars flashing the "No. 1" index finger to the camera. To see Lawrence Hilton-Jacobs as Freddy (Boom Boom) Washington of "Kotter" flashing that big grin and index finger is to define 1977, in my book.
Anyway.
Point is, beware of the Comeback.
Like the Meat Sweats (yes, a fifth consecutive week of the item that thrills some, disgusts others, is below), the Comeback can sneak up on you when you least expect it.
Sort of like Julius Peppers.
But I'm getting ahead of myself.
PLAYERS WE LOVE, WEEK FIVE
Julius Peppers, Eric Johnson, Chad Pennington.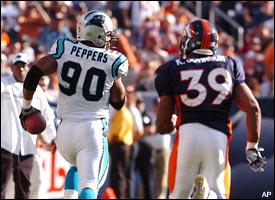 Don't think you'd want to step in front of Julius Peppers at full steam.
I would submit to you that Peppers, the Carolina defensive end with the name straight out of a Dan Jenkins novel, turned in the greatest consecutive-play sequence I may have ever seen in a regular-season NFL game.
I would submit this, but I'd surely get blasted with a shock-and-awe-styled torrent of e-mails from outraged readers, who don't like when I submit things at The Hangover. Last week I submitted that John Jefferson was the greatest goggle-wearing player ever, and was promptly lost in an avalanche of e-mails that said, in essence, "EVER HEAR OF ERIC DICKERSON, YOU BARELY-FUNCTIONING, IF NOT OUTRIGHT NON-FUNCTIONING, MORON?"
Matter of fact, I have heard of E.D. He was the guy who set the NCAA record for "Accepting Dead President Handshakes With a Booster" at SMU, right?
Funny thing is, while I know that Dickerson nearly smashed every rushing record in the book, I have a bizarre place in my heart that says John Jefferson was a more memorable player. In fact, I'll flat-out say it: I enjoyed J.J. more than E.D.
There. Does that make me a Communist?
(On a side note, I will add that I appreciated those of you who e-mailed to say Chuck Muncie was your candidate for Greatest Goggled Player Ever. What I love is that your call indicates that not only was J.J. not the Greatest Goggled Player Ever, you're saying he wasn't even the best Goggled Player on his own TEAM. Beautiful.)
Anyway.
The beauty of DirecTV's "NFL Ticket" is that you can sometimes switch channels at the ex-act per-fect time to catch a memorable moment. (The non-beauty part is switching to five different games in five seconds, and getting commercial breaks on every one. Snake-eyes. Total downer.)
I had one of those DirecTV Perfect Storms when I switched to the Carolina-Denver game to see the Broncos on 3rd and goal, up 13-10, only to watch Jake Plummer break out of the pocket for what appeared to be a sure scramble to the end zone. That is, until he was chased down by the athletic piece of art that is Julius Peppers, and shoved out of bounds. I had my notebook handy, and was going to make Peppers a "Player I Love" based on that effort alone, only to have my boxer shorts blown off by the next play. You saw it: Peppers, dropping in zone coverage, picking off Plummer in the end zone and rumbling ONE HUNDRED AND ONE yards before falling at the Denver 3-yard line.
That he did this at 5,280 feet of elevation made him my immediate Week Five hero. That Carolina lost is irrelevant. I haven't seen a better two-play sequence in the NFL regular season. Ever.
As for Johnson? Well, he caught 13 balls for 162 yards and a touchdown in the 49ers' comeback win over Arizona, but that doesn't tell the half of it.
That he went to Yale, and is my wife's favorite player because of their shared alma mater, doesn't tell the quarter of it.
That he was a 7th-round draft choice and that he is now leading the NFL in receptions after five games doesn't tell the eighth of it.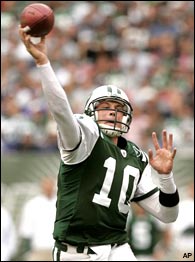 Gotta be careful who you compare Chad Pennington to.
That he played Sunday with bruised, and perhaps broken, ribs, tells the whole of it.
Bruised, and perhaps broken, ribs? Imagine trying to catch 40 winks with bruised, and perhaps broken, ribs. Now, imagine trying to catch 13 balls in a comeback win.
Eric Johnson, you are our pinched-lung hero of the week. And, as Thurston Howell III might say, avec lock-jaw, on "Gilligan's Island": "Good heavens, a Yale man!"
And as for Pennington, well, this is the second time he's made our "PWL" list, and the Jets have only played four games. I watched him direct that 2-minute drill, down 14-13, in the chilly October night at the Meadowlands. I've seen that act before. I'm not saying Pennington is Joe Montana. I'm just saying I've seen that act before. That's all I'm saying.
AL DAVIS WATCH
I'm about to give up on the ADW, people. Can't a TV director at Fox or CBS cut a brother a break and give me a weekly shot of Big Al in his box? How can we tie the Raiders' fortunes to his sartorial splendor, if we can't enjoy the splendor of his sartor?
I watched the Colts-Raiders tilt, and couldn't get a bead on Al's wardrobe. I'm assuming he went with the white sweatsuit, and is now 0-3 in the white (road) togs, and 2-0 in the black (home) togs. I do know that I got my hair cut by Rocky the Barber in Oakland last week, and asked him how things were going in "The Nation." Rocky grumbled. He wasn't happy about the direction of things, and indicated that Kerry Collins better get his act together. I asked Rocky -- remember, the man cuts Al Davis' hair -- what the owner thought of the situation.
"He was pretty quiet last time I talked to him," Rocky said. "He did say one thing. He did say San Francisco wasn't going to be worth anything."
MORE RAIDER MUSINGS
Is there a worse road team than the Raiders?
I know Arizona has a worse road record, but there's something about the way the Raiders do it that defies explanation. They've lost 12 straight away from home, and do it in spectacular fashion. To wit: The Raiders held the Colts, and forced a punt. While the Colts lined up to punt, a Raider jumped offside. First down, Colts. Next play, Peyton Manning went upstairs for a bomb to Reggie Wayne. He caught it for a touchdown.
One nanosecond, the Colts lined up to punt.
Next nanosecond, the Colts led 14-0.
Up in his box, I imagine Al spit up some nacho sauce on the White Sweatsuit.
RICKY WILLIAMS/THC WATCH
Grantland Rice, Jim Murray and Red Smith should have lived to write the lead to the AP game story from the Ravens-Redskins game, the poetry of which read: "Three days after making a plea that will send him to prison ..."
Just think: Jamal Lewis as running back for Paul Crewe's "Mean Machine" in "The Longest Yard."
Speaking of which, the Adam Sandler remake of the classic flick causes me to resuscitate an old bit from my Water Cooler column, as opined by my comedy guru, T.C. Informed of the Sandler remake of a movie that has no business being remade, T.C. roared: "This is terrific news. 'The Longest Yard' has cried out since 1975 to be remade as a comedy starring a shrieking, mugging goon. Who's going to play The Walking Boss, Gilbert Gottfried? Cedric the Entertainer as Granville? Carrot Top as Captain Knauer? Gallagher as Caretaker? Can we get Howie Mandel to play Nate Scarborough, one of the most beloved men this institution has ever known?"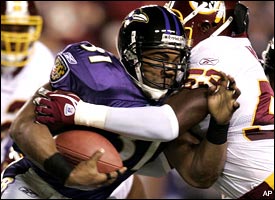 Jamal Lewis will have to take a break from busting tackles for a while.
When in doubt, T.C. tells it like it is.
While on the topic of Lewis, reader Jason Reddish from New Orleans wondered if his favorite team, the Ravens, had entered some sort of pantheon. "Have the Ravens," Reddish wondered, "exceeded the Raiders now in Bad Boy aura? Current RAP sheet: Ray Lewis -- indicted for murder, pled to obstruction. Jamal Lewis -- indicted for conspiracy, pled guilty to trying to set up a drug deal. Corey Fuller -- indicted for gambling. Chris McAllister -- DUI dropped, possession of marijuana (in his house) dropped. Bam Morris -- weed. Terrell Suggs -- assaulted a dude in Arizone with a piece of REBAR! Deion -- fashion police.
"Remember, this list is not exhaustive, and the team is only in its 8th year."
Excellent research, Jason.
JUST BECAUSE IT'S A BYE WEEK FOR THE EAGLES ...
... Doesn't mean we can't update our Philly Corner, home of the most entertaining e-mails on the NFL circuit. At 4-0, the Eagles took Week Five off to admire their reflection in a nearby mirror, but Eagles fans didn't take a week off from packing the Inbox with more tales from their crypt.
Mostly, as Eagles fans soar into a brave new world of confidence, they want to remember where they came from -- specifically, The Vet.
Philly E-mail No. 1 comes from Ed White, who got all nostalgic remembering a lager named for the Vet's insane upper deck. "As an homage to the upper level crazies," White wrote, "Nodding Head Brewery (a micro-brewery and restaurant here) featured a beer called '700 Level.' The caption underneath the beer read: Here come the cops. Hide your bowl."
Philly E-mail No. 2 fulfills our weekly Eagle Fan/Bodily Function anecdote (and really, for those of us still eating breakfast, we don't have to make this a weekly installment.) Anyway, reader Brian Rodden told a tale of a long line at the men's room: "The Vet was quite short in the rest room department," Rodden wrote. "You literally had to wait 20 minutes to use the rest room. My friend and I were at an Eagles-Redskins game, he went to the bathroom and I followed about five minutes later. I got in line for the bathroom, which was about 50 people long, and went out into the corridor. I saw my buddy in a line with about 10 people in it. The line led to a door next to the restroom. I walked over and asked if it was a bathroom. He said he did not know but everybody was using it. I walked to the front of the line and asked the guy who was next. He informed me that it was a janitor's closet! He said: 'It's fine.It beats using the sinks in the bathroom.'"
The sickest part of that e-mail is that Rodden wasn't the only one to relate the tale. An entirely different reader sent in the same story, codifying it as verity.
Philly E-mail No. 3 is less amusing and more immediate. Gabe from Philly is concerned that the unfolding events in the baseball playoffs portend dark things for the City of Brotherly Love. Gabe's worry: Terry Francona's Red Sox steaming towards a curse-busting title. "Francona toiled here for a few seasons of complete mediocrity," Gabe wrote, "highlighted only by tremendous feats of stupidity. Francona held no sway in the clubhouse. None. When he was hired by the Red Sox before this season, he referred to the job as getting a mulligan for his time in Philly. So you can imagine the disdain that this city has for Tito. I can't think of anything going on in the sports world right now that would be more upsetting to the Philly faithful than to see Francona win a World Series. That is why it is a stone cold lock. Every Philly sports fan will puke in his/her lunch if Francona wins. It would figure that, in all the years since the Sox last won a title, that it would be Terry Francona who comes in and wins it. Throw in our old ace, Schilling, carrying the load and it makes it even worse. Now we've got the pinnacle of sickness-inducing sports moments for Philly staring us right in the face."
Gabe, we feel your pain. You need relief, and you need it now. Head directly to Geno's. Order multiple cheesesteaks. Wash it down with a 700 Level brew. Then, get a Philly Inquirer or Daily News and read about your undefeated Birds. Breathe deeply. We can get through this, together.
AS FOR BARRY P. ...
You guys don't think I forgot the Philly-hating e-mail from Barry P. last week, did you?
Come on, now. I live for this stuff.
To refresh your memory, a reader named Barry P. (I had more info on him, but wanted to preserve him from bodily harm) lambasted Philly fans as the ultimate fair-weather buffoons, incapable of rational discourse or displays of loyalty.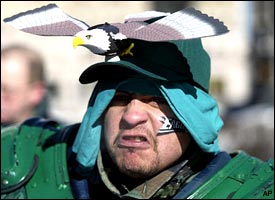 Don't worry, be happy Eagles fans!
Philly fans responded with nuclear-hot e-mails that nearly melted my laptop. Among the more printable were some eminently reasonable offerings: Some pointed out that Philly, by dint of its lack of a pro title since 1983, can never be called "fair-weather", since the sporting weather, metaphorically speaking, is never fair.
As reader Greg Frattaroli pointed out: "If we really were the ultimate fair-weather fans, there wouldn't be any of us left, because we haven't won anything in TWENTY-TWO YEARS. Now, show me all the empty seats from Yankee Stadium during the late '80s and early '90s, and I'll show you fair-weather fans." Nice work, Greg. You defend your burg, and take on the most populous city in the Union at the same time.
Some reacted more viscerally, enumerating the number of jerseys the average Eagle fan owns. I read of fans who own jerseys as sentimental as the late, great Jerome Brown, and as inexplicable as the never-great Bubby Brister. As reader Chris Jones of Oakland, a transplanted Philadelphian, said: "Either Barry P. has never been to Philadelphia on game day, or he's just had his eyes taped shut for the past 20 years."
It was reader Mike Donnelly who said of Eagles' fans sometimes-emotional nature: "We love our sports teams, and we will let them know when they are letting us down. It's just like your family: They can make you mad, but you still love them."
I almost need to brush away a tear, so warm is the sentiment.
Just to jolt us back to some Philly comedy, we turn to reader Sean Huff, who wonders: "If it's possible, can we get Barry P.'s team affiliation? I half-suspect it's either the Seattle Storm or the Minnesota Lynx."
We should end the diatribes there, shouldn't we? I shouldn't toss petrol on the bonfire, should I? Then again, I can't let the good people of Philly not know what's being said about them in my Inbox, can I?
Here goes, guys. Barry P. found some allies, and they wrote in to deliver haymakers to your city's reputation. The first came from reader Brett Wolfe, who said he used to live in Philly and: "The city doesn't deserve to have teams as good as the Flyers and the Eagles -- not with the crappy attitude of the fans. Being noisy, obnoxious and drunk are not family virtues -- but they are the norm in Philly."
Holy blasphemy, Batman!
Here's the thing. Brett W. wasn't the only one. Wrote Bobby Otter: "I mean, let's face it. The most successful team in the city is ... the A's. And they are now in Oakland, after stopping in Kansas City 50 years ago. You think Bruce Springsteen was talking about Philly when he said: "It's a town full of losers -- I'm pulling out of here to win"?
Eagles fans -- take long deep breaths. All I am saying is: Give peace a chance. Turn the other cheek -- even if you want to hang your cheeks at Brett W. and Bobby O.
We move on!
RANDOM PHILOSOPHICAL RANTS
You guys are good, I must say. It's not every day you can add a little smile to your life when you read e-mails like the one from Denver's Dave McIntire, who told of a pal's first visit to a Kansas City Chiefs home game recently. "Once inside the stadium," McIntire wrote, "he noticed an abundance of hairstyles similar to David Carr's dad. (He speaks of the famous mullet, of course.) When he mentioned it to the friend who brought him, he was told: 'They don't call it 'Camarohead' for nothing." ...
On the topic of favorite NFL quotes, reader C.M. in San Francisco remembered the priceless moment when Deion Sanders, at his Prime Time pinnacle in the early '90s, did a Roy Firestone interview on ESPN. Asked Firestone: "Deion Sanders: The Movie. Who plays you?" The camera cut to a Jheri-curled Deion who says, without hesitating and in complete seriousness: "M.C. Hammer." ...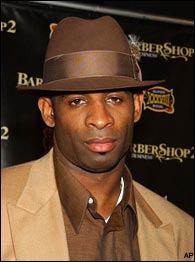 Can't touch this ...
And Lucas in Milwaukee was shocked to see that the Baltimore Ravens feature male cheerleaders. "Do they hold tryouts," Lucas wrote, "or do they just take guys from the practice squad to form a good base on a pyramid?"
MEAT SWEATS. AGAIN
I wrestle with my conscience: Do I continue to give you guys a forum to exchange thoughts on All Things Meat? Or do I shut it down, call the cops on the Meat Sweat Party, and move on to NFL chatter?
Aw, that's an easy one.
More Meat Sweat E-mails!
Mostly, the reason I include this chapter again is to brag on the outrageous reach of ESPN.com. When I got an electronic missive from Momchil Metodiev from BULGARIA -- yes, BULGARIA -- I had to include it.
Especially when our Bulgarian friend was setting the record straight on the controversy over whether Joey from "Friends" beat us to the Meat Sweat Punch: "After gorging on a Thanksgiving turkey he had to go get his "meat sweats" (as in sweatpants) to accomodate his newly bulging belly. Thus, Joey did not really invent the "Meat Sweats". I made your day, didn't I?"
Always a sucker for high-end emails, I enjoyed that reader Bryan Boles said the Meat Sweat trend is a part of our great nation's history. "I couldn't find the passage," wrote Boles, "but I seem to remember reading in 'Undaunted Courage' that the men of the Lewis and Clark expedition would gorge themselves on meat after a fresh kill. They would eat so much meat that they would be drunk from the meat!"
And, to again marvel at the global reach of the Worldwide Leader, The Hangover received this e-mail: "I am an Eastern Canadian now living just below the Arctic circle, I know a thing or two about the Meat Sweats. My father refers to a post meat-binge as suffering from 'TB' -- tight belly. The Inuit, the aboriginal people of the arctic, traditionally ate meat raw. Does anyone have a stat on the degree of sweats based on the state of the meat, i.e. raw vs. well done?"
I don't know. But after a night with Jamal Lewis and Ricky Williams, I think the meat of choice would be White Castle.
FINAL WEEK FIVE THOUGHTS
Now that New England has won 19 consecutive regular and postseason games, the Pats need foes other than the meager opposition offered by American football. Reader Stephen Gaudreau, in his second appearance at the Hangover, suggests we start a Pats/Arsenal Watch, pitting American football's best against English football's best. "It would be remiss," Gaudreau writes, "not to mention the Arsenal Gunners of the Premier English League. They currently are extending their undefeated streak (at 44 games at last look)." Let the Transatlantic Showdown begin ...
Speaking of soccer, how did Heinz Field wind up with soccer markings on it? Reader Jeff Roberts howled to the moon that the Steelers are putting together a fine season on a pitch marked with the Euro-designs of MLS, but "there is no MLS team in Pittsburgh! Did the Pitt Panthers lose a bet when they almost lost to Division I-AA Furman a couple of weeks ago on that field?" ...
I'm worried about our man Mike Vick. He fumbled three times and threw an interception, all costly, as the West Coast Offense continued to put a box around the NFL's Greatest Athlete. Moreover, I'm worried about the way he ran the 2-Minute Drill with a chance to tie the game. He didn't remind me of Tom Brady. He reminded me more of Mike Brady. Come on, No. 7. The Hangover still believes ...
Philosophical query: If the 2004 Dolphins go 0-16, do Nick Buonocotti and Don Shula still crack open a bottle of champagne? ...
And let's end it with, annually, the Greatest Comeback of Them All: The 1960s San Diego Chargers unis. John Jefferson would have looked sweet in those.
E-mail Brian Murphy at page2murphy@yahoo.com with thoughts, questions and unanswerable philosophical rants..