By Brian Murphy
Special to Page 2
How great would it be to be a 12-year-old kid in New England about now?
Whether in a small fishing village in Maine or a leafy suburb in Boston or down on the Rhode Island coast, the rest of your life will be defined by the 12-month stretch between February 2004 and February 2005. You will be 75 years old and the names "Branch" and "Brady" and "Vrabel" and "Crennel" -- not to mention "Manny" and "Pedro" and "Papi" -- will cause you to get a lump in the ol' gurgler. You go to sleep at night, dreaming of Tedy Bruschi diving for a pick, or Bill Belichick stalking the sidelines in the hoodie.
This is your time.
After all, The Hangover is all about the kids, right?
And so we ease out of the 2004 NFL season. We dry Philly tears with a Cheese Whiz-stained napkin -- for the record, Philadelphians, my lovely and talented bride made cheesesteaks for dinner, not an easy task in Northern California, involving special requests from butchers and all -- but ultimately salute the latest (and it seems national law to use this word) "dynasty" of the NFL.
Used to be, we'd call the Pats "The Team of the Decade." Now, we call them a "dynasty." So it goes -- also used to be, we thought girls in leg warmers were sexy. The world turns, and times change.
What do you call The Patriot Dynasty?
I'm open to suggestion. The Dallas Cowboys of 1992-95 will be remembered for "The Triplets." The 49ers of 1981-1989 will be remembered for "The Genius," even though Bill Walsh gave way to George Seifert for the '89 season. The Steelers of the '70s were "The Steel Curtain" and the Packers of the '60s were two words: "Vince" and "Lombardi."
So what to call these Pats?
Just to get the conversation started, how about "The Grinder Dynasty"?
Seriously. I have never seen a football team grind you to eventual dust the way the New England Patriots grind other teams to eventual dust.
Chew on this: The Patriots have won three Super Bowls, each time by three points.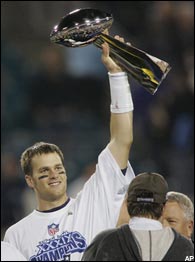 A familiar sight -- Tom Brady, with the trophy, again.
The "Little Things Dynasty." The "We Will Out-Execute You Dynasty." The "53-Man Dynasty." The "Boa Constrictor Dynasty," squeezing the life out of you, minute by minute.
What will you remember about Super Bowl XXXIX?
You could remember that New England ran a nifty onside-kick return drill.
You could remember that the Patriots, when they had to, punted the Eagles inside the 5-yard line with under a minute to play in the fourth quarter.
You could remember that Philadelphia ran a p--s-poor offense in the final minutes of the game -- the so-called "Two Minute Offense," even though the Eagles ran it poorly with four and three minutes left -- but what you would need to remember is that New England ran their offense better when they had to.
So it wasn't so much about Philly running a horse-blank Two-Minute Drill as it was about New England not having to run a horse-blank Two-Minute Drill.
It's sort of poetic, no? The Pats' first two Super Bowls were the result of Tom Brady and New England doing just what it took to get that Adam Vinatieri field goal; the Pats' third Super Bowl was the result of watching another team not do the same.
Brilliant, really.
The "Water Torture Dynasty," anyone?
PLAYERS WE LOVE, SUPER BOWL XXXIX
Mike Vrabel, Rodney Harrison, Tedy Bruschi
The "Defensive Dynasty" anyone?
Let's take 'em one by one: As for Vrabel -- will somebody at the Pats' victory parade just yell out "INCREDIBLE HANDS, VRABEL" as his float rolls by? The catch he made for the touchdown to put New England up, 14-7, while being molested by Jevon Kearse, was one of the better touchdown catches I've seen in all my years. Thing is, it was done by a linebacker. That rates it, squarely, as the best TD catch I've ever seen by a linebacker.That guy can handle my fine crystal anytime.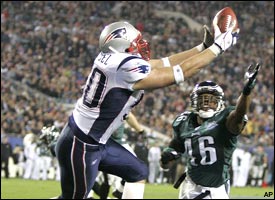 Maybe Mike Vrabel should be converted to tight end?
As for Harrison, let's not concentrate so much on his two interceptions -- including the ceremonial game-ender, the one that caused Belichick to scream like his favorite rocker, Jon Bon Jovi, hitting the final note of the chorus on "Livin' on a Prayer." Let's remember that 10 years ago, Rodney Harrison was in the San Diego Chargers secondary that was subjected to brute embarrassment, when newly-minted Hall of Famer Steve Young threw six TD passes on them in Miami in Super Bowl XXIX.
Ten years later, Harrison triumphs. His read-McNabb-and-jet-the-width-of-the-field-to-pick-him-at-the-goal-line play in the second quarter was the stuff of Super Bowl legend. Or was it just that the 1994 Steve Young would never have thrown that pass? That's for a bar discussion later on.
As for Bruschi, he scored massive domestic points with the footage of his two little tykes running after him on the field in pregame warmups -- my cheesesteak-making wife cooed: "Isn't that cute?" -- and then sealed the game with his pick of McNabb in the fourth quarter.
Vrabel, Harrison, Bruschi ... they don't give out Super Bowl MVPs to those type of players. They damn well should. Those guys are magic.
SPECIAL MENTION, PLAYERS WE LOVE, SUPER BOWL XXXIX
Terrell Owens
Whatever you think of T.O. -- and outside of a swath of eastern Pennsylvania, the poll numbers have to be hovering around John-Kerry-in-the-Deep-South levels -- you probably should change your opinion a little bit now.
His effort in Super Bowl XXXIX was steely, and not to be taken lightly. Major surgery on the ankle and fibula and all that is not G-rated stuff, yet T.O. appeared to be perhaps the most focused player on the Philly offense, and -- let's say it -- the best player on the field for the Eagles all night.
Had the Eagles somehow, some way, tied the game at 24-24 and somehow, some way, won it in overtime, you'd be looking at the SB XXXIX MVP -- and a legend that would only grow through the years.
While the rest of America sticks a collective finger down its collective throat.
A LESSON IN INOFFENSIVENESS
Here's the NFL's 2005 answer to Janet Jackson's 2004 baring of her right sweater puppet: Roll out Paul McCartney, have him play "Baby, You Can Drive My Car" into "Get Back" into "Live and Let Die" into "Hey, Jude" and call it a halftime.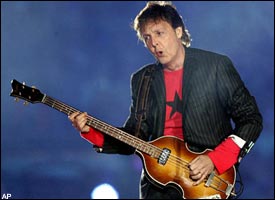 Shouldn't there be an age limit for who performs at halftime of the Super Bowl?
Unassailable, really. The idea of ripping the greatest songwriter of the rock-pop era is for only the highly-cynical. And the main criticism, if any, would be: Hey, NFL. Get current, man. Give us some halftime entertainment from somebody who doesn't remember the Bay of Pigs!
That said, I liked McCartney. I'm just disappointed he didn't fly in the embattled King of Pop and mix in "Say, Say, Say," or crush everyone by saying: "Thank you, Super Bowl! Now I'd like to play a few songs from my new album ..."
I give it a B/B-minus and say: Let's move on ot the third quarter.
AT THE TIME, IT SEEMED THE ULTIMATE SIGN THE EAGLES WERE GOING TO WIN
Faithful Hangover readers remember the dedication to our good friend Schmitty, the Ultimate Eagles Fan, from two weeks ago. Schmitty reached out and e-mailed The Hangover to give thanks, and also passed on his Tip of the Week: "Good prop bet," he wrote, "is L.J. Smith to score first."
When L.J. Smith made that fantastic diving grab for a TD and a 7-0 lead, I probably wasn't the only one thinking the Eagles were going to win the Super Bowl.
I was just the only one not wearing a Green Fright Wig.
That was a sweet moment for Birds fans. I immediately thought of an e-mail I got from reader Nathan M., an avowed Iggles nut who sent an e-mail that only included the following sentence: "This guy doesn't know it's a damn show. He thinks it's a damn FIGHT!"
If the context is lost on you, you're probably not an ideal demographic for The Hangover.
THEN AGAIN, THERE WERE BAD SIGNS EARLY FOR THE EAGLES
At 3:16 p.m. California time, the first sighting of Bill Belichick came: He was in the hoodie.
At 3:19 p.m. California time, Will Smith screamed the intro for his hometown Eagles -- and the Birds weren't ready. They trickled out of the tunnel, scattershot. Not good, Birds fans. Not good.
PREGAME THOUGHTS ON SUPER BOWL XXXIX MUSIC
As usual, the laundry list of performers was equal parts bizarre, depressing and only occasionally uplifting.
That Country Chick: They said she was up for some sort of Grammy. What, "Most Destined To Be Forgotten In Five Years?" Next!
Charlie Daniels: In a stunning turn of events, Daniels performed "Devil Went Down to Georgia." Daniels must have been perplexed when SB XXXIX organizers asked for that. Charlie Daniels and "Devil Went Down to Georgia"? Who would have thunk it?
How would you like to be known, for the rest of your life, for one creation? Everywhere you went in life, people would yell out on the street: "BIFF JONES, MAN! YOU'RE MY FAVORITE LAWYER! READ ME THAT BRIEF FROM THAT 1997 SETTLEMENT YOU HAD WITH TEXACO AGAIN! THAT WAS AWESOME!"
Tough gig, but it pays Charlie Daniels' bills. Can't complain.
Black Eyed Peas: When they first hit it a few years ago, weren't they way too cool to do something like a Super Bowl pregame show? You'd think they would have held out for a halftime gig. I guess ultimately they were undone by the fact that no band can have a female member with a body as smokin' hot as that Fergie, and retain musical integrity.
Earth, Wind & Fire: Say what you want, but those guys have a lifetime pass from The Hangover. Phil Bailey is still hitting notes that crack glass.
Alicia Keys: Though clearly lip-synched, she produced. Nice touch, with the blind kids. What, am I going to rip blind kids? What do I look like, an Eagles fan? Just kidding, Birds fans. You know how I feel about you guys. Come over here for a hug.
PREGAME THOUGHTS ON SUPER BOWL XXXIX GUESTS
I wonder how long James Brown practiced saying the words "Sir Paul" before they had Paul McCartney on the pregame show. "Sir Paul" this and "Sir Paul" that. It was like J.B. was living out a Knights of the Round Table fantasy. Meanwhile, McCartney appears to be on the same Life Odometer as Brigitte Nielsen. They showed a clip from three years ago, and McCartney was at least holding it together back then. Now, the hair dye is obvious, and the wrinkles are setting in, something fierce. It must be crushing for Baby Boomers to see the mop-topped lad from Liverpool looking like he permanently did not get enough sleep.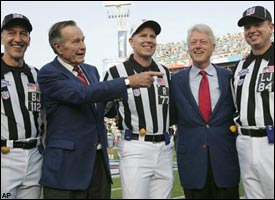 Which one looks worse in the electric blue blazer?
And how about that presidential double-dip? Clinton and Bush 41! Pretty impressive stuff, even if both presidents were sporting electric blue blazers that made them look like real estate salesmen. Republicans had to love the moment when, asked for predictions, Bush 41 didn't hesitate when he said "Pats by 14" and Clinton waffled his way through a non-answer predicated on the fact that "both cities voted for me."
GOP 1, Dems 0 in that showdown.
At least Michael Douglas' pregame intro on the WW II generation wasn't lip-synched -- though it is likely he got at least one fleshy pinch of Fergie's backside backstage at some point.
PREGAME THOUGHTS ON ANIMAL PLANET'S "PUPPY BOWL"
Quietly, Animal Planet countered with the greatest program move since HBO green-lighted "Curb Your Enthusiasm."
The move: Put various puppies on a faux football field, about 25 feet by 10 feet, and let them romp.
That's it. Just film 'em. Puppies -- romping, on AstroTurf, no less.
Genius.
There was even a sketchy background soundtrack, a cheesy guitar lick that you'd hear in the background of a DMV instructional video, or a short film on how the PGA Tour gives to charity every year.
While Super Bowl XXXIX's pregame shenanigans descended into at-times unwatchable badness, the puppies played on. It may have been the most watchable thing this side of an ESPN "World's Strongest Man" late-night marathon, or the Teletubbies to a roomful of stoned guys in a dormitory.
They ran it on loop. Hours on end. I was transfixed.
PHILLY CORNER
Which leads us to, alas, our Phinal Philly Corner of the year.
Birds fans were confident, but up against a larger force. I'm sure the C.O.B.L. will spend the rest of the winter wondering why Donovan McNabb approached the final five minutes as if it were July on the Lehigh U. campus in Bethlehem, Pa.
I must tell you, Philadelphians: I spent six years covering the 49ers, and I watched them close every practice with a Two-Minute Drill that would have smoked Philly's Super Bowl Two-Minute Drill, every time. God only knows what Andy Reid, McNabb and the boys were thinking during those last five minutes, but I'm sure you guys will let them know over the next nine months.
In the meantime, to paraphrase a Super Bowl XXXIX pregame guest: I feel your pain.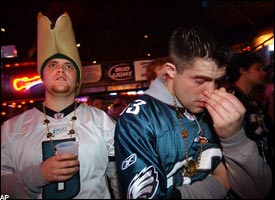 Farewell, Eagles fans -- see you next season.
E-mails trickled in to The Hangover minutes after the game, expressing a variety of feelings. The first came from reader "Skauff", who emoted thusly:
"NNNNNNNNNOOOOOOOOOOOOOOOOOOOOOOOOOOOOO. NO. NO. NO. NONO. TELL MY IT DIDNT HAPPEN. TELL MEEEEEEEE!!!!!!!!!!!!! NOOOOOOOOOOOOOOOOOOOO"
And that's a direct quote, my friends.
The next came from reader Ryan Murphy (no relation) who also waxed eloquent when he wrote: "confusion, disdain, hatred, sadness, tears, stomach cramps, bewilderment, gas ... as a 19-year-old who just witnessed his first true eagles heartbreak, i now know what ive got to look forward to for the next 40 years."
(Note: Lowercase kept intact for those of you who saw an e.e. cummings-styled pain to young Murphy's rant.)
Hangover regular Justin Epstein can be counted on for quality reflection, and he didn't disappoint, when he took the long, and sentimental, view. Quoth young Justin: "The closest analogy I can draw from watching the Eagles lose in the Super Bowl is like watching a loved one pass away from a disease. When it's all said and done, and you look back in 10 years, it won't be the final few minutes of suffering that you remember, it's everything that happened that made you care enough to be there."
We'll end it with that, good denizens of Philly.
To those of you who know it, The Cooler will return shortly to this space on Page 2. Those of you who are new to this space, you are welcome to join me at The Cooler for general riffs and half-baked comedy and a "Weekend List of Five" every Monday.
As The Hangover exits stage left, we say again: Godspeed, Birds fans. It was a fun ride.
And New England? Bottoms up, boys and girls. Bottoms up.
E-mail Brian Murphy at page2murphy@yahoo.com with thoughts, questions and unanswerable philosophical rants. His regular Monday column, "The Weekend Water Cooler" will return to Page 2 next week.