Single page view
By Brian Murphy
Special to Page 2
They call the Super Bowl America's unofficial national holiday. But after four days of Catamounts and double overtimes, of 12 seeds and Patriot Leaguers, The Cooler is at the point of believing the first four days of the NCAA basketball tournament are our real national holiday. The first four days of March Madness have achieved a Christmas-level vibe.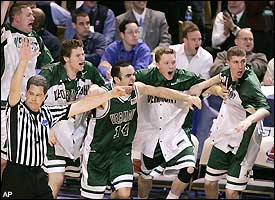 All of Thursday and the first half of Friday were the calm before the Catamount's storm.
At Christmas, we have carols. In March, we have the CBS theme music.
At Christmas, we have Santa Claus. In March, we have Verne Lundquist. At Christmas, we have the Three Wise Men. In March, we have Greg, Clark and Seth. At Christmas, we have villains like Scrooge and the Grinch. In March, we have Robert Montgomery Knight. Sudden thought: Was the Grinch also sponsored by O'Reilly's Auto Parts? The other, and sadder, fact is that we have postpartum blues when Christmas is over. After the final buzzer in the Duke-Mississippi State game on Sunday evening, which closed out the first four days of action, I felt the same way I do every year at Christmas, around 2 p.m. The presents are opened, the buzz has worn off and you realize you have to wait 365 long days to do it again – at which point, you will be a year closer to the grave. Here is where the Tournament trumps all: We get to do it
again
this coming Thursday through Sunday. It won't be exactly the same, of course, because the sheer volume isn't the same. The frantic pace of those first four days – the consistent parade of other-game scores, the folding and unfolding of your Xeroxed, beer-stained bracket – can never be replicated once the field has been cut by 75 percent. Mind you, it will still be great stuff. But those four holy days in March that we just experienced – that West Virginia-Wake Forest game, that Texas Tech-Gonzaga game, that Vermont-Syracuse game – are gone now, and a certain melancholy sets in. This sensation could lead to a meditative essay on the nature of anticipation, and its resultant sadness. But if I wrote that, you all would just accuse me of bumming out because my very public Final Four picks happen to include two teams – Georgia Tech and Syracuse – that are busy cleaning out their sock drawers right now. Besides, it's on to the Weekend List of Five! 1. Spring Hath Sprung, And With It, Heartburn
Made my 11th Dream Trip to Scottsdale, Ariz. over the weekend with the usual assortment of clowns and deadbeats I like to call my closest friends in the world. The trip is so old, its moniker – Dream Trip – has nearly lost its relevance. It was rooted in the Olympic basketball team of '92, the original Dream Team. We quickly applied the adjective to our first bachelor pad in San Francisco – ergo, Dream Pad – and to our sojourn to Arizona in the fall of '93. That original journey is now known as "D.T. I" Its alternate working title: "When Waistlines Were Thinner, And Obligations Fewer." Seems to me, back in the D.T. I days, there wasn't as much clamoring for antacids in the morning. In your mid-20s, morning calls for a breakfast beer. In your late 30s, morning calls for acid reflux medicine, part of the Three Horsemen of the Morning Apocalypse: Mylanta, Aquafina and Advil.