Where playoff memories happen
Maybe, 20 years from now, some sportswriter will be writing about the time he was 10 years old and saw the great Tim Duncan hit a 3-pointer -- his first of the season -- to force double-overtime against the Suns.
In the NBA playoffs, you never know when those lasting memories will occur.
Jemele Hill
There will be an understandable amount of wrenching from folks in Detroit over my favorite NBA playoff memory. But whenever I think of it, I'm reminded of something Al Pacino said in "Any Given Sunday": "… I mean one-half a step too late, or too early, and you don't quite make it. One-half second too slow, too fast, you don't quite catch it. The inches we need are everywhere around us."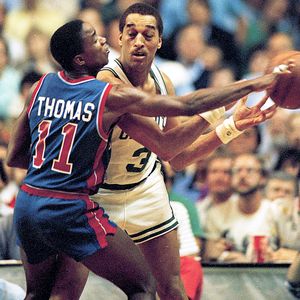 AP Photo/Peter Southwick
Before winning it all, Isiah lost it all, too.
Well, that "inch" for the Pistons came when
Larry Bird stole Isiah Thomas' inbounds pass in Game 5 of the 1987 Eastern Conference finals
. As much as that still makes this Detroiter nauseous, it's a moment I've never been able to get over. Of course, I remember the back-to-back titles the Pistons later won, but that one play is why I'll always despise the Celtics. Titles are one thing, but hatred lasts forever. (Oh, and for the record, my 1A favorite NBA playoff moment was when the Pistons refused to shake the Bulls' hands after being dethroned in the '91 conference finals. You say classless, I say awesome.)
Sam Alipour
June 19, 2000, was going to be a great day. I had graduated a UCLA Bruin a few days prior, and my Lakers were on the verge of winning their first title in my adult life. So, for Game 6 of the Lakers-Pacers NBA Finals, I did what any Lakers lifer/current Bruin/hopeful filmmaker would do: Head to Maloney's, our local watering hole, with six or seven pals, two flasks (of water) and one trusty Hi-8 video camera.
When the Lakers had won it all (Yes!) I ditched my friends to film the revelry in Westwood Village. What I caught on camera: Bruins throwing bottles and lighting trash cans on fire, riot police trying to clear the streets (and even restaurant patios, where some Angelenos refused to part with their lattes) and, much to my misfortune, a mugging. Seven men had just finished beating down a student when they spotted me. I remember cradling my camera like a football, curling up like a fetus, then deftly blocking several kicks and punches with my back and head. One dude, though, was merciful: "Alright! He's had enough!" he'd eventually offer. (And, by the way, thanks dude!) Then, they smashed my camera on the sidewalk and ran away.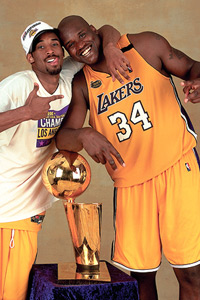 Andrew D. Bernstein/NBAE via Getty Images
When you're winning, even your worst enemy can be a buddy.
After I came to, I gathered what was left of my Hi-8 and headed for the nearest street lamp to pry the tape out of the wreckage. My only thought: Forget the camera -- and what felt like a punctured lung. Just save the tape, man! And, like a surgeon (with unsteady fingers, a headache and a buzz), I succeeded. For my friends, fam and me, the footage from that night is a reminder of the power and passion of NBA playoff basketball. For any fans of newly crowned champions, though, it's more of a warning: Best leave your cameras -- and your graduation footage -- at home.
Scoop Jackson
I remember it like it happened last week instead of 34 years ago. The Milwaukee Bucks were playing the Boston Celtics, Game 6 of the 1974 Finals. It was the game where Kareem sank that skyhook from 3-point range in the corner to win it for the Bucks. That night was the night my mother and father separated for good, the night my father packed his bags to leave. I remember my Pops coming up to me, luggage on his shoulder, to say goodbye. And because of the state of the game, because of what was at stake, I remember not even moving from the 7-inch black and white screen, almost oblivious to the moment.
"Later Dad!" is all I really said. Never even got up to give him a hug. It was the playoffs!!! Now even though I saw my dad every weekend and, some years every day, that moment is the one that is so beautifully disturbing. That's when I knew, for me, basketball was more than just a game. That's when I knew it was always going to be an important part of my life.
Jeff Pearlman
As a kid, my favorite player was Knicks guard Sedric Toney. I have absolutely no idea why, save for the fact that I liked his name, he attended Dayton (a school that, as a child, I'd never heard of) and he was -- like myself -- a bench-warming scrub.
Just how beloved was ol' S.T.? After my family's third guinea pig, Sparky, died, we bought a fourth and named him Sedric. Ah, true fandom.
Anyhow, Toney almost never played (139 regular-season minutes in 1987-88), which is why I will always remember April 29, 1999, when the Celtics hosted the Knicks in the first game of an opening-round series. Yes, heavily favored Boston crushed New York, 112-92. And yes, the Knicks would be squashed in four games. But with coach Rick Pitino operating a flawed guard rotation, Toney was inserted late in the first half, then hit -- Pop! Pop! Pop! -- three 3-pointers to draw the Knicks within 49-47. I can still see myself plopped down before the TV, thinking, "This is the start of something big for Sedric Toney."
Alas, he appeared in 78 more NBA games, never averaging more than 4.1 points.
But he'll always have one glorious night.
DJ Gallo
I forget where I was. Maybe I had gone into my bedroom or the bathroom for a minute or something.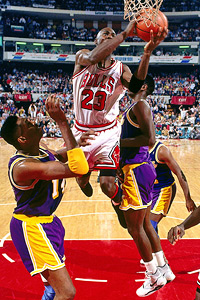 Andrew D. Bernstein/ NBAE/ Getty Images
When MJ was MJ, everyone stopped to watch.
But then my brother yelled out: "Come here! You have to see this move!" So I ran back down the hall, took a hard turn through the dining room and slid into the living room. This was before DVRs, before the Internet and we didn't have ESPN. If you missed a highlight live and missed the network replaying it a few times right after it happened, you missed it completely. Maybe they'd show it going to a commercial break, but that's it.
This was 1991. Michael Jordan, playing in Game 2 of the NBA Finals against the Lakers, had just pulled off his switch-hands layup, right hand to left hand, up and in. Amazing. Right to left. Right to left. I caught maybe the last two replays of it. Then it was back to my bedroom to practice. This was a layup: a Jordan move I could actually do myself! (On my Nerf hoop.)
Paul Lukas
Is it possible for your best memory to be something you only saw as a highlight reel? When I was growing up on Long Island in the early 1970s, Willis Reed's gimpy performance in Game 7 of the 1970 Finals (which I was too young to have seen when it actually happened) was already legendary. They showed it again and again on TV, and for a while there I was even affecting a limp of my own as I shot baskets in our driveway.
The Knicks won the title again in 1973, and I watched a lot of those playoff games, but it wasn't the same. Where was the drama? Where was the wounded gladiator limping onto the court to inspire his teammates? It wasn't until 1988 that another gimpy player willed his team to a championship, and that wasn't even the right sport, much less the right team. Sigh.
Eric Neel
Game 6 of the 1980 NBA Finals was broadcast on tape-delay. I was 12 years old and my mom let me stay up late to watch it. When it was over, after Magic Johnson had single-handedly destroyed the 76ers, I remember sitting on our front porch, tying my shoes, and then hopping on my bicycle to ride a mile and a half along dark sidewalks to my grandpa's house. When I got there, he was sitting on his front porch, waiting on me, smiling. We sat there an hour, reliving Magic's every move. I can still picture the moon bright and high in the sky that night. I can still smell the blooms on the jacaranda tree in his front yard. I can still feel Papa hugging me, just the way Magic hugged Butch Lee, beaming.
Jonah Keri
Celtics vs. Hawks, 1988 Eastern Conference semifinals, Game 7. I'm 13 years old, watching with 10 of my buddies. After a couple hours of pickup basketball, we're gathered around the TV at our friend Dave's house, watching the best fourth-quarter showdown of our young lives: Bird vs. Dominique. Bird hits a jumper with a hand in his face. Dominique cans a pull-up bank shot. Bird nails a fallaway J. Dominique drains a three. Bird tosses a lefty hook over his head, and one. Dominique buries a rainmaker.
This kept going and going, and we were going nuts. We were split down the middle on allegiances, half of us Celtics fans rooting for one last championship run, the rest fans of the Lakers or other teams, hoping someone would finally drive a stake through the Celtics' hearts. But we all went crazy after every hoop. These were the shots we wished we could make on the rickety orange hoops across the street.
With the clock winding down and the Hawks needing one stop, Dominique crowded Bird. Larry Legend curled around his man, drove the lane and tossed in a lefty scoop shot to end it. When the clock hit zero, we knew we'd witnessed something special. Twenty years later, it's still the best playoff duel I've ever seen.
Thomas Neumann
Sean Elliott scrambled to retrieve the lazy inbounds pass before it was stolen and tiptoed along the Alamodome sideline as if he was Jerry Rice.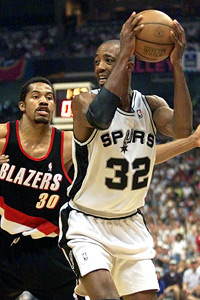 PAUL BUCK/AFP/Getty Images
Sean Elliott made sure 1999 was "the year."
There were 12 seconds left, and his team still trailed by two after rallying from an 18-point, third-quarter deficit. Elliott gathered himself after nearly tumbling out of bounds and hoisted an improbable, high-arcing 3-point attempt over the outstretched arms of 6-foot-11 Rasheed Wallace.
Splash.
The San Antonio Spurs took their first lead of Game 2 of the 1999 Western Conference finals, 86-85. As the final seconds elapsed, a new era began for the Spurs. There would be no more wedgies from the Lakers and Jazz. This was now a team determined to win a world championship.
Elliott's shot, dubbed the Memorial Day Miracle, is easily one of the greatest in NBA history.
Once the Spurs won the 1999 championship, Elliott revealed he had been playing with a severe kidney ailment. After receiving a transplant from his brother, Noel, Elliott became the first major league athlete to compete after such a procedure. Elliott also has a fine sense of humor.
Kieran Darcy
He wasn't the best player on the '90s New York Knicks. And he wasn't my favorite, either. But I'll always remember Larry Johnson fondly. Not for his gap-toothed smile, or the Grandmama commercials. For one thing, and one thing only.
It was Game 3 of the 1999 Eastern Conference finals, the series knotted up at one win apiece. The Knicks trailed the Pacers 91-88 with 11.9 seconds left. L.J. received the inbounds pass after a deflection, guarded by Antonio Davis. He held the ball on the left wing, well behind the 3-point line, for a couple of seconds. Then he gave Davis a pump-fake, took one dribble to his left, and launched a bull's-eye while getting fouled in the process.
How many times have you witnessed a four-point play -- let alone one that decided a game and let alone one that decided a playoff game? The best we could hope for in that situation was a tie and overtime. Yet, somehow, Larry Johnson (and Jess Kersey) delivered something even better.
Ain't it great when sports do that?
Kurt Snibbe
Michael Jordan's last minute as a Chicago Bull will always stand out to me. Game 6 of 1998 NBA Finals versus Utah with 59.2 seconds remaining. Jordan goes to the foul line and ties it 83-83. A few seconds later, John Stockton sinks a 3-point shot, then Jordan takes a pass from Scottie Pippen and threads between three defenders for a quick layup. Suddenly, the Bulls are down by one and Jordan steals the ball from Karl Malone with 18 seconds to go. Everybody's seen the next shot: Jordan pulls up and sinks the 19-foot jumper with five seconds left. Bulls win 86-85 after Stockton's 25-footer goes wide. Did Jordan push Bryon Russell? Should there have been a call? All I know is those final few seconds displayed Jordan's ability to take over a game on offense and defense.
Mike Philbrick
This was the moment it all came together for me as a Boston sports fan: June 12, 1984 (aka Game 7 of the 1984 NBA Finals). This was the closing ceremony when I would be forever indoctrinated into a world where you root for one team but also hate another. I felt like a grown-up when I told people I hated the Lakers.
Thanks to the power of DVDs I can once again hear the CBS Sports theme music and Brent Musberger's voice as he waxes poetic about the first six games. To add to the camaraderie with the Celtics, in 1984 our family room was much like Boston Garden -- no air conditioning. Despite the heat, I still insisted on wearing my Celtics painters cap (those were pretty cool back then) and my long-sleeve green satin Celtics jacket (those were really cool back then, too -- then again, so were short-shorts).
I joined the grown-ups and the Garden fans as we chanted "Beat L.A.!" and when we grew uncomfortably silent for a brief moment when the Lakers cut the Celtics' lead to three points with about a minute to go. But this was Game 7. This was the Boston Garden. This was Lakers-Celtics. History (to that point) told us there was only one way it would end.
I counted down with the fans that were itching to storm the court. Then it happened: 3 … 2 … 1 … chaos. Showtime had been canceled. Celtic Pride reigned.
By the way, I still hate L.A.
Kevin Jackson
Back then, most of our dinners consisted of tuna sandwiches, ramen noodles and the ever-popular $3.99 large pepperoni pizza from Pizza Time. As struggling college students at Western Washington University in the early 1990s, my friend Brandon and I saved the majority of our disposable income for two luxury items: Beers at the Up & Up Tavern and tickets for Seattle SuperSonics playoff games.
Still, my decision in May 1993 was extremely controversial. I had secured a couple of seats for Game 2 of the Sonics' second-round series against the Houston Rockets. But these seats weren't the usual $7 or $12 variety. I had spent $42 on lower-bowl seats behind one of the baskets. The Supes were just coming into their own under George Karl, and these were good seats to a hot series, so I thought I had enough rationale to justify spending the equivalent of a dozen pizzas on one night of hoops.
Midway through the third quarter, it appeared we had thrown our money away. The Rockets were dominating, the Sonics couldn't hit anything, the pace was dragging and Houston's lead had grown to nine.
With the Rockets on the verge of evening up the series, Seattle slowly started to chip away at the lead. Nothing too dramatic. A few Ricky Pierce jumpers here, a couple of free throws there, and suddenly the lead was down to three inside the final minute of the third.
The Seattle Center Coliseum had slowly come to life with each point nicked off the lead, and the fans were starting to buzz about what was sure to be a dramatic fourth quarter.
That's when it happened.
With time running out, Eddie Johnson took an inbounds pass, a quick dribble and launched a 60-foot prayer from the other side of half court. The ball was coming right at us, and from our high-priced seats right behind the hoop, we could tell it was on-line. As the ball fell through the hoop, the Coliseum reached a fever pitch like I had never seen. Strangers hugged, fans fell into the aisles and the chant of "Ed-die, Ed-die, Eddie" immediately engulfed the building.
TNT went to commercial for the quarter break, but the chant kept on. "Ed-die, Ed-die, Eddie."
For three solid minutes, it persisted. "Ed-die, Ed-die, Eddie."
When the TV cameras lit back up, delirium filled the screen. "Ed-die, Ed-die, Eddie."
With every EJ basket in the fourth quarter, it returned. "Ed-die, Ed-die, Eddie."
The Sonics pulled away for an easy win that would be crucial in a seven-game series in which the home team won every contest. Game 5 was a Sonics rout featuring a memorable scuffle between Scott Brooks and Nate McMillan. Game 7 was an Instant Classic, an overtime affair in which Seattle overcame a superhuman effort from Hakeem Olajuwon.
But none of that would've happened without EJ's prayer in Game 2. It saved the series … and saved me from the wrath of hungry college kids.