By Eric Neel
Page 2 columnist
Most fans are single-minded when it comes to their favorite teams. They can quote you chapter and verse on the home team, but they don't know snot about the other clubs.
Yankee fans are different. A Yankee fan's devotion to the game is so deep and so true that the word "fan" doesn't do him justice. He's more than a fan. He's an historian.
Because he doesn't just know the Yanks. He's got the deep background, the straight baseball-aficionado dope, on every team in the Bigs.
Go ahead. Test him.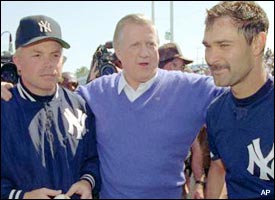 Who cares where the Buck stopped -- bring on Torre!
What's he most significant moment in Arizona Diamondback history?
You're thinking it's Luis Gonzalez's single up the middle in 2001, but forget it. The biggest D-Back moment? No brainer. Steinbrenner forcing out Showalter to make room for Torre.
The true starting point for Colorado baseball? Your typical Rockies fan says it was the Larry Walker signing on April 8, 1995.
The Yankees fan says, Pleeease. The Rockies' story begins and ends on Nov. 20, 1995, the day they gave up Joe Girardi to New York for Mike DeJean and Steve "I'm No Willie" Shoemaker. Do people still throw themselves out of windows over that one? Cuz they should.
In Los Angeles, the faithful wax eloquent about the big four of Jackie, Campy, Big D, and Sandy.
In New York it's one, two, three: As in Reggie going deep off Hooten, Sosa, and then Hough. Three rubber-armed mugs, three swings, and the three sweetest chapters in the Dodger story.
Padres fans point to Steve Garvey's walk-off homer in the 1984 NLCS, and to any one of Tony Gwynn's 3,141 hits.
Yanks fan knows better. He knows a guy named Scott Brosius, and he knows Trevor Hoffman knows him too.
In San Francisco, folks are obsessed with Barry's 73-dinger season.
In New York, the fan says that's nice, but it pales in comparison to the day Bobby Richardson snagged Willie McCovey's ninth-inning line drive in Game 7 of the 1962 Series.
Ask a Yanks fan about the greatest moment in Cubs history and he'll say, "you mean other than Ruth's called shot off Charlie Root?!"
When it comes to the Reds, the Yanks fan won't say it all boils down to Charlie Keller knocking Ernie Lombardi senseless at the plate in the 10th inning of the decisive Game 4 of the 1939 World Series. Though that was some funny s--t, you gotta admit. And he won't harp on the Paul O'Neill-for-Roberto Kelly deal back in '92, either. Though that was some seriously funny s--t. Nah, he won't go back that far. He'll just keep it fresh and explain to you how the Cincinnati baseball sun rises and sets with Aaron Boone's extra-inning dinger in the ALCS last fall. Because that was hee-larious.
The Astros?
Riddle me this, he says. What's bigger than The Mick hitting the first-ever home run at the Astrodome? Maybe only Ricky Ledee popping the first one at Minute Maid. Yes sir, I do loves me some tradition.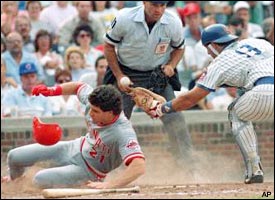 Yeah, O'Neill played for the Reds, but let's forget about that.
As for the Brewers, well, once upon a time the Brewers were the Seattle Pilots. And once upon a time, the Seattle Pilots traded a rookie named Lou Piniella to the Kansas City Royals. And the next thing you know, Lou's the AL Rookie of the Year and the Pilots cease to exist.
That's right: without a Yankee, the Brewers wouldn't even have a history.
Pittsburgh?
Screw the Mazeroski homer. Pittsburgh just signed Mondesi, right? That's the beginning of the end of Pirate history right there.
In St. Louis, fans want to talk about Bob Gibson and Big Mac.
In New York, the man says, Yeah, yeah, but you got the rusted-out Tino and we got the prime-time Torre.
And Yankees fan knows the beginning of the modern Braves era goes a little something like this: "Wohlers from the stretch, delivers ... Leyritz swings .. deep to left field ... outta here!"
The Marlins?
Shut up about the Marlins. They've got two deals with the devil and nine years worth of crap. What's to talk about?
(The wound is still fresh on that one.)
Expos fans figure maybe their biggest moment was losing Pedro to the Sox.
The Yankees fan figures, That used to be your biggest moment ... until you lost Vasquez, Suckahs!
Miracle Mets ... yadda, yadda, yadda. Doc and Straw ... yadda, yadda, yadda.
All of Met history boils down to one crucial crumbling: Piazza crying like a baby when Roger threw a little splintered bat his way. Be a man, Mikey!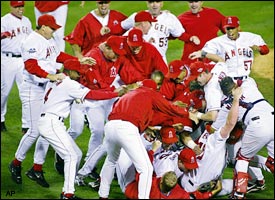 You can't win every year. Wait ... why not?
Philadelphia: They had Dallas Green, didn't they?
Some people say the Yankee fans are cocky and self-absorbed, but that ain't right. They're students of the game. They know ...
Anaheim fans talk about winning the Series in 2002, but that what they oughtta be talking about is the freak luck storm that got 'em by New York in the ALDS in the first place.
And they understand that you better spell the history of the A's in Oakland, J-E-R-E-M-Y.
A Seattle fan is still smitten with Junior's taters in the '95 division series.
Yankees fans say wake up and smell Soriano going yard off Sasaki in '01, and get a whiff of 116 wins rotting on the vine, baby.
To Texas, they just say "Thank You."
The White Sox won the pennant in 1959, which was nice, especially since the Yanks won it in '55, '56, '57, '58, '60, '61, '62, '63 and '64.
Oh, and if you want something more recent on the Sox, the Yankees fans say remember Dec. 17, 2005, the day New York signs Magglio Ordonez away from Chicago.
Cleveland, by the way, once had Graig Nettles and Chris Chambliss. Before they got good.
There is one blind spot: If pressed, Yanks fans will admit they don't know much of anything about the Tigers. Except that Fidrych kid, they liked him all right, even though he wasn't a Yankee.
All Royals fans, of course, remember George Brett's glory.
Yankee fans remember Chambliss making Mark Littell immortal one year, Freddie Patek sobbing in the dugout the next, and George and his glory going home empty handed three years running.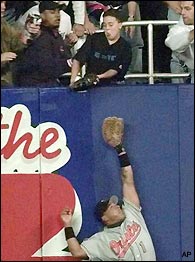 The most heralded rule breaker in NYC since Bernard Goetz.
Minnesota's claim to fame is a tough one. If we go way back, to the days when the Twins were the Senators, we'll see that there was once a nice Broadway musical about the team called, naturally enough, "Damn Yankees." Not that the Bombers have been in the team's heads for very long or anything ... not that they're obsessed with the Yanks or anything like that ...
Baltimore? Ladies and gentlemen, meet Jeffrey Maier. Take a bow, Jeff.
Tampa Bay's a young club without much to celebrate. The Yankees fans do want folks to know, however, that New York is bringing its major league team to town on April 6 and 7, 2004.
People in Toronto still get misty over Joe Carter's walk-off. But what makes the Yankee fans cry is David Cone's perfect game. In The House That Ruth Built, if you know what they're saying, and they think that you do.
Which brings us finally to Boston, which brings us finally to two thoughts: The first is, Dude, where do you begin?! And the second is, with Babe of course.
See? History.
The Yankee faithful know all about it.
Eric Neel is a regular columnist for Page 2.