By Eric Neel
Page 2 columnist
Enough already with the East. Can we please, just for one day, shut up about the Yankees and Red Sox? That story hasn't even begun and it's already too tired to get out of bed.
Let's make like Sonny Rollins and look Way Out West, instead, where the cool breezes blow in off the Pacific and the compelling storylines hang in big, bountiful bunches on the trees.
Let's keep an eye on the Dodgers' Edwin Jackson, a 20-year-old pitcher who reminds folks of the young, fearless Doc Gooden. Jackson's just three years out of high school (where he was an outfielder, not a pitcher) but he throws gas and moves the ball in and out like a vet. Manager Jim Tracy calls him a rare talent and a special kid, and he's already given him the five-spot in the Dodger rotation. Can the youngster hold his own, and if he does, will there be a delirious outbreak of Edwinmania? And if there is, can you really afford to miss it?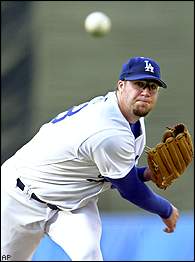 AP
Gagne's sore arm could mean trouble for the Dodgers.
And speaking of can't miss, what's the over/under on saves before Eric Gagne blows one? Whatever it is, I'll take the over and you can bet I'll be watching every time he takes the hill.
And I'll look to Oakland, too, where Mark Mulder's coming back from injury, Erubiel Durazo's coming back off a down year, Rich Harden's coming back for more, and, oh by the way, Eric Chavez is coming up fast in A-Rod's mirror. We'll pencil Rodriguez in as the game's best third baseman, but look for Scott Rolen in St. Louis and Chavez, who's great with the glove, very good with the bat, two-and-a-half years younger than Alex, and playing in his contract year, to give him a run for the title. There'll be a serious and well-deserved buzz around A-Rod all year, no doubt, but nothing beats the giddy rush of a breakout season. So get on board the Chavez Train before it leaves the station.
Young bats, and Moneyball aside, the Oakland story is first, last, and always a pitchers' tale. Tim Hudson, Barry Zito, Mulder, Mark Redman, and Harden. Damn. That's some stuff, right there.
SI said the Cubs were stronger, but they weren't factoring in Dusty's tendency to ride an arm like a tired old nag, straight down into the ground. They said the Red Sox and Yanks were better, too, but they weren't taking into account the fact that most of those guys are already sliding down the downside of 30. For my money, you go with the young guys, especially when the young guys are scary-good and still hungry for rings.
You want to make your splurge on the cable baseball package justifiable this season? Keep the dial set on A's; they're pitching bang for your viewing buck night in and night out.
Across the bay, it's Barry and BALCO -- not all big stories are good ones.
But it's also perhaps the Bildungsroman year for Jerome Williams. If they figure things out on the hill, and if Jason Schmidt's elbow is sound and his goatee is true, the Giants might be able to hang tough in the NL West race again this year.
If they don't, and if Barry starts seeing his window of opportunity slamming shut, things could get nasty. And interesting.
And either way, A.J. Pierzynski interviews are going to be a gas all season long.
| | |
| --- | --- |
| | |
| | Moyer |
| | |
| --- | --- |
| | |
| | Martinez |
In Seattle, where folks are still reeling from the news that Norm Charlton's decided to retire, they've got Jamie Moyer, the 117-year-old marvel who started 33 games, went 21-7, struck out 129, and had an ERA of 3.27 last year. Can he possibly do that again? Haven't we been asking that same question about him for years now? They've also got Edgar Martinez, who's putting the finishing touches on the first-ever Hall-worthy career for a DH. At age 40, Edgar posted an OPS of .895. He walked nearly 100 times, drove in nearly 100 runs, hit 24 homers and 25 doubles. At age 40.
You're going to hear a lot this year about the long-suffering Red Sox and Cubs, about what a great story it would be for one of them to finally reach the Promised Land. True enough. But there is nobody on either of those rosters, nobody on any team in baseball, more deserving of World Series glory than Moyer and Martinez. Should they stay healthy, and should the M's make a run, these guys not only deserve our love, they deserve our reverence.
And if you're not feeling the old guys, feast your eyes on young Joel Pineiro, whose bag of pitching tricks is deep and wide, and who ought to be primed for a year as the horse of the staff.
Oh, and this just in: The Mariners are, according to the Seattle Times, "seriously" thinking about making a move to get Junior Griffey back.
Prodigal son returns. Fallen hero looks for redemption. Snake-bitten star hopes to break free and clear into a deep blue patch of good luck. Phoenix rises from the ashes. I'll take all of that over the opportunistic grab of A-Rod, and the hunkering-down-for-a-war acquisition of Schilling, too. And so should you.
In San Diego, as you may have heard, folks are excited. They're excited about a pretty new ballpark tucked up against the San Diego Bay, which ought to make even the ugliest day on the diamond something to behold. They're excited about what Sean Burroughs looks poised to become. They're excited about a staff full of live young arms and the prospect of pulling a Marlins in '04.
They're even mysteriously excited about the new club logo, which looks like something off a bag of Hawaiian chips or a bottle of cheap gin. But I digress ...
What they really ought to be excited about is a full slate's worth of Brian Giles in '04. He and David Wells are both local boys who made good and came home. Wells' prospects are shaky at 40-plus (but the hometown faithful are hopeful, because that's just how they feel about everything these days; hell, they think Jay Payton's going to put up Coorsish numbers in Petco, but again, I digress ...), but Giles is a stone-cold professional hitter with gas in the tank. He walks twice as often as he strikes out, he hits for power, he pokes doubles all over the joint. He's easily the best unheralded player in the Bigs, and he's about to be let loose for a full season in the sweet sunshine of San Diego County.
I'll let him write the story, but here's the headline: Giles Wins NL MVP.
In Anaheim, I could say keep an eye on owner Arte Moreno, who looks ready to go toe-to-toe with John Henry and The Boss, and is always a threat to drop beer prices at the ballpark.
I could say watch out for Vladimir Guerrero, Troy Glaus, and Garret Anderson giving the heart of the Yanks' order a run for their money.
I could say pay attention to the chemistry experiment the Angels are running: Two new outfielders, two new starting pitchers, an All-Star third baseman back from injury, an outfielder at first base, and another DH-ing, and one big question: Will things pop or will they just go boom?
Or I could say you should pick a rooting interest in the struggle for shortstop between folk-hero David Eckstein and strong-armed comer Alfredo Amezaga.
Or I could even say the biggest story in SoCal this year will be watching the Angels win the hearts and minds of the Southland and outdraw the Dodgers for the first time ever.
In fact, I think I will say it.
All of it.
That's the way we work it out West: Broad and bold. Tune in.
Eric Neel is a regular columnist for Page 2.