By Eric Neel
Page 2
Editor's Note: When we decided to run an excerpt from Jeff Pearlman's new book "The Bad Guys Won! A Season of Brawling, Boozing, Bimbo-chasing, and Championship Baseball with Straw, Doc, Mookie, Nails, The Kid, and the Rest of the 1986 Mets, the Rowdiest Team Ever to Put on a New York Uniform--and Maybe the Best" we asked Eric for his thoughts on the '86 Mets. The following is his reply:
Hate 'em. Hated 'em then. Hate 'em now.
Seriously, will this team ever go away? Will the myth machine ever stop?
One little roller behind the bag and we're stuck writhing in the pits of Mets hell for all eternity? Forget the Red Sox suffering, damn Bill Buckner and Bob Stanley for that.
I'm sure Pearlman's a decent guy and all (Though I gotta ask: what's with the 417-word title? Is there an editor in the house?), but you could strap me down and clamp my eyelids open like McDowell in "Clockwork" and I'd never read his book.
I'm not rational about this. I hate the '86 Mets the way I hate Notre Dame, the way I hate Tom Cruise, the way I hate smug richies and their Atkins-outed wives and self-absorbed fat kids cruising the boulevard in Hummers.
I don't care if they did win 108 games, the team was lucky. Lucky to get out of Houston, lucky to get by Boston, lucky not to be considered the most underachieving waste of talent in the modern era. Couple of balls break the other way and we're talking about Mike Scott's 306 K's and 2.22 ERA and World Series heroics for the rest of our lives. Instead, he and I and everyone else with the temerity to think maybe, just maybe, the universe doesn't actually revolve around New York are buried under a mountain of Mets.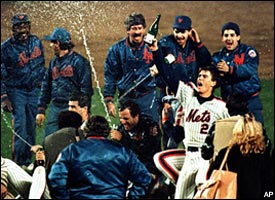 Even the World Series celebration was a disgusting, drunken affair on the pitching mound.
I swear I still see Gary Carter's smug Ivory Soap smile and Nellie Oleson curls in my sleep.
Howard Johnson's self-conscious scruff, like George Michael's on the cover of "Faith," is like a stain I can't get out of my living room carpet.
Keith Hernandez and his bustle-butt Mary Poppins stance, and his we're-not-going-to-win-so-I'm-going-to-slink-into-the-clubhouse-and-pout face, shows up on "Seinfeld" reruns and I want to throw a brick in the set.
Dykstra and those addled red eyes and beachball chaw ...
Yeah, Doc was great, but he was using. Yeah, Darryl was great, but he decided he'd rather piss it away than be a legend.
I'm tired of hearing what a great bunch of characters they were. They drank and smoked and tore up airplanes and spent money on hookers. This is supposed to impress me? This makes them charming? From where I sat they were just a bunch of cocky overdogs pretending to be tough.
The Yankees and their quiet confidence and constant winning are a bane, no doubt, but the rash of crap we've been fed for the last 18 years about the hard-living, hard-playing Mets being a team worthy of our worship is worse.
So they won. So what? They were supposed to win. Of course, they never won again.
Where's the book on the '88 Mets, the ones who got run over by a choirboy named Orel?
That I'd read.
NOTES FROM ERIC'S SCORECARD
MEMO
To: Ichiro
From: Disgruntled Mariners fans

For godsakes, man, mix in a double, would ya?

BRIAN GILES ALL-STAR
Sean Casey, 1B, Cincinnati Reds

Come August, when the Reds' balloon has gone pop like Liz Phair, don't forget to appreciate how good Casey has been. He's 29, which is on the old side, but we may be seeing the best of him this year, as he seems to have figured out how to hit longballs and doubles.

FACEPAINT UPDATE
A few days ago, I got the following note from Zack in Manhattan Beach, Calif.:

"hey neel you loser, dont forget about that moronic gaurantee you made about bonds 2 weeks into the season. Nothing like when moronic baseball fans hope on idiotic bandwagons and end up looking stupid. you better dress up in giants garb that weekend, i demand pictures!"

Thanks for taking the time, Zack. Always good to hear from a fan. And I dig the way you use the snappy, all-lower-case, wacky-punctuation, misspelled-words style. Fresh, exciting.

Anyway, yes, I know I'm on the hook for doing up the face all Giants-style if Barry doesn't hit .400 by the end of the season.

I also know he spent the last week going .444/.643/.833 and is sitting at .361 on the season with 110 games left to go. So I'm not exactly panicking yet.

Except about being a moronic loser -- as you might expect, that has me kind of worried.

TOUGH CROWD
The Aramis Ramirez nickname poll is closed and I'm afraid "Erromis" won out. I was rooting for "Brick" but I'm only one man with one vote.

Aramis is hitting .306/.356/.549 as of this morning, and he's made just three errors in 51 games so far, but I know you all like your puns, and a pun with a punch to the gut ... well, I suppose that's just too much to resist.

Vote in the Tom Glavine nickname sweepstakes in the poll on the right.

And send suggestions here for the Brewers' Scott Podsednik, whose name and game (24 for 25 in stolen bases!) are already off to a very good start.

OVER/UNDER
On Vlad Guerrero RBI tonight: 4
On Vlad Guerrero jerseys left at your local Anaheim Big Five: 0
On Vlad Guerrero for MVP columns written in August: 47
THE QUESTIONS
Do you hold onto your All-Star ballots when the sweet elderly ballpark employee comes up and down the aisle in the 5th inning so you can instead hand them to the hot-smoking-babe attendant who'll be coming around in the 8th inning? Do you vote your ballot by giving weight to single-year performance over sustained excellence? If Mike Lowell is outshining Scott Rolen just a little right now, for example, does he get your vote even though Rolen is the superior player?

And what about weird position stuff? Can you vote for Piazza as a catcher? Given that he's mashing like Emeril with a mixer and some Yukon golds, can you not vote for him? And given that he and Clemens could be the starting NL battery, what am I even talking about? Of course you vote for him.

HALL OF FAME?
The Big Hurt gets the thumbs-up last week. This week, we consider the fortunes of one-time-lock Roberto Alomar.
ON THE BOOKSHELF
"The Baseball Encyclopedia" by Pete Palmer and Gary Gillette

"Get black on white," that's Guy de Maupassant's famous advice to writers. Palmer, Gillette and their crack team do just that. The pages are jammed from top to bottom and out to the margins with data for junkies and casual fans alike. No wasted space, and lots of extra goodies, including whether players were later coaches or umpires, whether they are in the Hall, and whether they had family in the majors.

Run-support numbers, intentional walk numbers, cool fold-out ballclub history charts on the front and back covers -- it's all in there. And best of all, the book's a paperback steal at under 25 bones. Like my old friend Artie once said to me about the potatoes au gratin at the Golden Corrall buffet in Ottumwa, "This stuff here is good. You got to get you some of this."
Eric Neel is a regular columnist for Page 2. His "On Baseball" column will appear weekly during the baseball season.