By Eric Neel
Page 2
"In the United States today, we have more than our share of the nattering nabobs of negativity."
-- Vice President Spiro Agnew, 1970
Just this once, I'm with Spiro. Enough with the gloom and doom. Turn those frowns upside down. Direct your feet to the sunny side of the street. Because despite what you may have heard, the NBA Finals are not going to suck.
Look at the elements.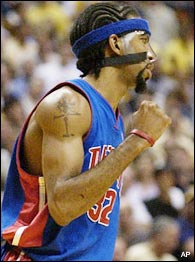 Rip brings his old school mask and his new school game to the Finals.
We've got a guy wearing a Lloyd Neal throwback facemask, which means we have nostalgia in the house. Plus, we have the fun of knowing every other player on each team is mocking him under his breath. And best of all, we have the delicious possibility of halftime interviews in which reporters have to pretend not to stare and have to somehow stifle the impulse to say, "Dude, you know you look freaky in that thing, right?"
We've got Rick Fox and Ben Wallace going heads-up for best hair of the season.
We've got Shaq making like the president of the Flat Earth Society with his I-make-my-free-throws-when-I-need-to-make-them explanations every night. Which -- forgive me, SG -- has got to be high on the unintentional comedy scale.
We've got GP having to find it one more time against a younger PG. I want to know: How badly does he want this thing? Against Parker, he wanted it badly enough to get up off the mat and play Ali to Tony's Spinks. Can he do it again? Because he's got to know, no matter how much dough he gave up to get it, the ring is going to look cheap on his finger if he lets Fisher carry the water. So what's he got? Aren't we due for a players-only meeting where Payton and Kobe say, "Forget Phil, let's do it our way," and the whole night is nothing but pick-and-rolls for Gary and Karl, and Kobe on kick-outs, and Payton making Chauncey Billups his b---h down on the blocks?
We've got Darko. Here's my theory: Larry has been sandbagging us. The kid's ready. He's shredding in secret practices against Ben and Rasheed. He's the X-factor. He's the first sub off the bench on Sunday night. Phil panics and puts Medvedenko on him, which is going to be like sticking Ricky Jay with the little old lady from Pasadena, and the Pistons are going to steal Game 1 and we're going to have a series. (I've been drinking too much of the Joe Dumars punch, sure, but wouldn't it be cool?)
NBA FINALS ON ABC
Game 1 : (Sunday): 8:30 p.m. ET
Game 2 : (Tuesday, June 8): 8:30 p.m. ET
Game 3 : (Thursday, June 10): 8:30 p.m. ET
Game 4 : (Sunday, June 13): 8:30 p.m. ET
Game 5: (Tuesday, June 15 if nec.): 8:30 p.m. ET
Game 6: (Thursday, June 17 if nec.): 8:30 p.m. ET
Game 7: (Sunday, June 20 if nec.): 8:30 p.m. ET
And we've got Kobe. 1. He's the very best player in the NBA. And it's not close. He's five inches shorter, but he's everything Garnett is and one nasty, spirit-crushing streak more. 1A. He's got no more than seven games of hoop life left before real life comes calling. The games have kept the trial at bay. But the courts bat last; and no matter what he's done all year and no matter what he does in this series, his legacy will be written in that verdict. It's too weird. I don't even know how you watch it. On the one hand, you're seeing a player you'll want to tell your kids about. On the other hand, you can imagine never wanting them to know he existed.
We know Rasheed is going to blow. He's been saving it. And with Milton Bradley setting the bar so high last Tuesday night, he's going to have to bring something special to impress us. He knows that. He won't disappoint.
We know Larry Brown is going to over-coach some night, and we know Phil Jackson is going to under-coach some night. And we're going to see it as it's happening, the precise moment at which it takes place. And we're going to scream at the screen, "Nooooo! Don't do it!" And for days, weeks -- hell, if we're Pistons fans, maybe for years -- afterward, we're going to feel that singular brand of sports-fan righteousness that comes with being right when your team is oh so wrong.
We know Phil is going to say something disparaging about Detroit. I'm hoping it's some backhanded Motown compliment: "It's nice, if you like that kind of thing. Soft, and light. I prefer the Memphis Soul Sound myself." And I'm hoping the mayor of Detroit authorizes a Supremes assault on the Lakers' hotel, the way George Sr. did on Noriega once upon a time.
And we know Tayshaun is gonna slap some shots silly. So is Ben, but you've got to like Tayshaun, and Hamilton, too. Skinny players, all elbows and angles, somehow looking pretty and ugly, weak and fierce at the same time.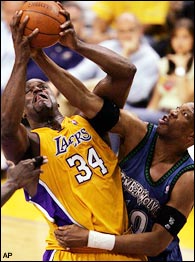 Shaq & Wallace? It's going to get ugly in the paint.
We don't know who's going to stop Shaq, even a little.
We don't know how the Lakers think they're going to handle Wallace. Hamilton, they can D-up with Kobe (though that's going to tire him out some, because the Pistons set picks like Stonehenge and Rip runs off them all night). But who takes Sheed? George? Malone? A young Mitch Kupchak?
We don't know whether Andy Garcia will be able to parlay these courtside-seat in-game shots into a much-needed comeback role. Will Tarantino be watching and think, "Hey, Andy Garcia's still alive. I'd forgotten that."
We don't know whether the Pistons are going to go big or small to try to offset the Lakers' inside-out thing.
We don't know if the Lakers will try to go old, to slow things way down, all Chris Mullinesque and in an alternate sense of time, as a way maybe to combat the Pistons' habit of being quick to the ball and busting butt on defense.
We don't know whether Detroit's in-your-grill, forearm-shiver approach will get the Lakers amped up and firing on all cylinders; and we don't know whether that means maybe we'll see something, however briefly, that's truly great, that's got all the edgy, on-the-line drama of something like Hagler-Hearns. Something like the Pistons and Pacers pulled in Game 2. Something like the Lakers and Kings pulled in the Western Conference Finals in '02. It doesn't have to be pretty, just intense. Some cocktail of Kobe's deep repression, Shaq's outsized pride, Brown's decades-long desperation, the Wallaces feeling that they don't get enough respect, a couple of role players making a couple of plays, and a couple of shooters trading shots like Alexis and Crystal scrapping in the pool in evening gowns. That's all we need. Just a convergence. A spurt. A flurry. A stretch when the fight is a fight.
And I don't care what you say. It could happen.
Eric Neel is a regular columnist for Page 2. He will file daily from the NBA Finals, and his "On Baseball" column appears weekly during the baseball season.