By Eric Neel
Page 2
LOS ANGELES -- Make no mistake, the sun rises and sets with Kobe Bryant. The stone-cold three, the proud beating on his chest, the way he made overtime his own personal clinic on the running jumper ... it's Kobe's world, brothers and sisters. We're all just visiting.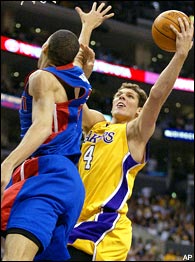 Rookie Luke Walton showed no fear in Game 2 against the Pistons.
But young Master Luke Walton, he's the guest of honor.
"You can talk about my shot all night long," Kobe said Tuesday night. "But Luke had a monster game for us. Without Luke in the game, we wouldn't have been in that position."
You knew going in they needed a Game 2 spark. You knew Kobe and Shaq were going to do their thing; but you knew if the Lakers were going to even the series, somebody else had to bring it, too.
Your money was on the old lion. On GP. He was a Nowhere Man in Game 1. He was a ghost on the off day, telling the press he'd be back "in a minute" and slipping out the back door. So he had much to prove on Tuesday night, and he's the kind of guy who's always liked it that way.
He'd come to L.A. for just this night, for just this moment. When the Staples Center sound system blared Van Halen's "Right Now" during pre-game introductions, you figured it was Gary's anthem. When you saw him walking and dribbling slow and easy during warm-ups, with his chin cocked high and defiant, with his swagger echoing the old days, you figured he was about to bust out. You figured, like Dylan Thomas, he was set for some raging against the dying of the light.
"Payton is the X-factor tonight," Charles Barkley told you before the game. "He's got to be. He's got to force the tempo, speed this team up, push the ball." Barkley said Malone was tired after going heads-up with Duncan and then KG. He said Game 2 was on Gary. You thought so, too.
But the old lion didn't have it in him. He dug deep and came up empty. There were glimmers, and he was hawking when he was out there; but in the end, his X marked no spot at all. The game seemed to move past him and around him. He was never anywhere near its heart.
NBA FINALS ON ABC
Game 1 : Pistons 87, Lakers 75
Game 2 : Lakers 99, Pistons 91 (OT)
Game 3 : (Thursday, June 10): 8:30 p.m. ET
Game 4 : (Sunday, June 13): 8:30 p.m. ET
Game 5: (Tuesday, June 15 if nec.): 8:30 p.m. ET
Game 6: (Thursday, June 17 if nec.): 8:30 p.m. ET
Game 7: (Sunday, June 20 if nec.): 8:30 p.m. ET
"There comes a time, when you get older," Bill Walton had told you before tip-off. "Your body just can't cash the checks your mind is writing. You don't know when it's going to come, but it happens to everyone."
You watched the old lion scramble to stick to Chauncey Billups. You saw him reaching in and getting caught. You saw his shots go clang in the night, and you thought, "It's happening. This is it. The time has come. The Glove is dead. Long live The Glove." And when David Steele of the San Francisco Chronicle quipped, "If The Glove doesn't fit, Payton must quit," and the press box busted up, you were sure of it.
"It's not a good feeling for me," GP said in the locker room afterward. "I am not really used to this."
It is a sad thing.
As Hemingway once wrote, the end of something always is.
But the end of something is the beginning of something, too, and for all the creaks in the bones of the old lion, there was also the Walton kid, looking like Tigger, hopping all over the joint, making plays and taking names.
"The pressure can shrink you," his dad had told you. "But the great players rise up to it. They play to their abilities when it's the most intense."
He was talking about the old lion when he said it. But by the time Game 2 was over, his words and the future belonged to his boy, to the young lion.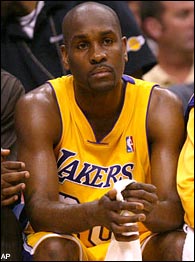 Gary Payton's best days are clearly behind him -- and he knows it.
You watched the young lion take the floor like a kid let loose for recess, like a dog off his leash at the beach. But it wasn't just exuberance he brought. He played with purpose and vision. He played like you'd imagined Payton would play. And then some.
You saw him cut hard to the hole and get a lay-up early. You saw him drive the lane like no Laker had done in all of Game 1, and kick back out, like he'd planned it all along, to a ready-and-waiting Kareem Rush for three. You saw him drain his own three, and heard the crowd's chant of "Luuuuuuuuuke" ringing in your ears. You watched him grab a board in traffic and go, the way Chick used to say, "coast-to-coast" for the lay-up.
You saw how he found Shaq with touch passes and quick looks again and again; and on one acrobatic little wrap around Elden Campbell's trunk, you saw him find the big man for a big, juicy dunk. ("He's a great player," Fu said later. "It amazes me how he can give me the ball, and guys that have been playing with me four, five, six years can't give me the ball.") In OT, you saw him toss an alley-oop to the big man that was a soft floating thing of hot-air-balloon beauty.
You saw all this and you thought, "It's happening. This is it. The time has come. The kid's becoming a star. Right here. Right now."
The crowd went crazy for the young lion last night. His teammates got up off the bench whenever he came off the floor, shouting his name and slapping his back. His coach raved about him, calling him the "player of the game" on a night when Kobe went for 33 and drove a last-second dagger deep into Piston hearts. And the press box marveled at him, reading his stat line aloud like Ed McMahon calling out the total on the tote board.
"He's got seven points, five assists, and three rebounds in 12 minutes."
"He's got seven assists now, and two blocks, in 22 minutes."
We all loved Luke like a newborn baby, which is exactly what he was. He was taking shape, breathing the heady air of primetime for the first time, right before our eyes.
It was a sweet thing. It was the kind of thing that you'll keep with you weeks, months, and years from now.
You'll keep Kobe's shot, too. But that youngster is so good he seems old by now; and his feats, spectacular as they are, seem like old hat. But what the young lion did last night ... there was so much delight in it, so much surprise, and so much cool.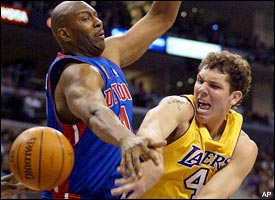 Luke Walton dishes the sweet wraparound pass to Shaq.
And it changed everything. It wasn't like Rush's rush of threes against the Wolves. It had dimensions and depth that didn't have.
Seven points, eight assists, five rebounds, and two blocks.
That's not a spark, that's a house of fire.
That's Dennis Leary saying, "I'm knocking on the door and I'm coming in."
That's the knowledge that we've seen Luke's last "DNP-coach's decision" in this series, and maybe ever.
And so there he was at the head table in the interview room after the game, wearing a shy grin, fielding questions, and soaking up the moment.
You looked at him up there and you thought about GP, too. They were linked last night, the one setting and the other rising. The moment Gary couldn't seize becoming, in bust-out second and fourth quarters, the minutes in which Luke staked his claim.
Kobe's run in the closing seconds and into the overtime was thrilling, but it was the old and young lions who had you thinking about Jim McKay's old line. It was their night that had the human drama of athletic competition in it.
Eric Neel is a regular columnist for Page 2. He will file daily from the NBA Finals, and his "On Baseball" column appears weekly during the baseball season.