By Eric Neel
Page 2
AUBURN HILLS, Mich. -- Don't call them the Bad Boys or the Bad Boys II.
Don't be lazy. Don't disrespect them like that. That's not who they are.
Yes, Dumars and Salley were here with cigars in their mouths. And yes, Laimbeer, Mahorn, and The Microwave were shouting and smiling when the trophy came out.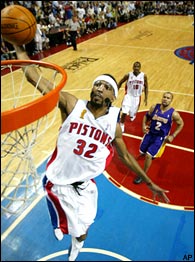 Rip Hamilton continued his smooth, sweet play in Game 5.
But this ain't that team.
Don't get me wrong. These new boys are bad, all right, the way Aretha's voice, full of deep reserves and great reaches, is bad. The way Shaft, with his constant cool under pressure, was bad.
But they're not nasty or thuggish. They don't slam opponents to the floor. The forearm shiver is no part of their game. They're not looking to scare you (unless seeing guys coming at you in waves and watching them move the ball like it's kicking around a pinball machine scares you ... and it should).
These guys are sweet.
Rip Hamilton was hit hard by Gary Payton Tuesday night, but he didn't take the bait. He just kept moving, doing his slashing thing and pouring in his 18 points. Tayshaun Prince got his bell rung by Shaq early in the game. His response? Get up. Hitch up his drawers. Play some smothering defense. Score 17. And rip 10 balls off the glass.
And when it was over, their locker room was jubilant, but not wild. Rasheed Wallace sprayed a little champagne, but he was holding his baby daughter, too, showering her face with kisses. Corliss Williamson just stood there smiling. Larry Brown walked the hall, almost too tearful to speak.
Sweet stuff, on and off the court.
The Bad Boys could play, no doubt, but their game came with all kinds of extracurriculars. They wrestled the trophy away from the Lakers.
This year's Pistons just took what was rightfully theirs. Picked it clean.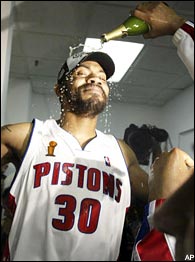 Rasheed Wallace enjoyed a little champagne shower after the game.
So Bad Boys II won't do.
This crew deserves a new nickname, something all their own.
And don't give me Ministers of Defense, either, because that's only half the story.
No, give me something else. Give me ...
The Choir Boys, maybe, because they were on their best behavior throughout this run and it wasn't an act. Yeah, 'Sheed's got a history of blowing up at the refs, but don't we all? And I'll tell you what else he's got: a UNC pedigree, a sense of the moment, and a locker room full of fellas who think he's one of the best teammates they've ever had. Yeah, Chauncey's bounced around a lot, but if you don't think he's maturing into a point guard and a leader, you're not paying attention. And did you see the way they handled themselves in the moments after Game 5 ended? The speakers were blaring, the crowd was rocking, the confetti was falling, and there the Pistons were, every one of them, taking time to hug the Laker players and whisper words of encouragement and respect. People make a big deal out of the hockey tradition of shaking hands in a lineup after each game. This was even more impressive, because it was spontaneous. So yeah, Choir Boys fits.
Or we could call them The Love Train instead. Their team unity wasn't just design or strategy, it was a thing they felt, a thing you could feel watching them. You could see it this week in the way they laughed with each other in practice. You could feel it in the way Larry choked up talking about their connection to each other. It was there when the players talked about sacrifice, and about devotion to the man standing shoulder to shoulder with you, too. Yeah, Love Train is a nice call. But you know, that's an old O'Jays thing, and the O'Jays are a Philly thing. This is Detroit Rock City, so we need something else.
How about Rasheed's nickname for Brown, Pound-for-Pound (LB, get it?)? There's a certain boxer's toughness in it that feels right, a certain Roy Jones Jr., or better yet, Tommy Hearns, quality to it. Because this team is tough, and resilient, and they pack more punch than you think they might when you first look at them. But Pound-for-Pound is such a perfect label for Brown, I think we'd best leave it on him, and come up with something else for the team as a whole.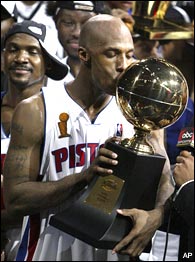 Who would have thought it -- Chauncey Billups, NBA Finals MVP.
Maybe we should call them The Extras, as in the roster's full of mugs other teams let go, as in always making the extra pass, as in always giving the extra effort, as in "Extra! Extra! Read All About It!" As in this looked like the Lakers' stage, but they came from out of the shadows and stole the show.
Or maybe Old School. ... Once upon a time, the game was a team game. Once upon a time, fundamentals were the heart and soul of it. Once upon a time, there was a shared ball on offense and a shared responsibility on defense. Last night, and in each of the last five games, it was that time all over again. We've got retro jerseys and throwback sneaks, now we've got a world champion from back in the day, to go with them.
I like Old School, but I like something simple that came from the Palace PA, too. When the Pistons would force a Lakers turnover, which happened about every seven seconds it seemed, he'd get on the mic and shout, "Deeeeeeeeetroit Basketbaaaaaaaaall!" and the crowd would go nuts and the building would shake with the noise of momentum. Only it wasn't momentum swings that typified "Detroit Basketball." It was a thing that was always already there, a thing that came in waves, a thing that came like the wind comes, rushing down from Canada with a steady vengeance. The Pistons were that wind in this series, always pushing, always coming. There were times last night, especially early, when you thought maybe the Lakers would flip the switch and come with their own surge, but they needed the Pistons to ease up, just for a second, to make that happen, and Detroit never did. That's Detroit Basketball.
And that's a good name for these guys, but it's not my favorite.
Here's my favorite:
The Story.
As I wrote early in the series, the Lakers were the story when this thing got started. And they were still full of stories when it ended. Where will Kobe end up? Is this the end of the road for Phil, Karl, and Gary? And make no mistake, after a flat effort in Game 1, they played hard and played bravely in the face of injuries and an opposing team that was young and hungry in this series. They busted their butts and tried everything they could think of, from springing young Luke to relying on Slava. But at the end of the day, at the end of the series, the Pistons were The Story.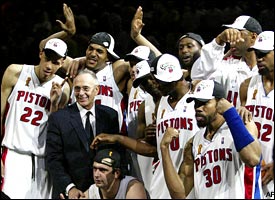 The Detroit Pistons are indeed "The Story" of the sports world.
Forget Western Conference superiority and Los Angeles glamour. Forget superstars and Zen Masters. Forget what the Lakers did or didn't do, and did or didn't do to themselves. Remember these things instead: The Pistons' defense was as good as any we've seen on this stage in the last 30 years; the Pistons' offense, with its constant quick passes, effective screen-and-rolls, and clutch shooting ripped gaping holes in the Lakers' D and then drove right through them; the Pistons' coach had his team prepared, kept them both motivated and level-headed, and, other than a last-second gaffe in Game 2, didn't make a wrong move all series; the Pistons' GM is about one move away from teaching seminars and selling books and tapes on the secrets of his genius; the Pistons' players executed, stayed humble, were never satisfied and played, as one understated sign in the arena last night put it, "48 Minutes of Balanced Basketball"; the Pistons crowd brought the noise early late and often, treating every basket and rebound like a gift from the basketball gods.
They were better. In every phase and at every turn.
They, not the Lakers, were The Story.
Remember that when you read the stories about last night. And think about how theirs isn't just the story of last night but the story of their times throughout the world of sports. Think about the Angels' scrappy bunch putting the bat on the ball and putting the Yankees and the Giants out of their misery. Think about the Patriots' collection of role players, every one of them with two rings on his fingers.
Think about team uber alles, and about how The Story, with their emphasis not on superstars but on cohesion and commitment, might just be the story for a long time to come.
Eric Neel is a regular columnist for Page 2. He filed daily from the NBA Finals, and his "On Baseball" column appears weekly during the baseball season.