By Eric Neel
Page 2
The key to an enjoyable NBA draft night experience is not in the player your favorite team picks, nor in the quality of the beer you're sipping while they call his name. The key is the cross-talk, the banter that goes on between you and your buddies while Stern is strolling to the podium.
With that in mind, the following is a team-by-team, pick-by-pick guide to the first round, just to get you started ...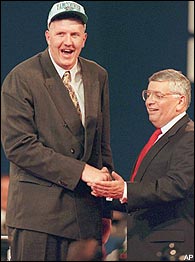 There's only one Big Country.
1. The experts say Orlando will go with either Okafor or Howard in the one-spot.
You say: It doesn't matter, they're going to swap the pick for Penny Hardaway and some future considerations, anyway.
2. The smart money says Charlotte takes Orlando's leftovers, probably Howard.
You say: He's big, but he ain't no Big Country.
3. Some say Chicago picks Luol Deng. Others say it's Andre Iguodala.
You say: What they ought to do is pick Eddie Curry's tired ass up off the floor and remind him that the season is 82 games long in the Association.
4.
The pundits are divided on the
Clippers
. Some say it will be Peoria high-school baller
Shaun Livingston
; some say UConn PG
Ben Gordon
is the pick.
You say: What I want, just once, is for Stern to approach the mic and say, "I've got a prepared statement here from Elgin Baylor that I'd like to read: 'The Clippers decline to draft a player with the fourth pick in the 2004 NBA draft. We feel we've done enough damage over the years.'"
5. Word is the Wizards will go with Deng if he's still available, or maybe Iguodala or Stanford's Josh Childress if he isn't. Your word is: Whoever makes Kwame feel better about himself. We just want Kwame to feel better about himself. Is somebody with Kwame right now, by the way? Can somebody give Kwame a hug? And now the late word is the Wizards have traded the pick to Dallas for Antawn Jamison. We're just going to assume Kwame was consulted.
6. The Hawks have the sixth pick and they might be thinking Gordon or high-schooler Josh Smith.
Meanwhile, you'll be thinking: This will only work if they can trade the pick, Bobby Sura, and a Lou Hudson throwback jersey to Memphis for Hubie.
7. It was Phoenix's pick yesterday. Today it belongs to Chicago. Devin Harris? Ben Gordon? Just so long as there's a no-motorcycle clause in the contract, you say.
8. Toronto holds the eighth pick in the draft. Maybe it's Gordon, maybe it's Harris, maybe it's 7-foot-5 behemoth Pavel Podkolzine.
To you it's just this: Are they still wearing purple? Call me when they're not wearing purple.
9. The Sixers like Childress and Andris Biedrins out of Latvia.
You like saying: Childress is what, 6-7? That's about where I put the over/under on days until AI and O'Brien go heads-up.
10. Cleveland is looking at Biedrins, too, or maybe swingman Luke Jackson out of Oregon.
You wonder aloud: Aren't we way, way overdue on a Foots Walker bobblehead night?
11. Chad says the Warriors are likely to go with Podkolzine here, if he's still available.
You say: With the first pick in the 1980 NBA draft, the Warriors select Joe Barry Carroll from Purdue University.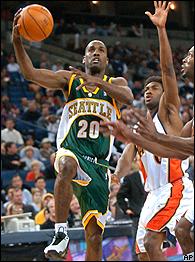 Gary Payton in a Sonics uniform seems like a long, long time ago.
12. Seattle holds the 12th pick.
Your line: Seattle ... Payton used to play for them, right?
Your buddy's line: Who's Payton?
Your other buddy's line: Quarterback for the Colts.
Your buddy's buddy's line: No, you're thinking of his brother.
13. Portland is thinking about Luke Jackson or maybe Sebastian Telfair.
You're thinking: Portland ... that's up by Seattle, right?
Your buddy's thinking: No, you're thinking of Vancouver.
Your other buddy's thinking: Ah, Vancouver. You know, Jackson's big, but he's no Big Country.
14. Utah picks here.
Your line: Andrei Kirilenko is the most under-rated player in the league. (Every once in a while, you have to play it straight, just to maintain your cred.)
15. The Celtics are reportedly looking at BYU center Rafael Araujo and high-school center Robert Swift.
You, like you do every year, observe a moment of silence in honor of Len Bias.
16. Utah is also interested in Araujo.
You're interested to know what this means for Greg Ostertag. And what about Greg Dreiling? What does it mean for him?
17. Atlanta picks again here.
You're done talking about the Hawks, so you go with: Prime-time, White Shoes, or Vick? Who's the most exciting Falcon of all-time?
18. The New Orleans Hornets might be interested in high-schooler J.R. Smith, or they might be looking at Minnesota freshman Kris Humphries.
You say: No, seriously, Tim Floyd got a bad rap.
19. The Heat have this spot.
You say: Did you know the Heat, Jazz, and Magic are the only mascots whose names are in the singular in all of the NBA, Major League Baseball, and the NFL, combined? (As punishment for this, your buddies make you go to the fridge for the next round of beers. But you were ready for a break anyway.)
20. Denver hopes J.R. Smith is still here, or maybe Peter John Ramos.
You hope they realize Jeff Bzdilik lost this team a long time ago.
21. The Jazz are back at No. 21, and you've held off a long time; but finally, you have to ask, "When they say Utah 'Jazz,' they're talking about that Kenny G stuff, aren't they?"
22 and 23. Both to Portland. One for a center and one for a drug counselor? One for a point guard and one for a conflict-resolution advisor?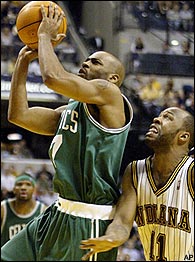 Can you imagine Chucky Atkins and Jamaal Tinsley in the same backcourt? Danny Ainge can.
24 and 25. Boston.
You say: You figure Danny Ainge is trying to swap the two picks for Chucky Atkins, and he's stumped because he just realized he already has Chucky Atkins, so now he's starting to think maybe he needs to trade Paul Pierce and Atkins to the Pacers for Jamaal Tinsley and Austin Croshere, and then trade the two picks to get Atkins back.
26. Sacramento Kings.
You say: I hear the Tin Man is available. He's got a heart.
27. The Lakers go trolling here for some young legs.
You say: Best line from Finals press conferences, bar none. Phil Jackson to reporters before Game 5: "Slava's got game. Slava can do some things."
28. Chad says the Spurs might go with Colorado center David Harrison.
You say: Parker's nice and all; but if they'd made the Kidd deal, aren't we talking about dynasties and parade routes right about now?
29. Maybe Indiana wants Kevin Martin out of Western Carolina, or Beno Udrih from Slovenia.
Maybe, you say, what they ought to be thinking about is drafting Dr. Phil. Ron needs some anger management, Jamal needs to change his eating habits, Reggie needs to learn when to let go, and Jermaine needs some tough love.
All right. These are just suggestions, just some stuff to get you in the mood. Use them as kick-starters and have fun tonight. Even if your team pulls Sam Bowie out of its backside and sends you screaming out into the night ...
Eric Neel is a regular columnist for Page 2. His "On Baseball" column will appear weekly during the baseball season.