By Eric Neel
Page 2
My mom makes a world-class cranberry sauce. People who don't even like cranberry sauce can't get enough of it. The key is her special ingredient, a quarter-cup of brandy, stirred in with about 10 minutes of cooking time left. If she didn't tell you, you wouldn't even know it was there, but it makes all the difference. It adds a sweet mellow something against the acidic edge of the berries, a fullness and warmth. Without it, the sauce is unremarkable, the sort of thing you shove down your gullet along with a buttered roll just because it's there. With it, the sauce is like a poem, a thing to be considered, a thing to be savored. With it, the sauce is cause for celebration.
It's the same way with teams in the playoff hunt. The key to a run at the flag isn't only in how your frontline players perform; it's also in the special ingredients. It's in the little things, the unheralded additions that can put you over the top.
Let's run 'em down.
The '04 Yankees? I don't care how much they hit, they're nowhere this year without Flash Gordon and Paul Quantrill. Nowhere. Gordon, whose cruel curve debuted back in the days when Dukakis was joy-riding tanks, has pitched with the heart and arm of a young stud (2.35 ERA, 76.2 IP, 80K, and just 21 walks). And Quantrill, who throws pitches as funky as his name, works eight days a week and gives up runs about as often as Nicholson hands out autographs (76 appearances, 87 IP, 37 earned runs), is the glue.
Sheff's been great, and Matsui's been a horse. A lot of people talk about the pinstripe mystique. And everyone knows the team is bound and determined by some sort of Jungian collective loathing for the Bossman. But without the Gordon sugar and the Quantrill spice, this team doesn't cook.
The special ingredient in Boston is tougher to pinpoint.
Is it just that giddy feeling that comes from running Balki Arroyo out there for 24 starts, and the artist formerly known as Derek Lowe for another 28, knowing your offense is good enough to cover them and then some? Is it the pride that comes in knowing your GM has officially become the world's most recognizable Theo, surpassing Theos Philopater, the one-time Macedonian king of Egypt, and Malcolm Jamal-Warner, the one-time Huxtablean prince of bad fades?
These things are nice. They provide a certain glow, a certain post-convention bounce. But they aren't enough to sustain a team through a full season. For that, the Sox have turned to Jason Varitek. You remember Mr. Varitek from Georgia Tech, the guy whose goatee broke Alex Rodriguez's nails, the guy who was real good last year (.273/.351/.512, with 25 home runs and 31 doubles) and is even better this year (.309/.402/.504, with 17 home runs and 25 doubles)? Don't forget him. He hits in the five-hole, right behind Manny; and his numbers in that spot (1.029 OPS) look an awful lot like the MVP candidate's do. And according to Baseball Prospectus' Value Over Replacement Player measure, he's the fourth-best backstop in baseball this season.
Meanwhile, the Twins are dusting the AL Central. And when you ask yourself how they're doing it ... again ... you've got to look to Joe Nathan's emergence as a closer, Justin Morneau's slugging .558 (which is just slightly ahead of Doug Mientkiewicz's pace), Lew Ford being Lew Ford, and Shannon Stewart and Torii Hunter putting up decent, if not spectacular, numbers. All key indgredients, to be sure.
But the little something extra for this team? I'm just guessing, but my money is on the tiny wire that runs from the transmitter hitched on Ron Gardenhire's belt, the one that pipes in the voice of Tom Kelly, all Cyrano de Bergerac-like.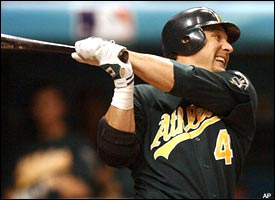 Erubiel Durazo has become a potent part of the Oakland lineup.
In Oakland, where nothing has been bigger than Eric Chavez figuring out that he can hit lefties just fine (the same way my daughter realized last week that she actually DID like green beans), the only thing that's come close has been the free-at-last coming-out party thrown by Erubiel Durazo. Durazo was everybody's favorite hitter-in-waiting when he languished behind Mark Grace in Arizona; and it took him a while, but it looks like he's finally putting those days behind him now (.320/.389/.531, with 21 home runs, 30 doubles, and 78 driven in). On a team that counts days on the Jermainian Calendar (composed not of weeks or months but of beginnings and endings of DL stints), he's been the difference.
In Anaheim, the difference between finding a golden Wonka ticket to the playoffs and warming up the HD, may well be in whether they decide to do the right thing and publicly and brutally excoriate the damn rally monkey, right out there on the field, in front of the kids and the kooks. Yes, there will be wailing and lamenting. Yes, some youngsters will be traumatized. But if they're smart, Moreno and Co. will realize that kitsch will get you one title and no more. If you want a dynasty, if you want to bathe a second time in the championship waters, you have to come with pathos.
(This, by the way, was the real, but under-reported, reason for the Marlins' post-'97 fire sale. Huizenga knew he needed pain to get the team and the town back to the promised land. It's Old Testament stuff. Look it up.)
Short of the monkey-killing, the key ingredient for the Angels has come from Scot Shields, who, despite being one T short of a full name, has somehow found the strength to strike out 98 hitters over 92 innings, with an ERA of 3.42.
Here's an idea: Have Shields cut open the monkey.
On the NL side ...
In Atlanta, where Leo Mazzone, like Paul Cicero, usually does all the cooking in the joint, the extra flavor has come this year from two old hitters.
Eli Marrero, a 30-year-old catcher by trade, is having the time of his life (.336/.394/.555 through 211 ABs) playing left field.
And Julio Franco, a man born the year the Dodgers moved out of Brooklyn, a man best measured in rings around his trunk, a man the Pope is seriously considering naming the patron saint of mid-life crises, has somehow managed to drive in 49 runs and collect 84 hits and 31 walks in 272 ABs.
That isn't a special ingredient; that's freakin' pixie dust. That's the anointing powers of Ponce de Leon's long-lost Floridian pool, is what that is.
St. Louis ... what am I going to say about St. Louis? I'm going to tell you they are where they are, leaning into the wind with Leo DiCaprio, because of some small addition? I'm going to tell you it's been anything other than the Three Amigos of the Apocalypse raining The Rapture down on unsuspecting pitchers' heads night after night?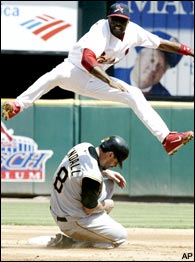 Tony Womack has helped St. Louis leap to the top of the major leagues.
No. I'm not going to say that. But I will say this: Tony Womack's year puts Travolta's there-but-for-the-grace-of-Quentin comeback and Johnny Cash's late-career resurrection to shame.
In Chicago, things haven't gone according to plan. Prior and Wood were supposed to anchor the staff. Instead, it's been Zambrano and Clement. Sosa was supposed to be Sosa. Instead, he's been Carlos Delgado.
But some things have gone better than expected (cue the Aramis Ramirez highlight reel), and one of them is Corey Patterson's comeback year, after an ACL tear. He's found some pop (28 doubles and 21 home runs is a career high), and is stealing some bases (27 so far), and his 4.9 fielding Win Shares put him third among NL center fielders, behind only Jim Edmonds and Andruw Jones.
The Dodgers' little engine that could is named Cesar Izturis. He plays defense, too. In fact, until this year, that's about all he did. But this year, he's doing a little something more. He's stealing bases, and hitting for average, and he's driven in 50 runs, just like a real baseball player or something, and he's playing the prettiest shortstop you'd ever want to see.
I suppose the secret ingredient here is actually whomever it is that's turned Sr. Izturis around.
Some may point to Dodgers hitting instructor Tim Wallach. At the beginning of this season, Wallach replaced Jack Clark, who had mysteriously been hired to coach Dodger hitters even though his Tom-Niedenfuer-is-my-b---h home run for the Cardinals in the 1985 NLCS is one of the darkest moments in Dodger history. Having Clark in the dugout was like having Juan Marichal act as John Roseboro's anger-management counselor. It didn't compute. So Wallach was surely a key addition this year. But I've gotta say, until he loses the game-day wrap-around specs, the ones that make him look about as hip as Les Nessman doing the Funky Chicken, there's no way I can give him credit for anything.
As for the Giants, after Barry and Schmidt, there's really only been one guy worth talking about.
J.T. Snow has been hurt a lot (he's played 89 games and had only 299 at-bats), including a nasty run-in with some sort of bug that caused his elbow to blow up like Lindsay Lohan. But when he's been there, he's been good. Really good. .410/.515/.649-since-the-All-Star-Game good.
Meanwhile, down in Houston, where the bats have awoken like Neo and a 12-game win streak just might push both Oswalt and Clemens back into the NL Cy Young discussion, the extra added oomph comes from Brad Lidge.
Lidge struck out four Brewers earlier this year (with the bases loaded, thank you very much), and he's struck out 129 hitters in 80 innings on the way to 21 saves so far.
All of which is great. But what really makes him special is his flailing delivery. He walks off the mound like Kramer, leaving the hitters looking like the Reverend Jim Ignatowski.
And finally, because, like Marian Andersen singing "Get On Board Little Children," the NL wild card race seems to just keep spreading its arms wider and wider, we will end now with nods to the special ingredients for the 2004 Marlins and Padres ...
In San Diego, I'm going with Scott Linebrink. I'm doing this because the guy is 7-1 out of the pen, with a 1.93 ERA over 74.2 innings. I'm doing this because he's struck out 76 hitters in those 74 innings, and walked just 21.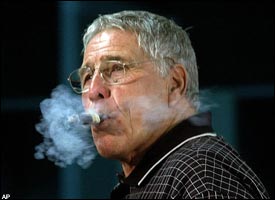 Jack McKeon's victory cigar -- the secret to Florida's success?
And most of all, I'm doing it because someone asked me on the radio the other day to name the most under-reported story in baseball, and I've been kicking myself ever since for not saying, "Scott Linebrink's spectacularly good season in San Diego."
So now I've said it. That feels better. Thanks.
Which brings us to the Marlins.
Pavano has been huge, too big to be called a special ingredient, really. Cabrera and Lowell have been stalwarts. Paul Lo Duca's heart is, of course, removed from his chest and sitting atop a pedestal in the Marlins locker room, beating steadily and loudly, setting the pace, and inspiring all who come within earshot.
But the something extra for this team is ... I think I'm supposed to write a little paean to Juan Pierre right here, and I know I should say something about Armando Benitez (see note below), but I'd really rather talk about Jack McKeon and his magic cigar, if you don't mind.
Here's the thing about cigars: They're like Mohawks, Hummers, and flipped middle fingers. They're signs painted on your chest that say, "I don't give a damn what you think of me; this is what I like and this is what I'm like. Deal with it."
I don't think you can put a price on how much that cigar means to the guys who play for Jack. If Pierre is worth, say, six wins a year, the cigar is worth seven. Easy.
* * * * *

NOTES FROM ERIC'S SCORECARD
BONDS NUMBERS OF THE WEEK
My buddy Andy wrote the other day to say that his favorite Bonds stat was RC/27 (Runs created per 27 outs, which estimates how many runs a game a team made up of nine of the same player would score). Bonds' number is 20.78 (the next closest guy is Todd Helton, whose number is 10.78); so, as Andy said, "That'd be a pretty good team."

Indeed. And here's another good measure: An MLB Salary Estimator, courtesy of sabernomics.com. You put in a player's average, OBP, slugging percentage and years in the league, and this handy little toy figures out his market value.

Adrian Beltre, for example, in the middle of his bust-out season, is only worth about 800K more than he's currently making. Barry, on the other hand, at age 40, and already raking in $18 million per, is underpaid by $7,116,025.

That's right. The Giants are stiffing him.

BRIAN GILES ALL-STAR
A spot reserved for unheralded greatness

Armando Benitez, RP, Florida Marlins

Speaking of contracts, the Marlins got a bargain when they signed Benitez to a one-year, $3.5 million deal. He's been every bit as good as Gagne, and better than Rivera. The ERA (1.03 over 61.1 innings) is Gibsonesque, and the save total is third best in baseball.

As my friend Rob Neyer asked last night, "Why is nobody talking about Benitez as a Cy Young candidate?"

Is it because he's made some bad pitches at big moments in the past? Is it because he was a wild-at-heart Met once upon a time? Is it because they gave a reliever the Cy last year, so they won't do it again this year? Is it the damn teal fish on the cap?

Let's put it to a vote: Whom would you pick as the NL Cy winner? Make your choice in the alphabetically arranged poll to the right.

NICKNAME REDUX
All right, we've been away from it for a few weeks. We've all had a chance to cool off. The hard feelings following the Lion of Alameda County smackdown incident have died down, I hope.

So let us return to the nicknaming of deserving but handle-less ballplayers.

And as we do, let us remember, courtesy of "The New Bill James Historical Abstract," a time when men were men and nicknames were nicknames, and let us be inspired by that time. Let us think on "Dinty" Barbare, "Slats" Blackburne, "Deacon" Scott, "Ripper" Collins, "Snooker" Arnovich, "Baby Face" Breuer, and "Bobo" Newsome.

This week's honoree: Lance Berkman, Houston Astros.

Beware: Punny suggestions will be ignored.

All right, send 'em in.

DELIGHT
I've got no special attachment to the Twins, but good Lord, it's fun watching Johan Santana pitch these days. Balls dart and cut in perfect, unhittable streams, like he's rolling them down grooved tracks, like he's programmed them more than pitched them.

A great hitter's swing is a marvelous thing, but it happens so fast you end up appreciating its outcome and echoes (where the ball ends up, whether and how the bat finishes high or low) more than the swing itself. With a pitcher who is truly dealing, with the distance and time between the mound and the plate, there's a chance, however brief, to see the miracle in the thing.
Eric Neel is a regular columnist for Page 2. His "On Baseball" column appears weekly.