By Eric Neel
Page 2
Dear Baseball Fans,
We know you're busy right now. We know the earth revolves around Boston. We know New York is the center of the universe. We understand we can't compete with the rivalry and the curse. We're just the Cardinals and Astros, after all, we're just Middle America, just the backup band for the big show. All we have to offer in our little old series is ...
The best team in baseball going heads-up with a back-from-the-brink, riding-a-wave team the likes of which we haven't seen since, oh, about 1978, actually.
A club playing for its spot among the immortals, a club unafraid to go toe-to-toe with this year's incredo-stuff Sox lineup, a club going Leary on the '27 Yankees: "We think you hear us knocking, and we're coming in, and we're taking your nickname with us."
A team snakebitten, still aching from close calls in '80 and '86, now playing with house money, playing with the "Not sold in any store" super juice that comes from putting down your rivals, your demons, and your rep. These are the new Astros, folks, fresh for '04.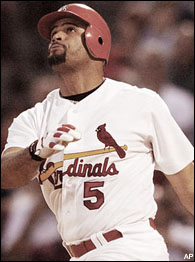 Baseball should put its marketing muscle behind Albert Pujols
A 24-year-old kid named Pujols, who led all of baseball in extra-base hits, and ran a close second to a certain San Francisco outfielder in the all-important PRQGMIF (Pitchers Reduced to Quivering, Gelatinous Mounds of Indecision and Fear) number.
A 27-year-old two-leaguin', switch-hittin', five-toolin', high-flyin', pitchers-cryin', hot-streak-burnin', power-learnin', vote-earnin' freak named Beltran who looks a bit like Ricky from "My So-Called Life" but plays a bit like The Hawk, and we don't mean from "Spenser For Hire" and we don't mean The Hawk with the bad knees from his Wrigley days.
The wrecking-ball chutzpah of Scrap Iron, the situational smarts of Tony, the raging spirit of Whitey, and the enduring perfection of Mr. Salty Parker (look it up).
A Houston Walk of Fame that includes, among other things, J.R. Richard's giant stride and pteranodon wings, the Toy Cannon's sweet upper-cut, Cesar Cedeno's dazzling all-around game, Mike Scott's split-finger, Nolan Ryan's gas, and a 16-inning epic NLCS loss to the Mets in 1986, a loss that might be considered a franchise weakness by some, but which we respectfully submit as a franchise strength on the theory that pain and suffering produce a keen edge and sometimes -- as in the case of Russian figure skaters, Mississippi blues musicians, and Larry David -- great artistry.
A St. Louis Walk of Fame that features, among other things, Rogers Hornsby, The Gashouse Gang, Stan the Man's jaunty follow-through, a seven-game World Series triumph over the American League baseball club from Boston in 1946, Dizzy Dean's wit, Big Bob Gibson's glare, a seven-game World Series triumph over the American League baseball club from New York in 1964, Lou Brock's cloud of dust, Joe Torre's MVP year, Al Hrabosky's mane, The Wizard's backflipping love of the game, Willie McGee's hangdog mug, Mac's '98, and Curt Flood's legacy, without which A-Rod would be just another company man, bowing and scraping before The Man.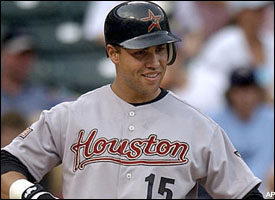 You'd be smiling, too, if you had Beltran's tools: 38 HRs, 42 SBs this season.
Roy Oswalt (12-3 with a 3.30 ERA since the All-Star break) continuing his development into "the pitcher everyone thought he could be." As everyone knows, this, along with the "unconscious phenom from out of nowhere" and the "over-the-hill hurler who digs deep and finds one more great run in him," is one of the most satisfying and entertaining pitchers in all of baseball.
Members of the Cardinals' starting staff, who've been getting about as much respect as Regis has doing Sinatra tunes (and who, unlike Regis, deserve better), delivering the time-honored "nobody believed we could do it, but I tell you what, these guys have a lot of heart, and we hung together, and now here we are, and it's just unbelievable, man" postgame speech, and transforming it from unbearable cliché to righteous, heartfelt expression of emotion.
The continuation of the classy new hockey-style team handshake thing. (Something we're pretty sure you won't see at the end of the ALCS.)
The best third baseman in baseball, who, by the way, can also hit a little bit, skimming balls off the dirt and skipping them across the diamond.
The best 40-something starter to make the postseason (if only you'd taken that L.A. job, RJ ...) who, flu and the ravages of time be damned, can still bring it. The best 40-something starter in the postseason (a man who can righteously and without fear of reprisal call Schilling a pup and Kevin Brown a baby) who, flu and the ravages of time be damned, will be pitching not just to beat the Cards but to get a shot at whichever of his former clubs has the temerity to come looking for a world-class World Series smackdown.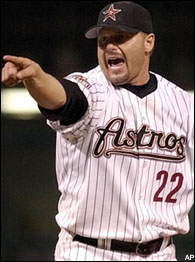 The Rocket would like to point out that he's 42 and still a staff ace.
Larry Walker in the two-hole. And when you see him step in, think of Robert Duvall playing Tom Hagen in "The Godfather." The core of the film is Sonny, Michael, and Don Vito; Tom's just a supplemental figure, really. But Coppola gets Duvall to play him, and suddenly the character has weight, dimension, and depth. Suddenly he's full of quiet power.
Brad Lidge, whose ERA (1.90), WHIP (0.92), and BAA (.174) are all just a tick better than Mariano Rivera's this year, whose 14.95 strikeouts per nine are the best ever, and whose manager is just nutty enough to bring him in whenever, and we do mean whenever the game is on the line.
Reggie Sanders, who's hit 20 or more home runs with a record 101 different teams, reaching back to his breakthrough season with the Des Moines Undertakers in the Western League in 1903, hitting seventh in the Cardinals order.
Lance Berkman (whose 1.016 OPS might be the quietest thunderclap of the season) raking.
Jim Edmonds (a six-time Gold Glover) diving.
Bagwell and Biggio (31 years with the same team and zero rings between them) playing out their last best shot at glory, and playing in memory of their fallen comrade. Both guys struggled through much of the 2004 season, but they came on like gangbusters in the NLDS, Bagwell slugging .682 with two home runs and five RBI, and Biggio hitting .400, slugging .650, and driving in four. Monday, on the day they learned their friend Ken Caminiti died, Bagwell went deep and Biggio went 3-for-5 in the clincher against the Braves. Feels like destiny, doesn't it?
Loyal citizens of St. Louis, maybe the best baseball town in the country, decked out in red, toting scorebooks to the ballpark, and ready for a bloodletting on the banks of the Missouri River.
And lastly, just the chance to see something new, something that hasn't played, like a run of "Les Miserables," forever and ever, something off-Broadway, something not everyone knows about, something hip instead of popular, something cool instead of obvious, something more Edgar Renteria than Derek Jeter, if you know what we're saying, something with a little Brandon Backe (who was once an infielder and then a reliever and is now Johnny On The Spot) maybe facing Steve Kline (whose salt-crusted cap is said to have magic healing powers), something without hand-wringing and gloating, something without HBO specials, something without Affleck and Giuliani, something where the outcome is, you know, still in doubt.
That's it. That's all.
As Elton sang once upon a time, we know it's not much but it's the best we can do. Our gift is our series, and this one's for you.
We hope you'll take pity on us and tune in.
Sincerely,
The St. Louis Cardinals and Houston Astros
Eric Neel is a columnist for Page 2. His "On Baseball" column appears weekly.