By Eric Neel
Page 2
The news I hoped I wouldn't hear all year came Thursday: Hubie Brown retired.
I first met Hubie in a coffee shop in the Four Seasons Hotel in Newport Beach a couple of years ago. I was interviewing him for a magazine piece I was working on at the time. He'd just come from summer camp practice with the Grizzlies.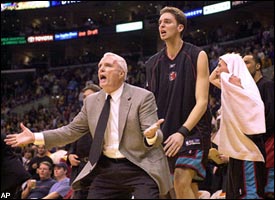 The passion with which Hubie Brown coached was obvious.
We talked about the 10-man-rotation, about how you get guys to buy in, and about the leadership role superstars have to play if a team's going to be truly great. We talked about the day Oscar Robertson shut him up when he was an eager young assistant with the Bucks, about the way his low-budget Hawks used to press the bejeezus out of teams, and about what might have been if Bernard King hadn't spaghetti-stringed his knee. We talked about Hubie playing hard for his dad and me playing hard for mine, about those early days when the game first gets in your blood, and about these late days when it had come to him fresh and new again. We talked for nearly two hours.
And when it was over, he stood up and said, "Listen, I'm beat. We've been going hard these last few days. Why don't you come by practice tomorrow and we'll pick up where we left off."
Not, "Are we done here?" Not, "That's all the time I have for you." Not, "Any other questions?" But, "Let's keep talking ... let's keep talking ball."
That's Hubie. He loves basketball the way a dog loves a bone. He can't get enough of it. It's the language he thinks in, the time and space he moves in. The game comes shining out of his eyes like a beam of light. It rumbles in his voice like a hunger.
I swear, you sit across from him and all the good crazy stuff you've ever felt about hoops comes over you all at once, and as strong as it ever has. It's like being with a charismatic preacher. You get taken with the spirit. You love the game the way you loved your first girl. You want to stay up with it all night. You want to bounce a ball as you walk around the room, throw passes off the walls, map out plays on the table using saltshakers and sugar packs. You don't care about anything else. Basketball is it.
The man was a heck of a tactician and he had a world of experience -- Jerry The Genius said he learned the real nuances of the game from Hubie these last couple of years, said he was the best teacher of the game he'd ever seen -- but his greatest gift was his energy. Even at 70, he was the hardest-working man in the gym in Memphis, constantly shouting out instructions, sometimes offering encouragement, sometimes balling somebody out, and always pacing the floor like a man on fire.
We tend to give coaches too much credit for work players do, but make no mistake: Hubie willed that Grizzlies team to be better than they were last year. What am I talking about? These were the Grizzlies. He willed them to be better than they'd ever been. He challenged them to change their ways -- to play smarter, harder, more selflessly -- and the heart of his challenge was his own commitment to the game. He dared them, but more than that, he inspired them. He didn't sleep and he didn't ever miss a beat. He was in the muck. He got down on the block with the big men during practices, worked passing drills with the guards, chided and cajoled the team in circle meetings at mid-court, worked the chalkboards and the whistles, and worked up a sweat every day and every time out. It was simple: If you didn't play hard in the face of his effort you were disrespecting the game. The players got that. Even if they didn't love the 10-man, even if they weren't comfortable in their roles or with their minutes 100 percent of the time, they got it, and they worked it, and to a man they talked about doing it out of respect for Hubie, out of respect for the respect he showed them and showed the game.
It was really something to see once they got rolling last year. It was basketball unlike any other team in the league was playing it. Not a true superstar in the mix. Not an isolation or a clear-out set anywhere on display. Guys came in waves on D. On the offensive end, it was all drives and dishes, ball reversals, give-and-gos, back-cuts, and pop-outs. Motion. Hubie Ball.
And it worked. The Grizz won 50. They pushed past their dismal history, weren't satisfied with a club record for wins, and drove all the way to the playoffs ... pretty much on heart, effort, and the courage of Hubie's convictions. There was no better story in the league last year, and no more entertaining team to watch.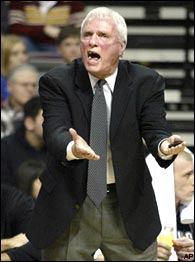 The strain of coaching seems to have finally caught up with Hubie.
Maybe a thing like that can't last.
We're hearing things now, about Hubie tiring a bit (and experiencing chest pains, too), about J-Will, Bonzi, and some others maybe being dissatisfied with Hubie's drive for discipline, about the possibility that even West was growing weary of the rotation and its unconventional approach to crunch time. We're hearing maybe Hubie Ball had run its course in Memphis, that his energy, intense as it was, had become routine.
Maybe. I don't know, I'm not on the ground. I know the Grizzlies were struggling so far this season (5-7 when Hubie retired), but I know they'd battled some injuries, and were still working guys like Brian Cardinal into the routine, and I know the team was 6-8 through 14 games last year, too, and things worked out better than they ever had by season's end, so I have a hard time saying they were finished, or that Hubie was done doing good for them just yet.
But even if that's true, even if the 2003-04 Memphis Grizzlies were just a freak event, and Hubie's bold, bright love of basketball could only conjure up one season's worth of glory, and even if you can only have everyone check their egos for a brief time, that doesn't diminish the fact that it was a glorious thing that went on in Memphis these last couple of years.
Hubie will say it wasn't about him. He'll say it was about "players buying in, making the extra sacrifice."
He's right. But don't believe him.
The man was 70-years-old and his feeling for basketball, and his will to work, were as strong as anyone you've ever known. And for a full season, against the odds, the wisdom of the pundits, the grind of the road, and the youth and inexperience of his players, he carried his team to 50 wins.
Think about that. Think about how that effort, sustained every night, to be more, to get the men around you to be more, raises the game up, makes it something almost noble. Think about when you've ever seen anything like it before. Think about whether you'll ever see anything like it again.
The Grizzlies are likely to hire Mike Fratello soon. Fratello's a good coach, and the team will (with the return of the injured James Posey and Stro Swift), stand a chance of righting the ship and putting together a decent season under him.
But there's no replacing Hubie.
They're going to miss him something fierce.
I know I already do.
Eric Neel is a columnist for Page 2.