By Eric Neel
Page 2 columnist
If your team wins a Super Bowl, no matter what the score, you think the game was glorious and stirring, and you tend to rhapsodize weeks, months and years after it's over about well-executed trap blocks and timing patterns and such.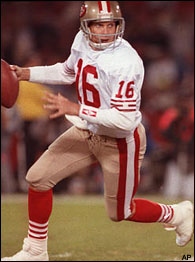 Joe Montana led the Niners to victory in one of the best Super Bowls ever ... as well as one of the worst.
If your team loses a Super Bowl (or four), no matter what the score or how it came about, you think the game was sheer torture. You tend to wail and moan weeks, months and years later about unjust calls, bad breaks, and perfect, momentum-turning plays that could have, should have happened.
That's the way it ought to be.
But in those years when your boys come up short of the promised land, or if, say, you're one of those unfortunate souls still waiting on the Seahawks or the Cards, things are less complicated.
You have 10 or 12 friends over for the game, you lay out six or seven dips, maybe some chili, drink a few beers, prop up in front of the set in one of those inflatable plastic easy chairs, and at this point, your needs are simple: A little drama, a little zip, a bit of something undecided. That's all you want. A few lead changes, a key play turned in late in the half or the game, something pretty, or pretty bizarre, to watch. That's all you ask.
Does the big game deliver? Um, no, not usually (but, you know, the chili's pretty good most years, and the beer is reliable). Here's a game-by-game breakdown, complete with a letter grade for each one and a cumulative GPA for the whole 38-year Super Bowl experiment:
Super Bowl I: Packers 35, Chiefs 10
It wasn't much of a game really, but it grades decent for four reasons: One, Chiefs owner Lamar Hunt was the guy who coined the term "Super Bowl," and his boys ended up playing in the big game with the goofy name. Two, each team used its own league ball on offense -- you can't teach, and you have to admire, that kind of petty, fourth-grade gamesmanship. Three, Bart Starr was 10-of-13 on third down, which is, I believe, a little thing we like to call "big time." And four, and this is really the only thing worth thinking about: The star of the game, 34-year-old wide receiver Max McGee, was happily hammered and talking up a blonde less than 12 hours before kickoff, and seriously hung-over when the game began, and he still managed to run routes, get open, grab seven balls (after catching four all season) out of the air and score twice. Forget Lombardi, the trophy ought to be named for Max, because he showed us all what it is to play hard.
Grade: B
Super Bowl II: Packers 33, Raiders 14
When is getting to the Super Bowl anti-climactic? When you've just won the Ice Bowl. The Packers were sleepwalking, the Raiders were worse. There was a nice Herb Adderly, 60-yard interception return for a touchdown, yes, but there were also four field goals and exactly zero I'm-so-cold-I-wanna-die-and-maybe-I'm-dead-already-but-by-god-someway-somehow-I'm-gonna-win-this-thing tests of skill and intestinal fortitude.
Grade: D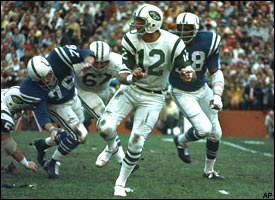 How could you not give Joe Namath an A after making good on his guarantee?
Super Bowl III: Jets 16, Colts 7
An 18-point-underdog victory and the birth of modern-day trash-talk. It wasn't the game itself so much as it was the wild feeling throughout that this was the end of the world as we knew it.
Grade: A
Super Bowl IV: Chiefs 23, Vikings 7
Would be a D, probably should be a D -- since the Vikes committed five turnovers and game MVP Len Dawson threw for a whopping 142 yards -- except there was a crazy pregame balloon race accident in which the balloon marked "NFL" crashed into the stands and was torn to shreds by fans. That's good theater, that's a ...
Grade: C-
Super Bowl V: Colts 16, Cowboys 13
Forget the O'Brien field goal, it was only 32 yards out. Remember this: The two teams combined for 10 turnovers. To this day, Colts defensive end Bubba Smith will not wear his championship ring, because the game was too damn ugly to feel like a title match.
Grade: F (What, I'm gonna disagree with Bubba? You disagree with Bubba.)
Trivia for the hardcore fan: Who was the MVP? (If you can answer this off the top of your head, by the way, you might need to take a little time away from the game, maybe take a walk in the park with your kids, share a root beer float down at the soda fountain with your best girl, that kind of thing.)
Super Bowl VI: Cowboys 24, Dolphins 3
Thirty-nine degrees at kickoff. Bunch of yards from Duane Thomas. Bob Lilly chasing Bob Griese around the backfield for 20 minutes and a 29-yard loss. Did I mention, 39 degrees? Farenheit? In New Orleans? On artificial turf? Did I mention they played outside?
Grade: C-
Super Bowl VII: Dolphins 14, Redskins 7
The only memorable moment was a goofy, slip-sliding-away Garo Yapremian pass/fumble the Redskins' Mike Bass returned for a touchdown, but out of respect for Miami's 17-0 season, we'll overlook what was a brutally ho-hum game, and award a ...
Grade: C
Super Bowl VIII: Dolphins 24, Vikings 7
Griese threw the ball seven times. All day. Seriously, this number includes two tosses during pregame warmups, one ball gently pitched underhanded to an official at the end of the first half, and a ball he dropped, out of boredom, while standing on the sidelines after the Fins had gone up 24-0 in the third.
Grade: D-
Super Bowl IX: Steelers 16, Vikings 6
2-0 Steelers at the half. Vikes managed just 17 yards rushing and 119 total yards.
Grade: F
Super Bowl X: Steelers 21, Cowboys 17
Game turned on the deep ball. Bradshaw to Swann when they were backed up against their own goal line (the balletic catch Cliff Harris still talks about in therapy sessions), and Bradshaw to Swann for 64 yards and the clinching TD.
Subplot bonus: Jack Lambert drilling Harris silly, after the safety mocked injured Steelers kicker Roy Gerela after a missed field goal.
Grade: B
Super Bowl XI: Raiders 32, Vikings 14
The Vikings gained 227 yards rushing in their four Super Bowl losses combined (only 71 here). There were 100,000-plus fans in the Rose Bowl to see the game, 97,000 of whom signed a petition urging the league to forever ban the Purple Gang from the big show. Commish Pete Rozelle forwarded the document to his lawyers. Minnesota's never been back.
Grade: Out of respect for the Snake, for those fine pants John Madden was wearing and for his au naturale approach to hair care, and because I'm unapologetically influenced by the NFL Films close-up shot of Willie Brown's eyes darting side-to-side as he returned a late interception 75 yards for a score, I'm giving it a ... C.
Super Bowl XII: Cowboys 27, Broncos 10
The Broncos started Craig Morton at quarterback -- his great-grandchildren were very proud. Seven Denver turnovers in the first half kind of put a damper on things for the kids, though. Little Timmy cried a lot, but somebody bought him some ice cream and he came around. He even cheered when the Cowboys' Robert Newhouse threw a fullback-option pass to Golden Richards in the fourth: "That was neat," he said. "I wish great-grandpa Craig was named Golden!"
Grade: D, but only because somehow, twice, the Broncos got within 10, so that even though it clearly wasn't a game, it sort of felt like a game for a minute or two.
Bonus trivia: Red Grange, who I believe was 11 years younger than Craig Morton at the time, tossed the coin.
Super Bowl XIII: Steelers 35, Cowboys 31
Pretty passes to Swann and John Stallworth. Heartbreaking one dropped by Jackie Smith. Game not as close as the score indicates.
Grade: B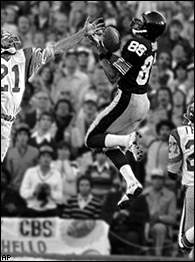 Lynn Swann's leaping grab helped Super Bowl XIV earn a nice grade.
Super Bowl XIV: Steelers 31, Rams 19
Pretty passes to Swann and Stallworth. Heartbreaking one picked off by Jack Lambert. Game closer than the score indicates.
Grade: A-
Super Bowl XV: Raiders 27, Eagles 10
Pete Rozelle and Al Davis had been fighting like pissy little schoolgirls all year, then, after this game, Pete had to hand Al the big trophy with Vince's name on it, you know, the shiny, heavy one they give to the champions. That alone was almost enough to redeem another ugly, turnover-infested, one-team-freaks-out-and-plays-like-the-JV-squad game. Almost, but not quite.
Grade: C+
Super Bowl XVI: 49ers 26, Bengals 21
Third down: Charles Alexander, meet Dan Bunz.
Fourth down: Pete Johnson, meet Hacksaw Reynolds.
Grade: A nice goal-line stand will get you a B, well, a B- anyway.
Super Bowl XVII: Redskins 27, Dolphins 17
Power is: John Riggins running left, taking Don McNeal with him for 43 yards.
Power ain't: Four completed passes, nine first downs and 176 total yards for David Woodley and the Dolphins.
Grade: B. Extra credit for Joe Theismann's break-up of what could have been a tide-turning interception, for the Redskins' big fourth quarter, and for the fact that my mom and sister and I threw a big 75th birthday party for my grandfather on game day and I won $50 in the pool.
Super Bowl XVIII: Raiders 38, Redskins 9
Marcus Allen did a lovely little pirouette thing, with his hand just barely touching the ground, and then ran 74 yards up the chute for a touchdown. It was sweet, exciting ... marvelous, really. The rest of the game was pretty much junk.
Grade: D+
Super Bowl XIX: 49ers 38, Dolphins 16
This Joe Montana kid -- he can play a little.
Grade: Sometimes, drama be damned, you reward excellence, just for being so bloody excellent. Sometimes, even when it ain't close, you give a game a nice, solid B ... nah, who am I kidding, this was a snoozer. A C is generous. Good thing I'm a generous guy.
Super Bowl XX: Bears 46, Patriots 10
It was over before Tony Eason got off the bus. It was probably over when Tony Eason got on the bus ... in training camp.
Upside: Jim McMahon wearing a home-made headband with "Rozelle" written on it.
Downside: Everybody, from the Fridge to the guy who sells fridges at the old Lawrence Ave. Sears back home, scored for Chicago ... except the one guy who really deserved it: Walter Payton.
Grade: F+. After-the-fact demerits for the "Super Bowl Shuffle."
Super Bowl XXI: Giants 39, Broncos 20
Lawrence Taylor before the game: "I can be an SOB. Nasty, lousy, mean people are the guys who get the farthest ... I love the contact. It makes the game real enjoyable. I can go two or three games without a kill shot. That's when the snot comes from [a quarterback's] nose and he starts quivering on the ground. You want to run the film again and again."
Now that's some hype.
Grade: B-, bonus points for a story line where Phil Simms gets the monkey off his back and rocket-armed John Elway has the monkey settle in and draw up plans to build an addition to his. (I've said it before and I'll say it again: The Football Gods are some capricious, troublemaking deities.)
Super Bowl XXII: Redskins 42, Broncos 10
Doug Williams, the first black quarterback to start in the Super Bowl, is also the first black quarterback to win it. And, oh, by the way, he and his mates drop a record 35 on the Broncs in the second quarter alone.
Grade: History alone gets you a C, history plus a rainstorm of points in one delirious quarter gets you a ... B-.
Super Bowl XXIII: 49ers 20, Bengals 16
Little bit of everything: Rematch vibe, Bengals playing for Tim Krumrie and his busted leg, tie game at half, Stanford Jennings' kickoff return for a TD, an 11-catch monster, out-of-Montana's-shadow day for Jerry Rice, and, just for good measure, a Montana come-from-behind drive to win it with only seconds left.
Grade: A-
Super Bowl XXIV: 49ers 55, Broncos 10
I know, I know, there was a stirring 40th Anniversary tribute to the Peanuts characters at halftime, and I like the Christmas special as much as anybody else, but still, I gotta go out on a limb, and say it: This was the worst Super Bowl of all time.
Grade: F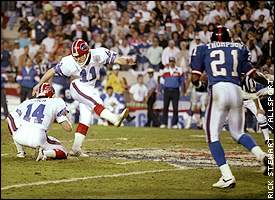 Scott Norwood has the most famous miss in Super Bowl history.
Super Bowl XXV: Giants 20, Bills 19
Just 11 days after the United States entered the Gulf War, the NFL downplayed, and just plain left out, much of the typical pregame hype and hoopla, and all we had was a tight, compelling game decided on the last play.
Grade: The best of the first 25 games gets an A. Bonus points, by the way, for the last lucid public appearance by Whitney Houston during a moving rendition of the "Star Spangled Banner."
Super Bowl XXVI:
OK, three questions: 1. Who played in this game? 2. Who won and by what score? 3. How do you spell the last name of the game MVP? If you're not from either team's home city, and you can answer the first question without looking it up, your family and friends are likely planning an intervention (everybody in a circle with their hands clasped, an Indian raga playing in the background, maybe some incense) on your behalf.
If you can answer the second question without looking it up, your family and friends talk about you in the past tense, sharing stories with each other about what a cute little boy you once were, how bright and full of promise, and they tear up when they look at you now, whispering, "May he rest in peace."
If you can answer the third question cold ... you don't have any family or friends.
Grade: C-
Super Bowl XXVII: Cowboys 52, Bills 17
Don Beebe makes a great play, chasing down Leon Lett from behind and knocking the ball out of his hands to prevent a touchdown. Keeps his team within 35.
Grade: F
Super Bowl XXVIII: Cowboys 30, Bills 13
The game was watched by 117 people, coast-to-coast. Twelve of them were a sequestered jury on a meal break in Topeka, Kansas. Eighty-seven were related to Cowboys players -- only 18 Bills' family members could be convinced to sit through another one.
Grade: D, because, at one point, the Bills were actually ahead.
Super Bowl XXIX: 49ers 49, Chargers 26
Like SB III, this one kicked off with an 18-point spread. Unlike that game, the dogs were down 14 in the first five minutes and they never got up.
Grade: F+. Why the plus? Steve Young threw for six TDs and, though not exactly entertaining, that kind of stake through the heart of the ghost of Joe Montana is impressive. "This is one of the most precious times in life, to finally get there," he told The Sporting News. "Critics? To hell with them. Go to someone else for a change."
Super Bowl XXX: Cowboys 27, Steelers 17
Supreme Court Justice Potter Stewart once rather famously said of the line between art and obscenity, "I don't know how to define it but I know it when I see it." Among schoolteachers, the same phrase is often used in reference to the subtle difference that makes something a B+ rather than an A-. I taught a little before I had this gig, so, though I can't say exactly why, trust me when I tell you, this game gets a ...
Grade: B+
Super Bowl XXXI: Packers 35, Patriots 21
Reggie White is strong. Desmond Howard is fast. Brett Favre, he throws like a man and runs around cheering like a little boy. The Patriots? Well, sadly, my friends, the Pats can't quite get over the feeling that they're playing the classically outfitted Green Bay Packers while wearing what are maybe the most poorly conceived (and least intimidating) uniforms in Super Bowl history.
Grade: C+
Super Bowl XXXII: Broncos 31, Packers 24
Late in the game, and near the goal line, Elway made a desperate lunge for the first down and ended up getting spun like a whirligig -- it was a nice symbolic moment; all kinds of hunger and exorcism of past disappointments in it. Terrell Davis didn't need symbolism -- he was literally unstoppable.
Packers were almost as good as the two of them. Game was close and tense throughout.
Grade: A-
Super Bowl XXXIII: Broncos 34, Falcons 19
Two highlights (both off the field): Eugene Robinson pulls a Max McGee (but everybody scolds him for it because, well, he gets hosed on a couple of deep routes and so actually looks hung-over), and the Monster.com "When I Grow Up" commercial debuts -- the one where innocent kids look into the camera and share their dreams of being brown-nosers and middle managers.
Grade: C-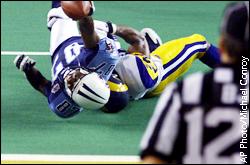 The Titans were one lousy yard away from tying up Super Bowl XXXIV.
Super Bowl XXXIV: Rams 23, Titans 16
This is the one. One stalwart effort from Steve McNair. One minute and 54 seconds left when Kurt Warner and Isaac Bruce connected on a 73-yard score to take the lead. One yard between Kevin Dyson and the Titans taking it back and taking the game into OT. One guy named Mike Jones in his way.
Grade: A+
Super Bowl XXXV: Ravens 34, Giants 7
A bad game played by two terrible offensive teams, saved only by a fluke sequence in the third quarter when the teams traded touchdowns on three consecutive plays (an interception return and back-to-back kickoff returns).
Grade: D
Super Bowl XXXVI: Patriots 20, Rams 17
Nice kick.
Grade: A-
Super Bowl XXXVII: Buccaneers 48, Raiders 21
This game is stirring if you're a Bucs fan, or a fan of underdogs anywhere. Finally, the Tangerine Dream get theirs (albeit wearing scarlet and pewter, or whatever the heck that is), and any of us who've ever rooted for a downtrodden franchise (are you listening, Seahawks fans?) can take some measure of pride and joy in it. However, all of that good feeling is seriously complicated by one simple fact: The game stunk. Five TB interceptions? I don't care if they were all returned for touchdowns . . . That is some ugly, ugly stuff from the Raiders and some yawny, yawny stuff for the fans.
Grade: D
Super Bowl XXXVIII: Patriots 32, Panthers 29
Except for taking two quarters off (just kidding; I love defensive struggles as much as the next guy), and being decided by a field goal (ho hum), this was a heck of a game. Bonus points for the Panthers not wilting under the pressure of the moment. Super Bonus points for the way the Pats answered every volley Carolina fired, and for moving from very good team into the Dynasty conversation.
Grade: A
Cumulative Super Bowl GPA: C (2.08)
So there it is: the Super Bowl gets a C. Turns out we've been using the wrong name all these years: We should be calling it the Slightly Better Than Average Bowl.
Eric Neel is a regular columnist for Page 2.