On January 15th, in a loss to Minnesota, the Blazers' Joel Przybilla had one rebound and four points in 27 minutes worth of game "action." (The statistical record is sketchy, but rumor has it that former Blazers center Bill Walton, who was not in Portland at the time, had three rebounds on the night.) Three nights later, in the Blazers' next game, at Sacremento, Joel Przybilla, or the alien who had inhabited Joel Przybilla's body, stepped in for an injured Zach Randolph, grabbed 22 rebounds, including 10 offensive boards, and scored 17 points.
In the first 41 games of this season, Erick Dampier had registered double-digit rebound totals just 12 times, and only twice on consecutive nights. Then came January 29th, the 42nd game, in which Mr. Dampier pulled 26 rebounds out of his ... er, out of the air. And on every night since, he's been good for eleven or more, like maybe he is the key addition to the Mavericks' attack after all.
These aren't the same sort of performances as Iverson, Nash, and company put on. They aren't explosive demonstrations of the hot lava that always lurks beneath the surface of an elite player. They're more wacky than exhilarating. But in a way, I almost like them more.
I like thinking about the way the floor must have looked to Dickau, compared to the way it had looked those nights when he was watching from the bench. I find myself thinking about how Przybilla, who's never been anyone's idea of graceful, must have moved, automatically, instinctively, and with a kind of confident quickness to the ball that night in Sacramento, going 'bound for 'bound and then some with Chris Webber.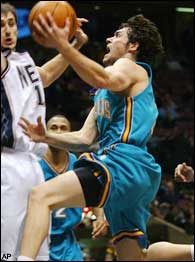 Congratulations to all the Gonzaga alumni who stuck by their man and drafted Dan on their fantasy team.
It's the everyman thing, I guess. The magic of being on a roll or in the zone or in the pocket or whatever you want to call it isn't just reserved for the household names. It's sometimes out there for the Przybillas and Dickaus of the world, too.
Sure, maybe the definitive image of a player in The Zone is MJ doing the palms-up shrug the night he rained threes on Portland in the Finals back in '92. Because they sometimes make it look so easy, it's easy to imagine all the tumblers falling into place for any one of the great players.
But the ways of basketball magic are many and varied. It will sometimes light upon Marcus Camby. It will sometimes smile upon Brevin Knight.
And when it does, there is a freshness about it, an enthusiasm. You can imagine the rush these guys must be getting as their once-in-a-blue moon night is unfolding step for perfect step.
They're not All-Stars, but they're one-game wonders, and that's almost as good, because you find yourself thrilled for these guys as well as by them.
Eric Neel is a columnist for Page 2. His Basketball Jones column will appear each Wednesday -- and the occasional Friday -- during the NBA season.