10. Speaking of Eva, tell her Manu thinks she's cute, see if maybe you can't create a little house-divided situation over there on the Spurs' bench.
11. Ring Manu's bell. If the man wants to do the Maradona thing, help him out a bit. Put him down. Take him out. Call an audible and throw the ball at his groin at close range the way Crewe did to Bogdanski, back when men were men and prison football movies had leads a little tougher than The Wedding Singer.
12. Shoot more 3s. You averaged 13 attempts a game during the regular season, and only six through the first two games of this series.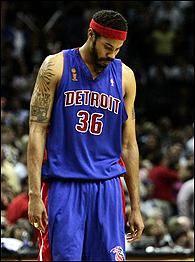 Rasheed Wallace has to start taking it to Duncan, or this series will be over quickly.
13. Get to the line. Chauncey, 'Sheed and Tayshaun (with those long ol' knockety arms and knees just waiting to draw contact) all need to be shooting more free throws. As a team, you've had only 30 attempts in two games; the Spurs have had 49. Seriously, that won't do. Rasheed needs to take Duncan down on the block time and time again. You're home now, there have to be some fouls in that scenario. And let's see some Billups on the drive against Parker again and again and again. The kid's going to reach – he's going to worry about getting used, and he's going to reach. And beyond that, tell all the other guys to initiate some contact on every shot, pass and dribble, tell them to make like Vlade every time a guy in black wanders by. And if none of that works, you just need to say something nasty about Jeff Van Gundy and then sit back and let the calls roll in. (This, by the way, beats the hell out of your "there's one official out there who's biased" approach.)
14. Dare the Spurs to spot you 79. It's the sort of challenge Pop loves to rally the troops around. And who knows, if the opening tip goes your way, you just might have a shot.
15. Go Twin Towers: Elden and Darko. C'mon. How do you know if you don't try? Sure, your head says, "No," but you gotta admit, your heart says, "Man, that'd be a sight to see, wouldn't it?!"
16. Dantley and Aguirre comebacks. You invite them back under false pretenses, tell them it's a halftime tribute or some such thing, and then you suit them up and let 'em have at it.
17. House resolution HJ 319, introduced by Michigan representative John Conyers: "No Piston Left Behind."
18. Ben Wallace takes 202 3-pointers and hits on 27 of them, and never once, not even for a second, do the Spurs think about coming out to defend his shot.
19. Sign Aretha. Put her in an old Laimbeer jersey, and see if maybe the lane doesn't open up a bit.
20. Come to think of it, offer Laimbeer the player-coach position, and put him in an old Laimbeer jersey …
21. Play mean, play angry, play (forgive me, I know I'm not supposed to bring this up) like someone threw a cup full of beer out of the stands at you or something. In fact, I think there's a guy in town who could help make that moment and that feeling especially real; he's suspended for life, but the Commish comes to all these games, and maybe he could see his way clear to commuting the guy's sentence.
22. Speaking of the Commish, now's about the time you explain to him what a message it sends when he starts locking guys out early, one Spur at a time … beginning with Mr. Bruce Bowen.