By Eric Neel
Page 2
Honestly, I don't much care what you and your boys do. I'm provincial. Fantasy baseball concerns aside, the only question that truly matters to me come free-agent fishing season is this one: All things being equal, if my club has the need, would I want them to go after Player X?
Would I want …
Sammy Sosa? No sir. It's not the ego, it's not the boom box, and it's not the swirl and stink of post-roid rumor and suspicion. It's just that he was overmatched, badly, by anyone who could throw high heat last season, and he didn't show any real signs of recognizing that or adjusting to it when he was healthy enough to play. It's understandable. It must be hard for heavy hitters, maybe harder than it is for power pitchers, to change their approach. So much can go wrong when you start tweaking a swing. In Sammy's case, that challenge is complicated by the fact that he's 37 years old and he's also Sammy Freakin' Sosa, a guy whose whole baseball identity is wrapped up in clubbing the very pitches that now confound him.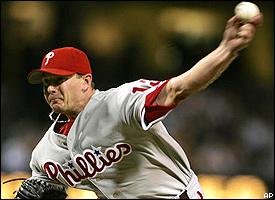 AP
The Mets are wooing Billy Wagner -- but will it work?
Billy Wagner? Sure, but not at the price he's likely to fetch. Wagner's outstanding, and nobody loves his 5-foot-11 bulldog-ness more than I do, but he's also going to be 35 this summer, and he's looking for three or four years. And if it's me, I'm saying, "Fare thee well, my good man." I'm looking to B.J. Ryan instead. He's not young, but he's younger (30), cheaper (by maybe 5 or 6 millon?) and taller (6-6), with a wicked shooting-star slider coming in from the left that grinds guys to dust. If it's me and my guys, he's the guy I want. The Mets are calling him their fallback after Wagner right now, but Omar Minaya ought to go hard for Ryan and pocket the difference.
Paul Konerko? I don't think so. There are statistical worries (his power numbers are severely boosted by a friendly home park), and there are financial worries (his perceived value has never been higher than it is right now, and in a relatively thin market he's likely to command a steep price), but my argument is mostly sentimental. The guy belongs with the White Sox. Johnny Damon and his grand slam against the Yankees belong in Boston, and Paul Konerko and his grand slam against the Astros belong in Chicago. Legend demands this. History requires it. The collective unconscious of the faithful in those long-suffering towns feel it and know its truth in their bones, the way they know the colors of their uniforms and the chilly winds of their cities. Let's say my club signs Konerko (or Damon, for that matter). Will he ever be one of us? Will anything that happens with us outweigh the magic he experienced with Chicago? Not bloody likely. In addition to the very real prospect of overpaying for him, I see disappointment all the way around. Paul wishes he were in Chicago, riding atop an 87-year-drought-slaying dragon, and I wish he were too.
Ramon Hernandez? No way. The bat's coming along, I guess (who can love a .322 OBP?), but I come from the Scioscia School of Catchers, and Ramon need not apply. Game 2 of the 2005 NLDS, third inning, runners on second and third, ground ball to first, here comes the throw from first baseman Xavier Nady, and … there goes Ramon, just far enough toward first to avoid contact, just far enough to let the run score. And he did it again in the fourth inning. Can't have that. Don't want it. You can swing a decent bat, you can call a nice game, but if you come up small in Game 2 of a division series when your club is already a long shot and is thirsting for a tide-changing play, you can play somewheres else.
Paul Byrd? As a matter of fact, yes. Part of it is what should be a reasonable price tag, part of it is a decent strikeout-to-walk ratio, and part of it is the high-stirrup look. But mostly it's the flapping-wing motion, like an albatross coming in for a water landing.
Frank Thomas? You betcha. Twelve home runs in 105 at-bats last year. Something to prove (unlike Konerko) this year. A historically good eye. I want all of that. I want my GM, who's waited long enough to see that the market is pretty much ignoring a sure-fire Hall of Famer, to sell Big Frank on the idea of a glorious coda, to pitch him on concepts that don't have price tags, like "heartwarming comeback," "going out with a bang," and "let's show these kids today how it's done." And then I want my GM to sign him to a one-year at about a mil and sit back and watch the long balls fly.
Rafael Furcal? Yeah. I know he wants too much money over too many years (we've just seen his age-27 year come and go), but I'm willing to take the risk. The errors are down and the range is consistently terrific. He steals bases which, while maybe negligible in the regular season, can make a difference in the postseason. He hits for average and with a little pop. All of this adds up to one of the best shortstops in baseball methinks (his 27 win shares bear me out), and it's hard to pass on that kind of talent, even if it is a bit overpriced. Shortstop is a swagger position. If your shortstop's a stick of dynamite, with both the arm and the bat, there's a kind of surplus value in that. I'm aware of Bill James' defensive spectrum, but I'm speaking strictly as a fan on this. I'm talking about the feeling you get when your club sports one of the best shortstops in the league, a guy who can make dazzling plays in the field and can turn games around at the plate. That feeling is qualitatively different than the feeling you get when your first baseman or your right fielder is top-flight, because there are lots of terrific first basemen and right fielders. You know it's a rare thing to have your "6" be special. You get a kind of prideful juice running through your veins when he takes the field. Ask the folks who once rooted for the pre-injuries Nomar. Think about the veritable cult that surrounded Cal Ripken for so long. Shortstop is a loaded position, and a loaded shortstop is something I'd like my club to pay for, even if it's a little too much, and even if it only lasts a couple of years. I know that's crazy, but that's how I feel.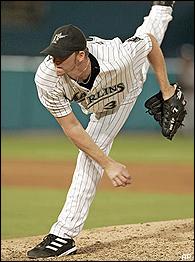 AP
A.J. Burnett's got great stuff, but is he worth the risk?
A.J. Burnett? Yes? No? Maybe so? Ugh. If I need frontline starting pitching (and who doesn't?), how do I not enter the A.J. Derby? But if I enter the A.J. Derby, I do so knowing the bidding war is going to drive his price up and over Mt. Rational and into the valley of high-risk venture capitalism. When he looked right last year he looked so right, mean fastballs skidding across the plains, angry curves diving for grub like hungry hawks. He looked unbeatable at times. But there were struggles with control (like there've been before), and there is the nagging possibility of the shoulder getting cranky, and there's also the fact that he whined himself out of the Marlins' clubhouse down the stretch. Classic risk-reward dilemma. I'm stalling. Can you tell I'm stalling? Here's the question: Can I live with the chance that he's real good, maybe even that he's remarkably good, for someone else, when my team could have broken the bank to get him? Yes I can. Best of luck, A.J. We know we may regret it, but we're taking a pass.
Brian Giles? I know he's not young anymore, but look at these numbers: .301/.423/.483, 158 games, 15 HR, 8 triples, 38 doubles, 83 RBI, 119 BB, value over replacement player (VORP) of 65.1 (fourth best in baseball among outfielders), and 35 win shares (best in baseball among outfielders). Now remember this: He played half his games in PETCO Park. Do I want to see what he's capable of in my ballpark? Uh, yes I do.
And we'll close with the Jeff Weaver question, in which, like a tuxedoed waiter at a wedding, offering stuffed mushrooms on a silver platter, the baseball gods say to me, "Jeff Weaver?" -- and in which, like someone who's had too much of the champagne and who never liked the bride and groom anyway, I say, "Good God, no!" and make a gratuitous, altogether impolite gagging motion as I say it.
Eric Neel is a columnist for Page 2.