"You never miss your water, till your well run dry."
-- Lightnin' Hopkins
I think I saw it in his face. I looked at the clip of Dwyane Wade wincing and writhing on the Heat bench Wednesday night, his shoulder and his reality painfully out of whack, and I think I saw the realization hit him.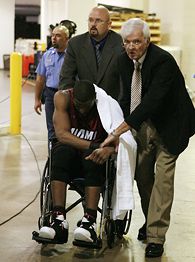 Bill Baptist/Getty Images
Wade's ride to a potential second ring might have ended in a wheelchair.
This might be it. There might just be the one ring. The window might be closed shut.
Forty-eight hours ago, even as a No. 8 seed in the East, the Heat were a sexy, legitimate pick to play for another NBA title. You couldn't call them the favorites. But you could imagine, without too much stretching, how they were going to get it done. Riles was back, Jason Kapono had emerged as an outside threat, Shaq was playing his way into shape, and Dwyane Wade was Dwyane Wade, a.k.a. Flash.
Now, in one sick twist, that's all gone. Wade's on the shelf for weeks, maybe for months. And suddenly Riles is on his last legs, Kapono's an unproven role player, and Shaq's a shadow of his former self and an injury waiting to happen.
Everything is different now. The Wizards and Cavs can cruise to the finish line. The Magic have some breathing room. The Nets, even the Knicks, suddenly have postseason hopes. The Eastern Conference -- so vulnerable, so weak -- looked ripe for a Heat run; you could picture their first-round showdown with Detroit or Washington and you relished the thought because you knew, records be damned, they were a dangerous bunch.
Wade made them dangerous. He was the most potent player in the league (29.78 PER, a.k.a. player efficiency rating). He was resilient and unflappable in big moments (cue the Game 3 tape from the 2006 Finals). And he was anxious, even from the 8-hole, to prove last year was no fluke. You didn't want to mess with a guy like him -- a guy who now knew in his heart and soul that his team was truly his team (and not the Diesel's), a guy, scary as it sounds, who was getting better and playing smarter than he ever had before.
Bathed in the light of his talent and heart, Miami not only looked possible, they looked likely, almost inevitable. Without him they just look like a mess. Wade is every bit the key ingredient Steve Nash is in Phoenix. His drives to the basket create Kapono's space. His draw of the double-team leaves Shaq with easy looks. His strength and foot speed set the tone for the Heat D. They won't struggle in his absence, they'll flail, like a fish on a boat deck. It will be ugly. Sad. Lottery-esque. And who knows where they'll be next year, with Shaq another year older, and with Wade trying to play his way back into elite form.
I had a chance to speak with members of the 1977 NBA champion Portland Trail Blazers at the All-Star Legends Brunch last weekend in Las Vegas. To a man they said they thought their title would be the first of many, the beginning of a run. "We were set up," point guard Lionel Hollins told me. "We felt at that time as if nothing could stop us." And then, in what seemed like the blink of an eye, they'd fallen to the Seattle SuperSonics -- Bill Walton's feet had betrayed them, ownership had traded off key players like Maurice Lucas, and boom, it had ended. "Over the years," Hollins said, "I've come to understand how rare a thing it was, how fragile it was." He had a pinched, poignant smile on his face when he said it, like the feeling was fresh. The sting of how things fell apart is never far from his mind. And the happiness and pride in winning the trophy is always with him too, growing stronger and richer each day, each season, as it slips further into a past he can't recapture.
The Jordan and Pippen Bulls, winning six titles in eight years, and the Shaq-Kobe Lakers, taking three in a row, made championships look easy. But, of course, they weren't easy. The Bulls had to survive Charles Barkley, Stockton and Malone, Michael's bout with the flu and Jerry Krause's urge to tinker. The Lakers had to get through Game 7s against both Portland and Sacramento, and had to overcome the hate-hate relationship between their two superstars. A title run -- no matter how good you are, no matter how devastating your superstars -- is always a kind of miracle. Things have to go just right. The pieces have to fit together perfectly.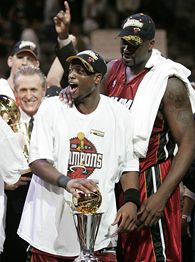 AP Photo/Eric Gay
Hard to believe, but this might have been the highlight of Dwyane Wade's career. You never know.
In the 1977 NBA Finals, after being badly outplayed and falling behind the Philadelphia 76ers two games to none, the tumblers fell into place for the Portland Trail Blazers. They had Bill Walton at the height of his powers ("For that one year, when he was healthy, I think he was the greatest player to ever play the game," former teammate Dave Twardzik told me on Sunday). They had a committed cast of players around him who knew their roles. They had a running style suited to their talents. And they had a coach who knew how to motivate them to see themselves as more than the sum of their parts. These things (along with a hard-luck shooting stretch for Dr. J and George McGinnis toward the end of Game 6) added up to four straight wins and a world championship.
In the 2006 NBA Finals, after being badly outplayed and falling behind the Dallas Mavericks two games to none, the tumblers fell into place for the Miami Heat. They had Dwyane Wade at the moment in which he made the leap from emerging star to red giant, at the intoxicating moment in which he realized he could take over a game, a series, and there wasn't anything anyone could do to stop him. They had the Daddy, and a committed cast of role players. And they had a style, a coach, and an us-against-the-world attitude that (along with some ice-cold shooting from Dirk Nowitzki in Games 4, 5 and 6) added up to four straight wins and a world championship.
Maybe today's Heat aren't yesterday's Blazers. Maybe they still have a long way to go. Maybe the shoulder will heal up quick, and the Diesel will have enough in the tank to keep them in the hunt until it does. I don't know. All I know is, in Wade's anguished, tear-stained face I saw something more than pain. Something beyond fear. I caught a glimpse of his limits, a cruel shot of forces beyond his control, and a good look at how fleeting a thing a championship run is.
And while I felt terrible for him -- for the pain he was going through -- I felt something else, too. Something gratifying. Something like appreciation. I had in that moment, looking at his face, a richer understanding of what it was he did when his will and his skill were enough. I had a more profound respect for the way he shook off the bruised hip against the Bulls and survived the flu against the Pistons last year. I had a deeper understanding of the greatness of his fourth quarter flurry in Game 3 of last year's Finals against the Mavericks.
"It's when we lost it that I knew what a beautiful thing it was," Hollins said Sunday. "When everything changed."
That's what I saw in Wade's face Wednesday night.
Eric Neel is a columnist for ESPN.com. Sound off to Page 2 here.